Kilimanjaro is one of the world's tallest summits (around 5895m) that are accessible. It is located Tanzania, Africa. It is ideal for adventurous travelers who want to explore the great outdoors. Trekking is one of the main activities and you will only need to have a walking stick, proper gear and clothes, and a lot of determination. When you successfully climb Mt. Kilimanjaro, you will then receive a climbing certificate for you to show to your friends that you have reached Uhuru point, the summit of Mount Kilimanjaro.
However, you will still have to spend a lot of money, and going cheap is not recommended. Nonetheless, this mountain is much cheaper than other summits such as Mount Everest or Mount Vinson. So how much does it cost to go to Kilimanjaro?
Trip to Kilimanjaro Cost Breakdown
Upon hearing that climbing Mount Kilimanjaro is expensive, you might be planning to find the cheapest deals. However, a lot of travelers who climbed Mount Kilimanjaro don't recommend going cheap.
The first thing that you will have to budget is the climb itself. It is one of the biggest factors that will affect your total Kilimanjaro vacation cost. The price of your trek will also depend on three factors. One of it is the route you will follow to climb, how many days you will be on the mountain, and the size of your party if you do a private climb.
The cheapest trek cost is around $1,000 dollars but this price is very hard to achieve. You might need to negotiate different agencies, look for a group to join, choose the cheapest route, and climb the mountain in the fastest time possible (around 5 days minimum). On the other hand, a great Mount Kilimanjaro climbing experience can be achieved with a cost from $2,000 up to $4,000. The price includes all routes except the cheapest route, more days of trekking, and walking with or without other trekkers. It should include the official fees for climbing Kilimanjaro such as:
Fee for Kilimanjaro National Park entry that cost around $60 per person per day.
Guides can cost $20 per day.
Porters can cost $10 per day.
Assistant guides can cost $10 per day.
Entrance fee for your guide and porter that costs around $1 per trip per person
Required rescue fee around $20 per person.
Fee for camping that costs around $50 per night.
Every climber should have at least five up to six staffs.
Also, you will need to give tip to your staff after you successfully reached Kilimanjaro's summit and you successfully returned to your base. Tips should be based on how well is the performance of your staff and how well is their service during the trek. It is also advisable to give the tips directly to your guide, assistant, porter, and cook instead of giving the whole amount to their leader. Below is the average tip per person in a seven-day trek:
You can tip a guide from $90 up to $130 depending on their performance.
Assistant guides from $60 up to $90.
The cook from $60 up to $90
Porter for $35 up to $55.
And waiter for $45 up to $65.
The key to having a memorable trip is to know what kind of trip you are paying. There are a lot of operators that promises you that they will provide much better safety and service, the higher success rate in reaching the summit, and other additional luxuries are for a higher price. However, these won't still give you a guarantee that you can reach the summit. To avoid this kind of situation, you can visit Mountain Explorers to have a list of responsible tour operators.
There are a lot of trekkers who have climbed Mount Kilimanjaro saying that you should not go below $1,700 because of bad services and operators. Some of them even charge $5,000 per person. Here are the reasons:
Guides with little knowledge. The first thing you should know is that the knowledge of your guide is the most important aspect of having a safe and successful Kilimanjaro mountain climbing experience. If you hire a cheap operator, you should expect to have a guide with poor English ability, slight experience, and no medical and first-aid training. You will never know that you have this kind of guide until an emergency arises. You should always know that a high-quality guide doesn't work at a cheap price.
Deficiency in Protection. You should always expect that cheap operators do not have any safety measures in mountain climbing aside from a guide you lacks medical knowledge. This kind of operator also doesn't know how to use or even don't have the proper equipment, such as pulse oximeters, to help determine any altitude sickness. They surely don't have any bottled oxygen for trekkers that have decreased oxygen saturation levels and portable stretchers for trekkers who get injured during the climb.
Cheap Equipment. Because they are cheap, they will also have equipment that is old and hardly operational. For example, they have tents that are not waterproof and less durable. Some of these tents even have holes in them. The sleeping bags they will provide you are worn out and can't even provide enough warmth for you. They just constantly repair almost all of their equipment rather than buying a new one.
Unreliable Service. All of these cheap operators won't even follow the guidelines in climbing the mountain. They will only figure out what to do along the way, which is not advisable. They also don't have any procedures to follow.
Irresponsible Mountain Climbing. Guides and porters coming from a cheap operator are untrained. Because of this, they have no real idea how to climb the mountain responsibly and conserving the environment. You can see guides and porters from cheap operators who litters everywhere unlike quality guides and porters who are trained with proper ethics and are responsible enough to conserve the environment.
Totally Not Trustworthy. Who do you think runs the cheap company? Yes, people who are dishonest that don't care what happens to their customers. Some of them also have guides and porters that steal your valuable items. Some of these guides will ask you extra payment on the way to the summit or else they won't continue the journey.
Because of these reasons, many people avail quality operators even if it will cost them thousands of dollars.
Bear in mind that those prices are for the mountain climbing alone, you will have to consider other main factors such as flights, accommodations, and gears. You can visit Elite Kilimanjaro to have the complete list on the required gears.
Flights
It is the next biggest factor that greatly affects the total trip to Kilimanjaro cost next to the mountain climbing cost. Since Africa is on the other side of America, the flights from the United States are indeed very expensive.
There are a lot of trekkers coming from different places all around the world. For North America, the easiest route that you can take is from the United States through Amsterdam to Kilimanjaro International Airport using Delta Airlines. Roundtrip Plane tickets from New York to Dar es Salaam (Capital of Tanzania) cost around $1,500 up to $2,000. Some other airlines that offer services to Tanzania from the United States are Air France, Qatar Airlines, Lufthansa, KLM Royal Dutch, British Airways, Swiss International Airlines, Kenya Airways, and South African Airways.
You can search flights that go directly to Kilimanjaro International Airport from Amsterdam if you are coming from Europe. Flights to Tanzania from Heathrow Airport can cost around $900 up to $1,000.
On the other hand, trekkers from Asia or Australia might have to opt for flights with two stops. This can make their traveling experience a tiring journey.
It is best to book a flight as early as possible to get the best deals.
Accommodations
The standard cost of a tourist accommodation in Tanzania starts from $7.50 per night. On the other hand, there are also high-end hotel and safari camps that cost around $200 per night during peak season. There are also cheap, non-tourist motels and accommodations found in Tanzania, however, these cheap accommodations are often untrustworthy and unhealthy. You should only choose this option if there you don't have any other choice and if you really want to save money for your Kilimanjaro vacation cost.
Food and Drinks
There are a lot of cheap street foods in Tanzania; however, most of them are unclean since apparently, they have low hygiene standards. Yet, budget food and drinks coming from a decent restaurant can cost you around $5
Transportation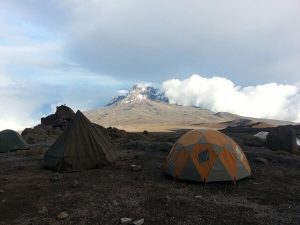 Road accidents are one of the biggest killers in Tanzania, next to malaria and AIDS. They really have cheap transportation, but, you should not expect to have a great journey. You will find yourself in a rundown bus on a bumpy road with few seats available in the vehicle. If you have a higher budget, you can spend on transportation with additional security and comfort. These can be found on luxury buses.
So how much does it cost to go to Kilimanjaro? The answer is around $5,000 and here is the breakdown.
Air Flight ticket averages $1,500
Quality Operator averages $3,000
High-end accommodation, food, and transportation $500
Total – $5,000.