Are you an anxious flyer that you feel so weird during airline flights? Do you feel lightheaded and nauseous when looking down from a bridge or from a cliff? If you are all of these, how do you feel watching videos of people doing free fall from a plane to skydive?
They may look weird to you especially when you think about how these people risk their lives just for the sake of a few minutes of excitement derived from what seemed like the edge of glory.
But contrary to what you may think, skydiving is relatively safe. It is done under the supervision of skilled and experienced professionals. What you should just be concerned about is that will you still be conscious long enough to experience the once in a lifetime thrill?
Not a few would say that after a few attempts, you get sort of addicted to the adrenaline rush that you wish to do it more often. And that your next goal would be to get licensed. With the obvious costs involved in the preparation, the gears and equipment, the plane flight, and the flight instructor fee, be sure you are ready for your wallet to get hurt. How much does it cost to get skydiving license? We turn to experts.
Average Cost of Skydiving License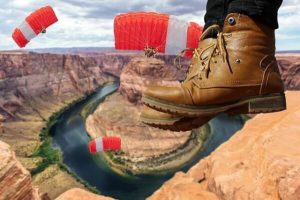 The skydiving license price varies across all states and across all skydiving companies due to several cost drivers.
The average cost of tandem skydiving ranges around $203.99 to $317.99 depending on the location according to Foffer.com. Here, the student skydiver is harnessed which is connected or attached to the instructor who is a professional skydiver and is in full control of the whole activity starting from the jump from the plane, release of the parachute, and up to the subsequent descent to the ground.
Static line and instructor-assisted deployment which is the most common type of method used by first-timers, costs around $200 per jump. Here, the student dives alone while a nylon strap attached to the parachute so that it would be opened immediately by the static line.
If you have the intention of earning a license later on, accelerated free fall skydiving is the one for you. AFF costs around $250 for the first dive and the seven levels of training that typically include 7-10 dives costs around $1,500. It would usually take you around 10 to 15 jumps for you to be allowed unsupervised dive and around 25 dives to get an "A" license. The cost to get skydiving license for this level ranges around $2,500 or more.
Indoor skydiving costs around $60 for 2 minutes and $110 per 4 minutes. This is like a skydiving simulator for those who want to experience how it feels and without the risks and dangers associated with the real thing before taking the plunge. Most who try this want to test if skydiving is really for them because it is much more costly to be already on the plane and back out at the last moment.
Additional Costs
Photo and video packages cost around $79 to $169 depending on whether you want a basic, a pro or a Blu-ray type of video. Also, whether a photographer will dive simultaneously with you to take your photos and videos or a camera is just mounted on the wrist of the instructor in tandem skydive will also factor in the cost.
You might want to give your instructor a gratuity. Although it is not mandatory. $20 to $40 or depending on the price on the price of the jump, a tip is often appreciated.
If you are already skilled enough to dive on your own, parachute rental typically costs $20 to $25. Buying your own would cost around $2,000 to $10,000 for a complete set.
What is Included?
Accelerated free fall skydiving typically includes an eight-hour training on the ground prior to the actual dive.
Ways to Save
There are plenty of ways to save on skydiving license price. From small savings on every single jump on your way to earning enough number to get a license or improve for the next level, it is important to take note of the following:
Getting a group package would save you around 10% to 20% as the cost tend to decrease per head since it would take only a single flight to accommodate your group of five or more.
It costs lower if you pay in cash in many locations and skydiving companies.
If you have the time or if your schedule permits, do skydiving on weekdays as it normally more expensive during the weekends due to demand.
There are locations where you can do skydive at a lower cost than others because of the cost of living factors. Be sure to check online for these various locations.
If you enjoy your first jump and want to do it again, why not do it immediately after the first. Most companies would be willing to give you a nice discount since it would take less effort on their part to prepare for the flight if you book on the same day.
If you intend to skydive more often or intend to do it for a long time, it is wise to buy your own gears and equipment. It is more cost effective in the long run than renting every time.
In this day and age where discrimination and body shaming are a big issue, skydiving would most likely offend you with their pricing when you weigh more than 200 pounds. But this is just because it would take more fuel for the plane to lift your weight and would take more time for the pilot to get you to the jump altitude. So be fit if you want to save.
Factors Affecting Skydiving License Price
Skydiving company – each of the skydiving companies has varying rates due to a lot of factors so be sure to compare prices to get the best deal.
Location – some areas are more expensive to skydive than others due to several factors like higher cost of living, higher demand, a limited number of service providers among others.
Gears and equipment – getting your own will considerably save you more on cost than having to rent on every jump, especially if you are gearing toward earning your license.
Individual or group – aside from getting discounts when you purchase group package, the cost per head will even cost significantly lower as compared to when you jump as individual on a single flight.
Schedule of the dive – skydiving during peak season and weekends would cost you so much more than scheduling it on an off-season and weekdays.
Documentation – photo and video coverage would significantly add to the cost if you want your dive documented every time. Imagine the cost to get skydiving license when you completed 200 jumps, all with video coverages!
Skills level – when you are good enough to jump on your own, you will save on the cost of having a supervised dive.
Where to Acquire Skydiving License
The USPA.org offers a locator for various skydiving companies and drop zones around the country and also around the world. Just select your own state or any of your preference on the drop down of the "Domestic Group Members" on the bottom left side of the page.
For indoor skydiving locations, check out IndoorSkydivingSource.com.
Skydiver License Levels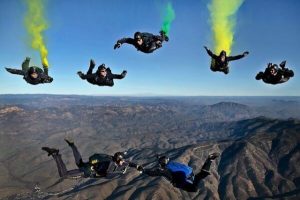 A License – 25 dives minimum
Earning your A license would allow you solo diving, with groups and even do freefly.
B License – 50 dives minimum
You can earn this by completing at least 25 more jumps, complete a water-landing class, minimum of 10 accuracy dives, must demonstrate your advanced canopy control skills, and of course pass the quiz. With your B license, you are allowed to do night skydiving.
C License – 200 dives minimum
From the B license, do at least 150 dives more, demonstrate your flight maneuvering skills and pass another test. This is your first step in taking instructor rating course if you want to coach later on.
D License – 500 jumps minimum
Get 300 more jumps after the C license, 2 flawless night jumps, pass another test and gain the approval of any of the Instructor Examiner, a member of the USPA Board of Directors or a Safety & Training Advisor.