As with anything that supposedly satisfies, appearance is one of the essential factors. A tub that has seen its glory days wouldn't be as appealing, for sure. Your old tiles might look somewhat nasty because of the water stains, or some parts of the bathtub have already chipped. It would be nice to have it modified so that it would look brand new and as pleasing as the first time you laid eyes on it, wouldn't it? The question is, who are you going to call for help? Most likely, one name springs to mind: Bath Fitter. With prestige and experience tucked under its belt, how much does the Bath Fitter cost these days?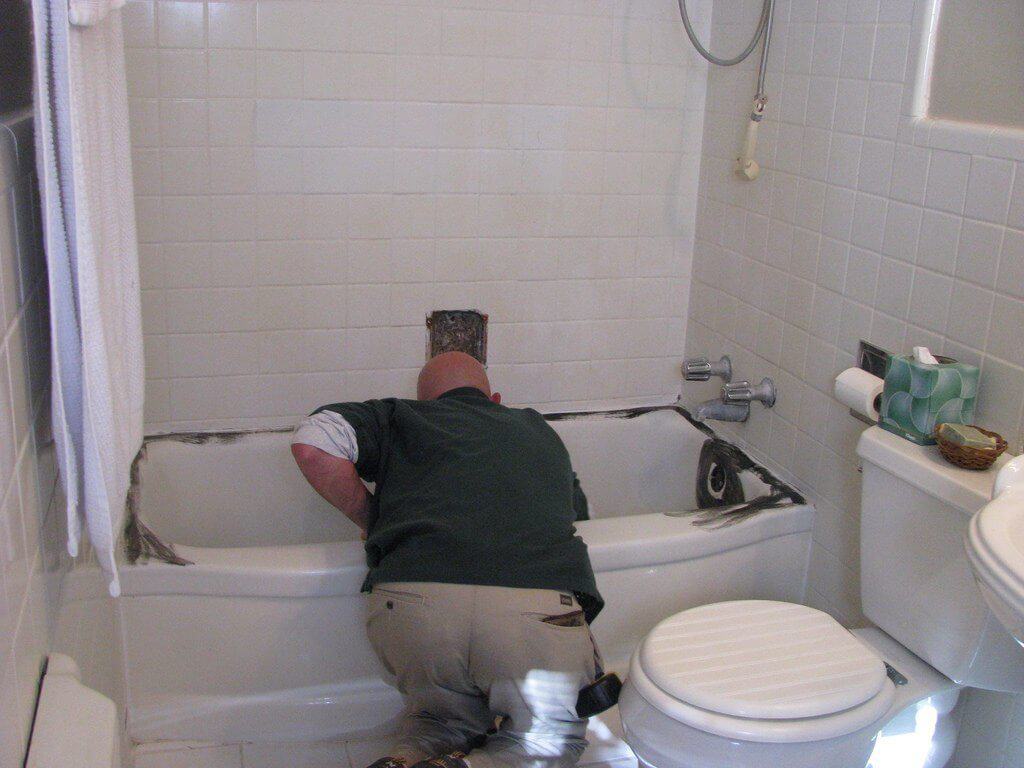 Average Cost of Bath Fitter® Services
The average cost of a Bath Fitter bathtub installation ranges from $1,500 to $7,000. This range significantly depends on the chosen bathtub, the features that the homeowners prefer, the size and current setup of the bathroom, the materials used to complete the job, and your location. Moreover, the cost can go higher if you want to install other bathroom accessories like showers, faucets, toilets, towel bars, shower curtains, cabinets, and shelves, to name a few.
Meanwhile, the Bath Fitter's bathtub remodeling service has a minimum cost of $1,000. However, Bath Fitter price will typically increase if your bathtub needs to be totally repaired or replaced.
To give you an idea, a 62" x 31" tub basic liner job with a new drain kit would cost around $1,500 if you're from somewhere in upstate New York. Another client from the northeastern side of the country was quoted $4,800 for a 5-meter tub that included some of Bath Fitter's higher-end finishes. On the other hand, a bathtub and shower redo with fixtures cost around $4,000 in Wisconsin.
If you're in Canada, particularly in Calgary, a tub liner was quoted at CAD $3,000 and CAD $7,000 if it includes the tiles.
What Exactly Does Bath Fitter® Do?
Bath Fitter offers custom-made acrylic bathtub liners that can fit over your existing bathtub perfectly.
How it works is pretty straightforward. Nothing will be removed from your old tub, unless, of course, you want to. However, you will need a separate contractor for that. Bath Fitter® will just need to put a liner on top of your existing bathtub to make it look brand new and presentable, especially if you're planning to put your property on the market.
Bath Fitter® will assist you with the design and suggest different options to choose from. From there, everything will be custom-made.
Once the order arrives, an installer will start working first thing in the morning and finish it at the soonest possible time, as promised. This typically takes around a day or a day and a half at most, depending on the design and the size of your bathtub and bathroom under service.
The good thing about this process is that there will be zero to minimal waste, which makes it more environmentally friendly than other improvement options. Plus, you don't need to destroy anything in your bathroom, which makes it less costly and less hassle. You can even go to work while Bath Fitter® works on your bathroom and go home to a whole new bathtub after a day's work.
To ensure high-quality work, Bath Fitter® hires trained professionals who do the planning, designing, and manufacturing of the new or remodeled bathtub, and subsequently, the installation. It also has its own installation process, which involves the following steps:
Assessment of the original bathtub

Removal of faucets

Installation of walls

Installation of wall protection

Installation of the new bathtub

Putting up of bathroom accessories

Cleanup process

Final touches of the newly installed bathtub
Please take note that the company is known for not providing even a ballpark figure of the cost unless one of its personnel makes an actual assessment of your bathtub. If you are up for it, be sure to let the assessor into your house to make an actual cost estimate of the project.
What is Bath Fitter?
When it comes to bathtub installation and remodeling services, Bath Fitter® is one of the most popular and highly recommended companies. Bath Fitter, Inc. is a Tennessee-based company that provides innovative bathtub solutions to customers across Canada and the United States.
It started its business in Montreal, Canada in 1984. Three years after working in the commercial industry, the company entered the residential market, offering different bathtub products and services to both homeowners and commercial clients.
Because this company only wants the best for its clients, it takes everything into its own hands. To ensure the quality of the materials it will be using, it makes use of its own acrylics and adhesives.
In addition to the outstanding work ethics, the company gives its clients a lifetime warranty for as long as they own the property. This covers acrylic bathtubs, shower conversions, tub surrounds, replacement showers, and basically everything it has touched, which may include plumbing.
Bath Fitter®Shower Services
Aside from bathtub services, Bath Fitter® also offers shower solutions at reasonable prices. It has shower remodeling and tub-to-shower conversion services. Prepare around $3,000 for the remodeling and, at least, $3,000 for the conversion. Of course, converting a bathtub to a complete shower bathroom may take some time to complete, hence, the higher costs.
But the prices still depend on where you live and the features you want to include in the remodeling project. A shower conversion that includes glass doors was quoted at around $9,000 by the company.
Just like the installation and remodeling of bathtubs, Bath Fitter's professional workers also follow a strict shower remodeling process and complete the whole task in one day.
The whole procedure consists of the following steps:
Assessment of the original shower

Removal of faucets

Installation of new walls

Setting up a wall protection

Installation of the new shower

Installation of new bathroom accessories

Installation of the new shower door

Final touches of the remodeled shower
Meanwhile, the conversion of a tub to a fully functional shower room involves the bathtub's removal and replacing it with an extra-large and durable shower.
Bath Fitter's Bathtub Accessories
If you feel that you could use some little savings by going the DIY route or hiring a handyman, you can still use Bath Fitter's wide range of quality products. This is because the company also offers high-quality and stylish bathtubs and bathtub accessories that can definitely make your bathroom look sophisticated.
Some of its bathtub accessories are as follows:
Shelves and soap dishes

Bathroom Towel Bars and Toilet Paper Holders

Faucets and hand-held showers

Shower Rods

Grab Bars and Shower Seats

Tub and Shower Doors

Walls and Wainscoting

Bathroom Ceilings

Trims and Moldings
"Design Your Own Bath"
The nice thing about Bath Fitter's website is that it has an allotted page with an interactive tool where you can design and personalize your bathroom. This will be particularly handy for people who can't decide what they want until they see it. The selections are as follows:
Bathtub or shower
Tub fronts style and color
Wall patterns
Type of faucet
Shelves
Soap dishes
Grab bars
Door and rods
After designing your bathroom, you have the option of getting a free consultation or saving the design so that you'll have the time to think it over before actually getting a consultation once you're ready.
What Are They Saying About Bath Fitter?
According to a lot of its satisfied clients, Bath Fitter's installers are known to be punctual, get straight into action, and clean up after themselves. They're also pretty accurate in estimating how long it would take to finish the job.
So, if you're working on a very strict timeline, you'll have no problem with this company. It's even possible to finish a job in one day! And that's while keeping you updated with the progress of the project and being open to any of your questions.
But prior to the actual work, talking to its salesman would be the first course of action. Expect the company to send only very knowledgeable personnel who will mainly stay in the lane of your budget and will never try to persuade you into buying products you cannot afford. Despite this, expect to get the best possible product quality and aesthetic-wise.
Payment Options
Although a lot of people believe that Bath Fitter's services are reasonably priced, some still find them quite expensive or, perhaps, something they cannot afford to pay all at once. To solve this problem, the company offers payment options so you can manage your finances well.
All you have to do is pay the required deposit and pay the balance within 24 months, interest-free.
Some Things to Consider
As mentioned, some people may find Bath Fitter's services a bit expensive. To ensure that you'll be provided with an acceptable price, ergo, within your budget, be sure that you take advantage of the company's free in-home consultation. That way, you'll know if it's a go or not from the get-go.
But if you feel like you can't afford Bath Fitter's services or you find it unreasonable, you can always hire other companies that provide bathtub installation and remodeling services. As much as possible, get at least three quotes from different firms and determine which one works best for you. Filling out the form below will get you in contact with some companies offering similar services for you to get quotes from.
Once you have found a company you can work with, make sure to check its credentials. These may include licenses, insurance, and other papers that your contractor can provide. These ensure that you're not dealing with fly-by-night contractors and that you are covered in the event of back jobs and damages.