There are many things that can be made using a shipping container and due to their large size, you can even have it modified to be a comfortable living quarter. Shipping containers are primarily used in transporting a lot of products. There are even shipping containers that are custom-made for a specific purpose such as transporting perishable products such fruits and vegetables as well as transporting weapons and ammunitions.
Before purchasing a shipping container for whatever purpose it may serve for you, you might want to consider how much does shipping container cost. Shipping containers vary in shapes and sizes.
Cost Of Shipping Containers According To Its Physical Attributes
There are many types of a shipping container that you can choose from to accommodate your need for space and other matter. You can choose from the different sizes available in the market.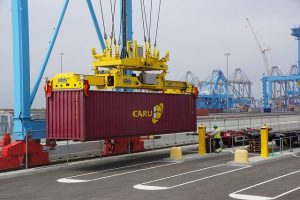 If you want to procure a shipping container there are distributors that can be found in your local port area. Shipping container cost varies for different physical conditions of the shipping containers. A new container cost ranges from $1,500 – $3,300 while a second-hand shipping container cost ranges from $800 – $2,000.
Shipping containers come in different sizes. There are 8ft, 10ft, 20ft, and 40ft. Some custom-made shipping container measures up to 65ft at most. Different sizes implied a different An 8ft shipping container cost around $1,450. A 10ft shipping container cost is at $1,980. A 20ft shipping container cost is around $2,100 while a 40ft cost at $3,300.
Modified shipping container has been in demand now a day. With the lack of enormous funds to put up an office building or even a restaurant. There are even those who want to have a container home and camper made of shipping containers. Shipping containers are durable and can withstand harsh weather condition making it ideal for modified homes and establishment. To have a shipping container that is ready made and livable the price ranges from $12,000 – $20,000.
In general, the cost of the shipping containers is dependent on their sizes and purpose. There are second-hand shipping containers that cost less than $1,000 and there are those that cost up to $5,000 at the latest.  When shipping containers are purchased most often the delivery charge is not included in the agreement. There are shipping containers that are order abroad and the shipment fees will cost approximately around $1,900 – $23,000 depending on the number or shipping containers that are being procured.
If you want to order a shipping container it is recommended to consult at least 3-5 contractors that distribute shipping containers in your area. Also, you can negotiate the price for the shipping container most port area have an overabundance of a shipping container that needs to be dispatched.
Shipping Container Prices Online
Shipping container most often procured online but there are contractors that you can visit in the port area that will help you if you want to purchase shipping containers.
If you want to purchase some shipping container is it old or new you can find it in Containers Direct depending on the size of your purchase you the shipping container cost is between $1,095 – $3,300, as of May 2017.
The cost of a fully renovated shipping container cost in Container Homes ranges from $12,000 – $20,000, as of May 2017.
For custom-made shipping container the cost varies from $12,000 – $38,000. A fully furnished ready for occupancy houses made from shipping container cost up to $185,000, as of May 2017.
Different Kind of Shipping Container
Different shipping containers are made for a specific purpose.  These containers are made to accommodate the different needs of the products that are needed to be ship. There are products that are needed to be keep at a specific temperature and products that are larger than the shipping container. There are even shipments for a live large animal transport for zoos all over the world. The sizes of these shipping containers are according to the ISO standard.
Dry Shipping Containers – it also called the standard shipping container. It is the most commonly used shipping container. It cost ranges from $1,290 to $1,548.
Flat Rack Container – this shipping container is suitable for heavy cargoes, construction materials, and heavy machineries. The sides on this shipping container can be folded down with the price start from $4,257.
Open-Top Container – it is often made of corrugated steel and wooden floor. It has no solid roof instead it has a removable bows and a weatherproof tarpaulin roof. It is ideal for pipe cargo and other bulky cargo. It cost around $2,000 to $6,000.
Insulated and Thermal Containers – it is ideal for products that have a regulated temperature. This shipping container maintains a higher temperature to keep the products warm. The shipping container cost of this kind is around $2,000.
Tanks – this container is used as a liquid storage container. This is used to transport liquid material such as petroleum and oil. It is made up of anti-corrosive materials and strong steel.
Refrigerated ISO containers – this temperature regulated container control the low temperature inside the shipping container. This shipping container is use for the shipment of perishable substance and products that are needed to be kept at low temperature requirement such as fruits and vegetables. The cost of this shipping container is around $3000 to $19,000 depending on the size and age.
Drums – is a cylindrical shipping container that is used in transporting liquid materials and is made up of steel, light weight metals, fiber, and hard plastic.
Special Purpose Containers – this different from the typical shipping containers that are used for transporting products such as dry goods and the likes. This custom made shipping container that has a specialized purposes such as transporting high profile shipments of weapon and arson. This customized shipping container cost around $5,500 $20,000 depending on the size and purpose of the container.
Car Carriers – this made for the shipments of vehicles over a long distance. The collapsible sides of this shipping container help the car fit snugly inside the container it also avoid damages that the car might sustain over the prolong storage. Also, it keeps the car from moving from its spot. The car carrier shipping container price is around $4,500 to $6,000.
Factors That Affect The Shipping Container Cost
When it comes to shipping cost there are a handful of things that might affect the cost of the procured product. It is most often due to the area where the shipping container is purchased.
Shipment Mode – depending on how you view it the shipping mode can either have a positive and negative impact on the cost. When a shipping container is ordered online the shipment cost from one country to the other can cost between $1,900 – $23,000. This shipment cost depends on how far is the country that the shipping container originated. There are shipping containers procured from Asia and there are some from Europe.
Customs and Taxes – when it comes to ocean to ocean shipping custom and taxes obligation are also available. Different countries have their own regulation when it comes to shipments. Custom clearance cost is approximate $300 and the warehouse fee is between $50 – $150. There are other fees associated with the shipping container purchase from other countries and it cost around $40 – $300.
Transportation – some contractor for shipping containers don't offer delivery service for the procured product. It often up to the buyer to contact a service provider that will deliver it to your doorstep. The delivery cost for shipping container also varies with respect to the size of the container that needs to be delivered. A 20-foot container cost $400 while a 40-foot container cost $780 including the surcharge for the container unloading.
Size – the size of the affect the cost the most. Shipping containers cost depends on the size and the most common sizes available in the market are 20ft and 40ft steel containers. Also, these sizes are negotiable due to its availability. They are easier to look for compared to the smaller or larger shipping containers that are often customized. The shipping container of this size cost ranges from $2,100 – $3,300.
Conditions – the age of the product affect the price when used or rented. When inspecting for the condition of the container be sure to look for cracks and holes that will compromise the integrity of the container. Also, make sure that the door is working properly. A second-hand shipping container cost ranges from $850 – $5,500.
Added Features and Modifications – the most common shipping containers come with no extra cost. Customize shipping containers is more expensive than the other shipping available in the market. Fruit and vegetable use a refrigerated shipping container for a colder environment since fruits and vegetables are perishable. Refrigerated shipping container cost $5,500 at most. A modified shipping container cost between $3,000 – $38,000 depending on the modifications that are 
Hope that this answers all your inquiries about how much does shipping container cost. When you procure shipping containers it is better to start looking in your local port for contractors that offers shipping containers to save than purchasing abroad.
Also, when procuring shipping containers it is advisable to negotiate the price since most ports are congested and in need of shipping container disposal, they will most likely to lower the price to lessen the number of containers available in the port areas. Always check for the cracks and hole when you choose your containers to have a successful purchase.