Asbestos exposure has been proven to cause serious illnesses that can be fatal if left untreated. Lung cancer, mesothelioma, and asbestosis are just some of the major health impacts associated with exposure to this mineral. The Environmental Protection Agency (EPA) recommends leaving any asbestos-containing materials undisturbed to avoid releasing the asbestos fibers. However, if you plan to completely get rid of it in your home, here's how much you can expect to pay for asbestos removal.
The Average Cost of Asbestos Removal
Overall, the national average for the cost of asbestos removal ranges from $800 to $1,200 but could reach up to $5,000 for complex projects with larger scopes. An entire house or building, however, could average tens of thousands of dollars.
For example, the cost of complete asbestos removal for a 1,500-square-foot home could run as high as $20,000 to $30,000. This could mean around $13 to $20 per sq. ft.
Meanwhile, the standard asbestos abatement cost per square foot is usually around $15 to $25.
What Are Included?
To know how these prices are estimated, below is the complete breakdown of the average cost:
1. Removal
Once the presence of asbestos has been confirmed, the area will then be "contained" or isolated. After containment, asbestos removal professionals will then clean the area using a HEPA vacuum system.
Enclosure or encapsulation of asbestos, whichever is necessary, will be around 15% to 25% cheaper compared to asbestos removal as this does not involve demolition or disposal.
2. Labor
Labor costs vary depending on which city and state your home is located in. Most professionals would charge around $800 to $1,500 at least for a project. However, some contractors may charge a fixed price no matter how small or big the work is, and this could range from $1,500 to $3,000.
There are also some asbestos removal professionals who charge by the hour and may cost $75 to $200, but could reach up to $700 per hour if you live in an upscale state.
3. Materials
Asbestos removal can be quite expensive. Since it's considered a hazardous substance, extra care and special equipment are used to safely eliminate it.
Here are some of the average costs of the gear and materials used in removing asbestos:
goggles – $20
disposable coveralls – $50
disposable gloves (per box) – $10
HEPA vacuum – $1,000
respirators (per unit) – $150
rubber boots – $30s
4. Properties that will be affected
Precautions will be implemented in all parts of the house to be renovated. Understandably, the more parts that need to be protected, the more expensive it will become since more materials will be used to carry out the protection for it to be effective.
You also need to consider if any of your neighbors may be affected by your asbestos removal project. If this is the case, then you've got a bigger issue at hand. Remember that around 60% to 70% of the total project cost will be associated with the setup time.
5. Disposal
Small projects generally include the disposal of waste materials after removal from the premises. However, you may find other contractors charging this separately due to some state requirements that may make this more costly than usual.
6. Has the material been tested before?
Having the testing requirements processed by yourself prior to hiring a contractor will save you some money. This is because professionals add a markup to every component of a project as part of administrative and supervision costs.
Additional Expenses
Since dealing with a health hazard material, asbestos abatement fees would require several processes before and after to complete the project. This is particularly true for large structures. These would include the following:
The presence of asbestos must be established before starting any asbestos abatement project. To remove asbestos, the first step is to get a sample via testing.
A standard on-site test is usually administered and will cost about $250 to $800. This is followed by an inspection to determine what corrective actions should be taken.
Meanwhile, inspection for an average-sized home falls between $1,200 and $2,000, while large commercial buildings may cost at least $2,000.
On the other hand, an AHERA-certified inspection may cost $250 to $1,000, depending on the size of the building to be inspected. In some cases, a laboratory analysis may be necessary and could add another $25 to $75.
An air monitoring test may also be required and may cost around $300 to $1,200. This measures how much asbestos is in the air and locates areas of the house where asbestos is mostly concentrated.
You may also opt for a Hazardous Materials (HazMat) survey, especially for homes with thermal system insulation that contains asbestos. However, a HazMat survey must only be conducted by a state-authorized asbestos inspector.
This type of assessment costs around $400 to $800 for small, specific areas. 
Waste disposal is usually a part of the labor cost for small projects. However, this may add another $350 to $2,000 for larger, more complex projects depending on the amount of waste generated, bin rental, and transport costs.
Some states may even require you to secure a permit in accordance with the requirements of the US Environmental Protection Agency, or EPA.
After the removal is finished, a final inspection for air clearance and monitoring should be performed to make sure that there are no leftover asbestos fiber in the air. This is also done to ensure that the contractor did their job properly. This costs about $200 to $400.
Cost Factors for Asbestos Removal
There are several cost factors that determine how much asbestos removal costs. These include the following:
The scope of work is typically the initial basis when costing this project. Hence, the asbestos removal cost per square foot is typically the main point of discussion. This is due to the fact that this will identify how much time will be spent on completing the task and how many materials will be needed to put it together.
How much asbestos to be taken out
Sometimes, even a seemingly small asbestos removal project can be more complex in terms of scope than bigger ones. This is because there are areas in the house, particularly, the much older ones, that have more concentrated amounts of asbestos. This can lead to a more time-consuming, labor-intensive project, which naturally would be more costly.
Normally, any home improvement cost has to be based on the level of difficulty of the project. After all, it's the skill that is the primary reason why you cannot do it on your own in the first place.
When assessing how difficult it is to perform the job, you have to determine the location of the asbestos to be removed or abated. Is it just on the floor or is it inside the plumbing pipes? Is it on the roof or in the attic?
Depending on the complexity of the location, most likely, special tools and equipment may be required to perform the job, which will make the project more costly.
Whether friable or non-friable
When dealing with friable asbestos, more skills will be required to tackle it since it is the more dangerous type. Hence, only highly-skilled contractors should be handling the project. The added level of hazard compels additional charges from the professional.
Third-party consultants for air clearance and monitoring may also add to the cost, especially for high–risk removals.
Mobilization or transportation
Where the contractor is coming from will also affect the overall cost of the project. First, you have to consider that they may charge an extra fee if they come from a different state or if your project site is difficult to reach.
This will also be applicable if there are tools or special equipment that need to be mobilized to your location.
Local costs for materials and labor also vary across different cities and states. For example, in Portland, a 225 sq ft of asbestos tile removed in a basement costs $2,000. On the other hand, in Chicago, asbestos remediation costs $2,600 for 350-sq ft of tiles.
Is DIY An Option?
If you plan on saving money by doing the removal yourself, just scrap the idea. Asbestos is highly toxic and removing it without any training is dangerous. Federal law may not require a licensed individual to remove asbestos in detached single-family homes, but some states and cities do.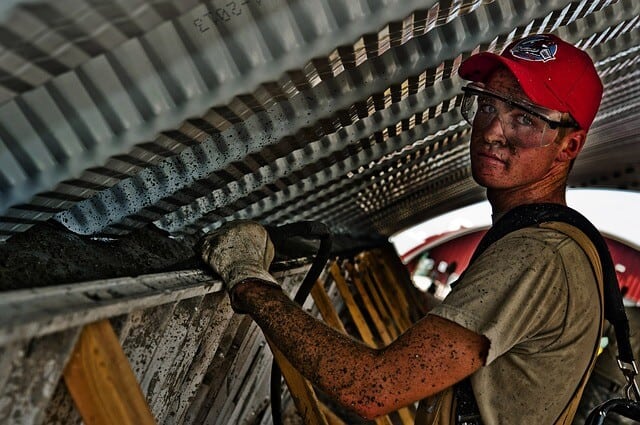 For safety reasons, hire only licensed professionals with approved equipment. Additionally, an asbestos abatement project may be required to comply with local building codes before being given the go signal.
Before undertaking this kind of home improvement project, do your own research first, and get price estimates from several contractors. Comparison of costs can certainly help you avoid getting ripped off by overpriced contractors.
EPA also recommends hiring an inspector and removal contractor from different firms to avoid conflict of interest.