Euthanasia is a viable option for some pet owners whose dog or cat is getting old or having a difficult time due to health complications. But just before you finally decide to pursue this option, you need to know how much does it cost to euthanize your pet. In this article, we will be more focused on the cost of putting down your dog. Nevertheless, cat euthanasia costs are almost similar.
Average Dog Euthanasia Cost
The cost to put your dog to sleep has been increasing year after year, and the most common figure ranges from $35 to $300. However, the amount can be as high as $600 to $850, with the higher end of the price spectrum often including sedation, cremation, and transport back home for the remains.
The cost to euthanize a cat or a dog would depend on your answers to the questions below:
Do you want to sedate your pet before the euthanasia injection so that the pet won't feel much pain?
Do you prefer an

in

-home or in

–

office service?
Do you want your pet's body to be buried or cremated?
If you want to cremate your pet, would you need the cremation to be private?
Do you want the ashes of your pet returned to you in an urn?
Would you look for animal centers around you where you could get the service for as low as

$40

?
Factors That Affect The Cost to Euthanize A Cat/Dog
The various factors that can affect the price of dog euthanasia are based on the questions mentioned above. To illustrate each, please read on.
If you are living in a small town located in a rural area, you can expect that the cost of euthanizing a cat/dog is less compared to if you are living in the city.
So, how much does it cost to euthanize a dog? In Arizona, Gentle Journey and Pets At Peace charge about $285.
Has Your Pet Been To The Vet Before?
In the event that your pet has never been seen by a veterinarian before, most veterinarians would charge a small fee for the pet examination before the dog or cat's euthanasia. A typical office visit costs around $45 to $100 if your pet is seeing the vet for the first time.
Finding a price to put a dog down below $100 would be a challenge. This is due to the fact that those cheaper rates would only be available in animal societies like the Humane Society of West Michigan, where dog euthanasia is done for as low as $40.
These cheap dog euthanasia services are usually in-office where no cremation facilities would be provided.
Whether In-Clinic or In-Home
In-clinic euthanasia would cost less than in–home dog euthanasia because a vet would need to travel to reach your home. The cost changes depending on the distance between your home and the clinic.
Some vet clinics would shoulder travel costs within 30 miles. However, beyond 30 miles, up to 40 miles, would be charged an additional $25, while beyond 40 miles, up to 50 miles, would be charged $50 on top of the cost to put down a dog.
On the other hand, other veterinarians and vet clinics automatically bill double what they would charge when doing the service on the vet table.
At Doorstep Vet in Austin, Texas, the base rate for the entire service, inclusive of the travel surcharge, starts at $260. At Rainbow Bridge Veterinary Services in Arizona, in-home pet euthanasia is charged at $325.
If you want your pets to spend their last moments in the spot they love, you should opt for in-home pet euthanasia.
With or Without Sedatives
Sedation is optional and may cost you more, especially if your dog is still aggressive despite the illness or you just want them to not feel more pain. Expect to pay an extra $40 to $220 for either a sedative or anesthesia, depending on the size of your pet.
If a sedative is injected, it takes about 15 minutes to take effect, and then a vein injection is given, which turns off brain activity, causing the pet's breathing to quicken for a few seconds. The whole dog sedation and euthanasia process would be completed in about 30 minutes.
Additional Costs
Typically, putting your pet down is scheduled for a later date for you to be able to have enough time to bond with your furry friend one last time. However, same-day requests will be treated as urgent and will typically be charged an additional fee. At Tenderheart Pet Hospice, this will be charged an additional $35.
When you have finally decided how you want everything done, the next decision for you to make is where you will put the last remains of your dog. You can either go for a burial or a cremation. Your vet can help you decide if you are having a hard time due to grieving.
First, you need to know if there are any ordinances about at-home burials. You need to be aware of the city ordinances if you wish to bury your pet at home.
The cost of pet cremation would change depending on the pet's weight. If you want to cremate your dog, there are two options.
Private Cremation –

Here, y

ou can keep your pet's ashes

by buying

urns online

for around $50 to $150

. Private cremation could cost an extra $40

to $225

based on

the

pet's weight.
Group Cremation –

This is c

heaper than private cremation as

your pet will be mixed with other

animals

during cremation

. Usually, the extra cost for group cremation ranges from $25 to

$100

.

At Rainbow Bridge Veterinary Services in Arizona, there is an additional

$100 charge for group cremation on top of the

cost to put a dog to sleep

at home.
Other options beside cremation are home burial and pet cemetery burial. Pet cemetery services could be expensive. By choosing home burial, the total cost for putting the dog down will be reduced accordingly.
More often than not, dogs or cats are considered more like family members than just pets. Therefore, you want them to be remembered as having been a significant part of your lives, and what better way to do this than to memorialize them?
Some methods of memorializing your pets are as follows:
Wearable necklace where you can put your pet's ashes
Pet portraits

C

olorful urns for keeping ashes
Pawprint kits
The Right Time To Euthanize Your Dog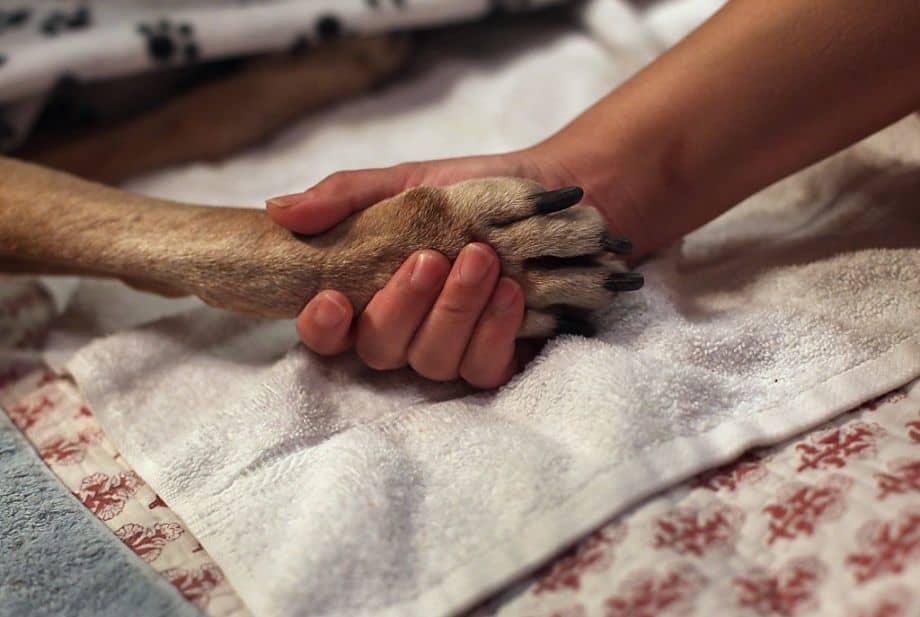 Before getting into the details of dog euthanasia cost, one of the most important questions that you have to ask is, how will you know that it is finally the right time to euthanize your dog? There are specific situations that can help you decide to finally do it.
For instance, if your dog is in severe pain that can no longer be relieved, you might want to euthanize your pet so it no longer has to suffer. The quality of life has also been significantly reduced, so that even your presence doesn't excite your pet anymore.
In any case, you may also want to consult a vet to help you with the painful decision.