Isn't it a wonder how you always see and hear everywhere especially on social media that you should embrace yourself, flaws and all; that you should never be ashamed of how you look?
How many posts do we see on Instagram on a daily basis from people especially women flaunting their body in swim suits and skimpy dresses that reveal plump figures with the caption "never be afraid to show the world the real you" with the hash tags #LoveYourself and #NoToBodyShaming?
Yet here we are, living in a country where skin tanning is a major industry. And media of all forms do not even promote this side of the vanity. Why can't the "love yourself" advocacy include "love and accept the color of your skin". Of course, we are not talking about race. We mean being comfortable in your own skin, regardless of color.
But hey, we are not here to dissuade you from getting whatever you want for yourself. If it makes you happy, then by all means, proceed with caution.
That being said, have you always wanted to get a tan skin, but you do not have the luxury of time to go sunbathing at the beach or a tanning facility? Actually, having the sun-kissed skin you wished for is much easier and more convenient if you decide to purchase your very own tanning bed. It is a big equipment, so be sure to provide enough space for it. But before spending on one, you should know exactly how much does a tanning bed cost?
Average Cost of Tanning Bed
Family Leisure, a Cincinnati-based manufacturing company, sells leisure products and equipment including tanning equipment. Its price of tanning beds for home use ranges from $1,599.99 to $3,499.00. On the other hand, the ones for commercial use cost from $2,499.00 to $6,999.00.
Its cheapest model for home use is 14 Set that costs $1,599.99 that has 14 lamps. With this, you can get a tan in 20 minutes. The most expensive unit, on the other hand, is Oasis 36 by ESB Enterprises that has a price of $3,499.99. It has 36 tanning lamps and a 10-minute digital timer system.
To give you the list of their product lines, please check out the following:
Home Units
Family Leisure 14 Select Tanning Bed – $1,599.99
Solar Wave – 16 Lamp Tanning Bed – $1,699.00
Family Leisure 18 Select Tanning Bed – $1,699.99
Solar Wave – 16RE Tanning Bed – $1,799.00
Solar Wave – 24 Lamp Tanning Bed – $1,999.00
LPI Solar Storm 24S Tanning Bed – $2,199.99
LPI Solar Storm 24R – 220V Tanning Bed – $2,299.00
ESB Enterprises Avalon 20 – $2,299.99
ESB Enterprises Avalon 24 Tanning Bed – $2,499.99
LPI Solar Storm 24SR Tanning Bed – $2,799.00
LPI Solar Storm 32R – 220V Tanning Bed – $2,799.00
Solar Storm 32S Tanning Bed – $2,799.99
ESB Enterprises Avalon 28 Tanning Bed – $2,899.99
ESB Enterprises Timeless Beauty 26 Trio Tanning Bed – $2,995.00
LPI Solar Storm 24 – 6CR Tanning Bed – $2,999.99
ESB Enterprises Oasis 36 – $3,499.99
Commercial
Solar Storm 24 Lamp – $2,499.00
Solar Storm 32 Lamp – $2,999.00
ETS 28-2F Wolff Tanning Bed – $3,999.99
ETS Sunvision 28LE-2F – $3,999.99
Solar Storm 36ST Stand-Up – $4,999.00
Solar Storm 48ST Stand-Up – $6,999.00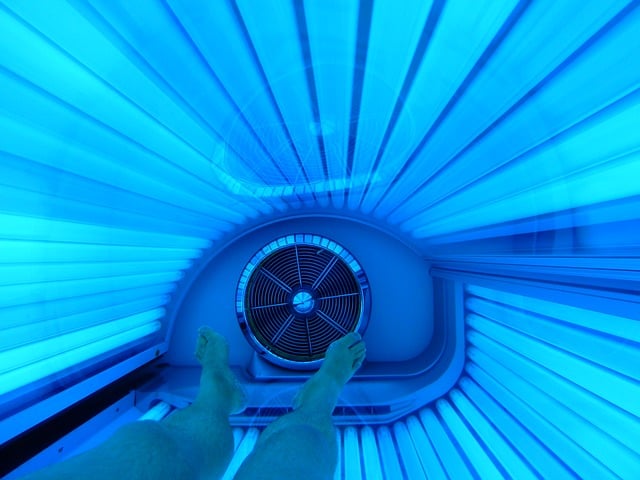 Offering different variations of tanning beds, Family Leisure has canopies, fully closed or open beds as well as units that let you stand while giving you a tan. Aside from the beds, it also has accessories such as spray tan machines and solutions, which you can use to enhance the natural glow of your skin.
If you happen to be obsessed with tanning who plans on buying a tanning bed, it is suggested that you should find out the number of lamps your usual tannery employs in giving you that dark tone complexion. The price of tanning beds with fewer lamps or those below 24 is at most $2,500.
Most of the time, tanning beds do not use up so much electricity when their voltages are within 120 to 220 volts. Each time you use this kind of bed, your electric provider would only charge in cents per use. Yes, you get to spend a lot for buying the machine, but the amount you pay for the power is LESSER THAN how much you pay in the salon or tannery.
To give you some of TanningBeds4Less' product lines and their corresponding prices, please see below:
PhotoTech 32 – Red Lamp Therapy System – $3,999.00
PhotoTech 24 – Red Lamp Therapy System – $3,299.00
PhotoTech 16 – Red Lamp Therapy System – $2,499.00
For other tanning bed models available, please contact them directly for the price.
SunMaster 16E
SunMaster 16 Limited Edition
SunMaster 24ES Tanning Bed
SunMaster 32XL
SunMaster 32XL-LT
SunMaster 32XL – 220 Volt
Another factor that you may need to consider is the power of the tanning bed lamps that basically provides you with a tan complexion. So, how much does a tanning bed cost with red lights? Spa & Bath has an average price of tanning beds for home use at $2,200, selling the machines between $1,699.00 and $2,999.00. It boasts of providing beds that utilize red light for tanning and offering warranties if you buy from this company.
The least expensive model of Spa & Bath is SW-16L Solar Wave Residential Tanning Bed for a price of $1,699.00, which already comes with 16 high-output lamps. Meanwhile, the unit that has the highest price is SW-32S – SolarStorm 32 Lamp Commercial Tanning Bed for $2,999.00, coming with 32 tanning lamps that include 16 Wolff High Output Lamps, 8 lamps for the arms and another 8 for the face as well as aluminum reflectors to give you that optimum tanning power.
But if you are looking for the sunbeds that are on the expensive side but do not mind purchasing a second-hand, the 2nd Sun Tan offers used Ergoline tanning beds priced as follows:
Ergoline Affinity 500 – $7,500.00
Ergoline Advantage 350 – $3,495.00
Ergoline Advantage 350 – $3,495.00
Ergoline Advantage 400 2004 – call for pricing
Ergoline Advantage 400 2009 – call for pricing
Ergoline Affinity 500 – $10,000.00
Ergoline Ambition 250 Red – $2,995.00
Ergoline Avantgarde 600 2003 – $8,995.00
Ergoline Classic 650 2003 – $5,995.00
Ergoline Evolution 500 2003 – $7,995.00
Ergoline Evolution 600 2003 – call for pricing
Ergoline Open Sun 550 2006 – $7,995.00
Ergoline Open Sun 550 2008 – $8,995.00
Ergoline Sun Angel 46 2008 – $7,995.00
Ergoline Sundash Radius 252 – $3,995.00
Ergoline Sundash Radius 252 2009 – $4,995.00
Ergoline Sundash Radius 252 RED LIGHT – $3,995.00
Ergoline Sundash SD2 1998 – $995.00
On the other hand, HotTanningBeds.com has the following products lines:
Solar Wave SW-16L – $1,699.00
Solar Wave SW-16RE – $1,799.00
Solar Wave SW-24L – $1,999.00
Solar Wave SW-24S – $2,199.00
Solar Wave SW-24R – $2,299.00
Solar Storm SS-32S – $2,699.00
Solar Storm SS-32R – $2,799.00
What is Included
Tanning beds come in different models that are made up to 14 up to 36 lamps, depending on whether it is intended for home or commercial use.
Some people view tanning bed as a microwave oven but it is definitely not. You do not get burned inside like the way outdoor tanning does to your skin.  In reality, the bulbs in tanning beds emit a specific type of ultraviolet light that is also produced by the sun which stimulates a natural biochemical reaction in your skin.
In case you don't know, a tan complexion protects the body from overexposure to ultraviolet rays and sunburns. The lamps in the tanning bed emit a visible light spectrum that ranges from infrared to ultraviolet which is tolerable for our skin unlike the sun that emits light beyond the ultraviolet that may be harmful and we can't even control.
You get these benefits when you purchase a tanning bed and a warranty, the coverage of which depends on the manufacturer or the source.
Additional Costs
Aside from knowing how much does a tanning bed cost, you should also consider the expenses for installation, care, and maintenance. The cost you will be spending on the tanning bed is already big, so take it as an investment and do necessary measures to keep it in very good condition. It would surely be a hefty loss when it gets broken right away.
As part of the maintenance, you might want to purchase a Tanning Bed Accessory Kit – Clean & Maintain being sold by Amazon that includes the following:
1- AG Bed Sanitizer 32oz – Makes 16 Gallons of Concentrate
1- 32oz Spray Bottle with durable trigger
1- Novus 1 8oz Acrylic Polish – Cleans, Shines & Protects the acrylic surface
2 – UV Protective Eyewear – Peepers random colors
1 – Closed Cell Foam Tanning Bed Pillow
If you have bought a tanning bed that has not been assembled yet, you can hire a professional technician to set up the machine and organize the wiring system properly. If the delivery is not included in the price of the tanning bed, then consider hiring movers which would also include the assembly of your tanning bed so you do not have to hire separate professionals to do two separate jobs.
Typically, tanning beds that have more lamps are bigger and they are usually used by taller individuals to give them a beautiful and well-toned tan all over their bodies. So if you are tall, then you would need the more expensive type of sunbed.
When you are in the process of choosing your tanning bed, remember to ask the longevity of the tanning lamps, the precise type of lamps needed and the price for replacements bulbs. Spa & Bath also offers lamp replacements that cost $10 each. Furthermore, there are some units that have extra bulbs, increasing the price of tanning beds.
As a reference, the average duration of lamps is 800 hours. To make sure that you don't overuse them, do an initial calculation of how long you use the tanning bed in a week. Generally, tanning lamps can last in months for as long as you manage the equipment well.
And how's tanning without the Tanning Lotion? Millenium Tanning New Solid Black Bronzer Tanning Bed Lotion available at Amazon claims to surpass all others in terms of satisfaction.
Shopping for Tanning Bed
You may start hunting for the right tanning bed for you from the sellers mentioned above.
But if you are on the conservative side and would want to have the perfect tan the natural way, these are the must-haves which are all available at Amazon:
Just be sure not to overexpose from the sun to avoid excessive sunburn which causes skin cancer.
Factors Affecting Cost of Tanning Bed
Manufacturer or brand – most of the time, the company that produces the equipment is the foremost determinant of the price as the reputation of the brand based on the quality of the products it produces have a huge effect on the cost.
Make and model – Apart from the brand name, the make and the model also define the pricing as those most technologically advanced and have more features and functionalities definitely cost higher than others.
Source – majority of the tanning beds manufactured by other companies are sold at different dealers all over the country. These dealers tend to have varying prices depending on the markups they impose on the products as well as the cost of doing business.
Orientation – there are two kinds of tanning beds based on orientation: the horizontal tanning bed or the sunbed or solarium; the other one is the vertical tanning bed or the stand-up sunbeds.
Lamps or bulbs – when you go to a tanning bed shops, most of the time, the price varies depending on the number of bulbs or lamps as well as its level of tanning power or capacity that it produces.
Additional Information
Contrary to popular belief that they are bad for your health, they can even help your body to produce Vitamin D during cold seasons where there is little or no sunshine. Vitamin D is essential in preventing osteoporosis and osteoarthritis, as well as acne. That is apart from boosting your self-confidence by having the perfect tan complexion that you want.
Apart from the ones mentioned, other benefits of tanning beds are the following:
Help in the prevention of cancer.
Strengthen the body's bones.
Alleviate the Seasonal Affective Disorder.
Aid in clearing up psoriasis.
Give soothing rest and relaxation.