Homeowners to want their homes to look great especially when there are visitors arriving. One of the ways to beautify a home is for it to have a neat-looking floor and walls—this is where baseboards come in. As for baseboard prices, uninstalled baseboards may cost $50 to $75 for an 80 feet living room and $300 to $500 for an average sized two-story home.
The cost to install baseboards, however, may range from $1,100 to $3,000 for an entire average-sized home. Of course, the baseboard installation costs will depend on many factors.
What's a Baseboard?
Baseboards, also known as skirting board or mopboard, is a board, usually wooden, that is installed to cover the lowest part of the walls inside a home/building.
Basically, the baseboard consists of a plank nailed, glued or screwed to the wall. Sometimes, radiators are installed inside or in front of the board; these radiators rely on hot water for heat source. Baseboards can be made of wood, plastic or vinyl.
Types of Baseboard
Perhaps, baseboard prices may also depend on its material and what it is made of. There are wooden and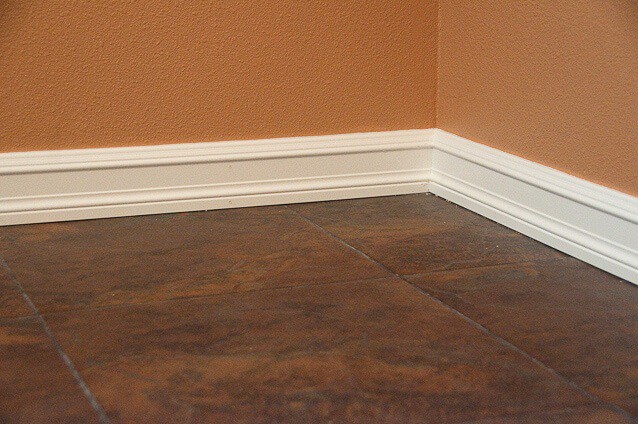 plastic baseboards available in the market. Firstly, wooden baseboards may be made of hardwood, pine or medium density fiberboard (MDF).
Hardwood – This is great if you are going for an elegant look with great quality. The most popular species used is oak; this is the most expensive option for baseboards. However, the cost will highly depend on the wood species. If you are planning to go for this, make sure the wood type is not so prone to warping. No doubt this will give an expensive and classy appearance to any home.
Pine – This material is great if you are on a budget lookout. This inexpensive wood comes in two types: primed and unprimed. Usually, pine are free of blemishes but can be inconsistent. Always check this wood carefully to see if there are any existing warping or cracks that may cause the material to be useless altogether. If you opt to paint the baseboard, pine is the right choice otherwise it will just give off a rustic theme to the room.
Medium Density Fiberboard or MDF – A recent and more modern development in the world of baseboards is the MDF. It is made up of resin, wood fibers and other materials. This material is much easier to cut and shape. Another great thing is the fact that this is a budget material; it is inexpensive and perfect if you plan to paint the board.
As for the plastic baseboard type, it comes in different compounds. UPVC is the most commonly used compound. Usually, it comes in white or other colors and is usually glued against the wall. Since vinyl baseboard is glued to the wall, it may not be easy to remove or to replace; however, this is not a problem since plastic baseboards have long a long lifespan which means they need lower maintenance. The cost to install baseboard of this material may be less expensive compared to installing a hardwood baseboard.
Purposes of a Baseboard
The major function of installing a baseboard is basically directed towards home improvement. Below are a list of the purposes as to why baseboard is essential.
The baseboard covers the uneven joint between the wall and floor and therefore, functions as a protective edging. This protects the wall from kicks, abrasions and other damages caused by mops, shoes, etc.

The baseboard collects dust.

The baseboard enhances the room's appearance. Installing a baseboard gives the room a clean look as it gives a perfectly straight appearance of the wall contrary to having no baseboard and seeing the uneven edges.
Can I install the baseboards by myself?
If the baseboard installation costs are a big concern for you and you are thinking of going for a Do-It-Yourself installation of the baseboard, it is important to know that this project very attainable but would need a lot of time and effort. You may be needing a miter saw for the corners and few extra feet of baseboard to practice for cutting. Furthermore, this installation will require careful measurements and accurate cutting. Anyway, you can always ask for help online.
The following are a list of materials necessary to install a baseboard, some may be optional:
Coping saw

Miter saw or Miter box

Baseboard material

Tape measure

Round file

Hammer

Caulking gun

Wood glue or wood panel adhesive

Finishing nails

Paint
Below are some of the online websites which may guide you in installing baseboards.
However, if you decide to ask for a professional handyman to do the job, always look for a worker who has experience in carpentry since installation of baseboard requires a specialized skill. This will mean a cleaner job with no extra time, effort or hassle demanded from you.
The installation of baseboard seem to be an alright discussion since there is a lot of available baseboard price options. It is really great to know that baseboard installation costs will not always mean shelling out a great amount of cash since the installation can be done by yourself—thanks to helpful online websites which provide great guidance and instructions. Surely, the cost to install baseboards will pay you back with something great—a beautiful home.