The small South Pacific Island found at the Northwest of Tahiti is what many call a paradise. It is surrounded by many white-sand islets with protected coral reefs that make it a perfect destination for honeymooners and tourists alike.
However, many are adamant about visiting this beautiful island because the place is very exclusive, thus, making it an expensive vacation spot. To know if there's truth to this and exactly how much does trip to Bora Bora cost, let's get down to business.
Average Cost of Bora Bora Trip
The average Bora Bora vacation costs for a 7-day trip are the following:
Solo traveler – around $3,200
Couple – around $5,700
Family of 4 – $10,700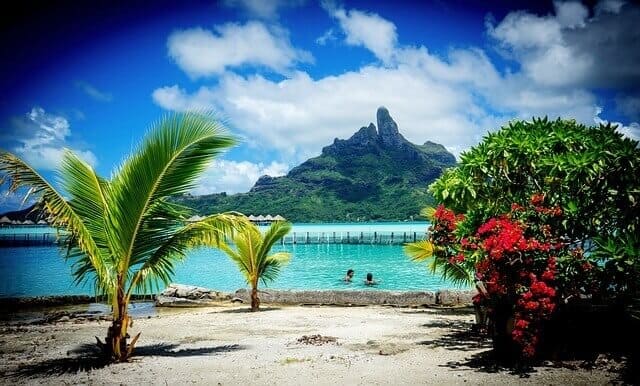 Below are the price ranges and the basic breakdown of what you would be spending based on the number of travelers:
| | | | |
| --- | --- | --- | --- |
| 7-Day Bora Bora Trip | Average Solo Traveler | Average Couple's Trip | Average Family Vacation |
| Average cost | $2,109 to $4,656 | $4,616 to $8,720 | $6,702 to $15,504 |
| Food, Travel, and Sightseeing | $84 to $229/day | $168 to $458/day | $336 to $916/day |
| Economy flights | $687 to $1,745 | $1,374 to $3,490 | $2,748 to $6,980 |
| Lodging (2-3 star hotel room) | $139 to $176/night | $139 to $176/night | $278 to $352/night |
Cost Breakdown
Now let's discuss each of the elements in the cost to go to Bora-Bora to better understand why a trip to this wonderland might take a fortune to pursue than most tourist spots in the world.
There are no direct commercial flights to the island to begin with so you would have to travel to Tahiti first before you can arrive at Bora-Bora. That alone makes the trip costly.
Depending on where you came from, there are different ways to get to this small island. Before you can get to Bora-Bora, you would need to travel to French Polynesia's Faa'a International Airport at Papeete which is located on the main island of Tahiti. From there you can take another airplane ride to your island destination.
If you are coming from the US, the average roundtrip airfare is around $1,363. However, you can also get the same flight for less than $500 from time to time.
On the other hand, the average for a one-way trip going to the French Polynesian Island is estimated to be around $900. The cheapest you could probably find on a good day would be around $330.
The travel time will be 8 to 12 hours depending on your flight details. A round trip flight between Papeete and Bora-Bora will be around $255 to $432. It will take you about 50 minutes from Papeete before you will arrive at the island.
Bora-Bora boasts of several 5-star resorts with steep price tags. The price ranges of these accommodations will play around $500 to $2,000. These include the very popular Four Seasons Resort Bora Bora and The St. Regis Bora Bora Resort.
But there are also affordable accommodations around the island. Sofitel Bora Bora Marara Beach Hotel has a room available for $247, while Sunset Hill Lodge has very cheap accommodation worth $91 only.
Different resorts have different amenities. You may want to check first as there are some resorts that offer free breakfast while others do not.
Other amenities that you would like to consider are the free Wi-Fi, restaurant, gym, swimming pool, and shuttle service.
A hotel accommodation typically comes with a free breakfast. However, if you don't like the food they serve or you happen to book at a cheap hotel without free meals, you need to allot the budget for the food to go or dine in at local restaurants.
A breakfast meal at a resort will cost you about $70. But if you choose to eat at a casual restaurant on the mainland, your meal will only cost you $30.
Resorts also offer meal plans to their guest. Usually, these include breakfast and dinner and will cost around $125 to $150.
There are also some resorts that offer a weekly meal plan that will cost you around $350.
If you plan to eat out for dinner, there are a lot of restaurants that you can choose from. The price of your meal will vary depending on the wine or cocktail you ordered. If you chose a really expensive wine, then, your meal might cost up to $200.
But if you want to save more on a meal, the island has a local grocery store where you can buy snacks and grocery items at a cheaper price. A local baguette will cost you only 60 cents while there are cold meats, cheeses, and juices available at the store.
Other Attractions At Bora
Besides the usual beach and hotel activities, you can do a whole lot of other adventures in this paradise vacation spot. Some of the experiences you can enjoy are the following with their corresponding estimated costs:
Bora Bora Glass Bottom Boat Tour – starts at $55
Natura Discovery Sunset 4X4 Crater Expedition – starts at $85
Natura Discovery 4X4 Cultural Island Tour – starts at $90
Eco Shark & Ray Snorkel Safari – starts at $95
Dinner at the World-Famous Bloody Mary's – starts at 102
Aqua Safari with Helmet – starts at $110
Vavau 4×4 Jeep Safari and Motu Picnic Excursion – starts at $120
SnorkelingZcool – starts at $122
Pure Snorkeling by Reef Discovery – starts at $124
Full-Day Lagoon Cruise & Motu Tahitian Barbecue – starts at $145
Kitesurfing Lesson – starts at $155
Shark & Ray Lagoon Cruise with Motu Lunch – starts at $155
Circle Island Tour by Jet Ski – starts at $165
Bora Bora Underwater Scooter – starts at $175
Combo 4×4 Safari, Lunch and Shark & Ray – starts at $198
Reef Discovery Whale Watching Tour – starts at $212
The Lifeboat Private Sunset Lovers Cruise – starts at $212
Lagoon Lovers, Private Photo Tour – starts at $226
Semi-Private Sunset Cruise & Dinner at St James – starts at $228
Deluxe Bora Bora Exclusive Outrigger Tour – starts at $230
Combo Jet Ski, Lunch and Shark & Ray – starts at $250
Bora Bora Parasailing – starts at $250
Vitamin Sea Sailing Catamaran Tour – starts at $253
Bora Bora Combo – ATV & Shark and Ray Snorkel Safari – starts at $255
1-Hour Private Water Sport Adventure – starts at $269
Bora Bora Combo – ATV & Jet Ski Adventure – starts at $300
Private Fun & Romance Adventure – starts at $305
Private Champagne Sunset Cruise – starts at $336
Tanoa Private Discovery Tour – starts at $346
Bora Bora Private Island Yoga & Lagoon Experience – starts at $390
Lady Pearl Bora Bora Private Photo Cruise – starts at $464
Private Sunset Cruise and Motu Dinner – starts at $464
Tanoa Private Motu Lunch – starts at $520
Private Lagoon Fishing – starts at $537
Bora Bora Vegan Lunch & Snorkel Experience – starts at $600
Shades of Blue Helicopter Tour of Bora Bora – starts at $685
Tanoa Private Discovery Tour and Motu Picnic – starts at $790
Private Bora Bora Snorkeling & Water Lunch Tour – starts at $800
Bora Bora Private Family Treasure Hunt – starts at $880
TopDive Inter-Island 10-Dive Gold Pass – starts at $905
Heart of Tupai Scenic Helicopter Flight – starts at $915
Helicopter Beach Escape to Tupai – starts at $1,150
Bora Bora Sportfishing – starts at $1,190
Bora Bora Skydiving VIP Honeymoon Package – starts at $1,230
Bora Bora Lagoon Limousine Private Afternoon & Sunset Cruise – starts at $1,547
Save More on Your Bora-Bora Trip
Here are simple ways that you can do to save up on a trip to Bora Bora cost:
First is not to plan your trip in the peak season. The high season happens between May and October while the low season starts from December to March. So you can grab the opportunity to travel during these seasons as airfare tickets and the accommodations are cheaper.
Nevertheless, any month is a good month to visit as the weather in Bora-Bora is always warm. There may be scattered rain showers but this will not, in any way, ruin your vacation.
Next is to find cheap accommodation which will be good if you are not really picky when it comes to room choices. You can even camp out by the seashore for only $15 to $20 a night. The island is surrounded by white sands so it will be easy for you to find a secluded beach to chill at a cheaper price.
Lastly, don't take a taxi if you want to visit the island. Take a bus with a fare worth around $5 or you can rent a motorbike at a very cheap price of $10 to $15.