Nowadays, children's parties are a whole lot safer than similar outdoor celebrations in the before and during the mid-1950's. The world owes this safer approach to highly vigorous fun activities to an American innovator named John Scurlock from Shreveport (Louisiana). In 1959, he invented the first bounce house as a curious result of observing his employees having a good time jumping on the prototype inflatable cover for tennis courts. This case of juvenile merrymaking gave him an idea for another profitable merchandise for children.
His wife, Frances, paved the way for the establishment of the 'Space Walk' in 1968. Named after the particular pace of astronauts on foot, this provider of inflatable rentals eventually opened its first indoor amusement center in 1986. Nowadays, Space Walk bounce houses are rented for over 35,000 events every year.
Space Walk may be the pioneering company for bounce house rentals in the United States. But nowadays, there are more than a hundred of companies that rent out and sell inflatable units across the country. In fact, bounce house rental is one of the many positive business ideas that one pursue.
Average Rental Fee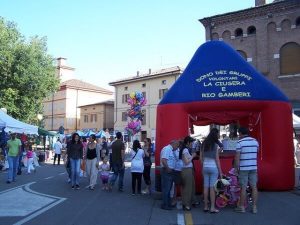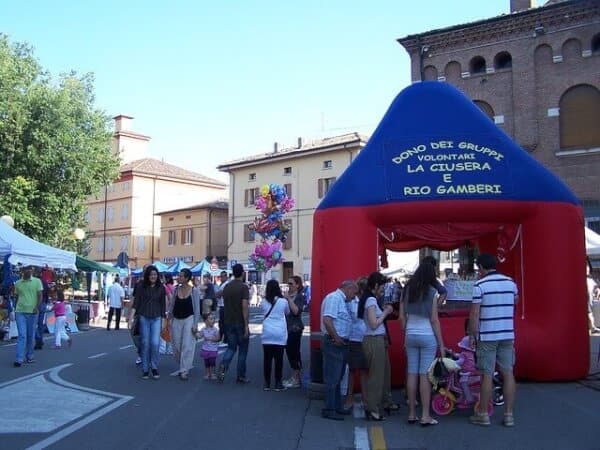 The cost to rent a bouncy house varies largely in terms of the duration and the type of inflatable house being leased. It is important to take note that certain types of bounce house can only accommodate a specific number of children.
Hourly Rate
One can rent a regular bounce house for a cost of $10 to $80 per hour. When choosing the hourly rental, the lowest duration is usually around 4 hours.  Most company rentals have a limit of 8 hours for the hourly rental option. Renting a complex bouncy castle that includes wider jump areas, climbs, wet or dry slides, splash areas and an elaborate obstacle course is around $200 to $400. For customers who booked a for a certain rental period, time extensions may entail around $10 to $20 per hour.
Per Day Rate
The cost to rent a bouncy house per day is usually around $100 to $250 per day. The standard size under this price range measures 15 feet long, 15 feet wide, and 15 feet tall. This size can only hold a limit of up to 5 kids at a time. However, rental companies charge a total of $200 to $600 for renting complex bounce castles that give kids the opportunity to climb, slide, leap, and chase each other.
Additional Service Costs
Apart from the duration of use and the size of the inflatable castle being rented, there are other considerations that account for the overall bounce house rental prices. It is important to take note that companies charge an initial fee of 50% deposit upon reservation. People renting inflatable castles for children's parties should take note of the following expenses.
Cancellation Fees
Considering that bounce houses are not weather resistant, certain companies understand the need for cancellation when foul weather looms. However, there are other rentals that prove an exception. Some companies charge up to 25% from the initial deposit fee that is levied for the cost to rent a bouncy house.
Cancellation fees apply when customers fail to notify within the agreed period allowance (e.g. 24- to 48-hour advance notice). In most rental companies, customers who decline the reservation 10 days before the scheduled event can even get a full refund.
Cleaning Fees
It is important to take note of the fact that bounce houses are used by children. Kids as young as 4 to 5 years old tend to have a very poor sense of tidiness. In fact, young children are expected to stick chewing gum or stain the inflatable surfaces with a wide variety of food residue (e.g. ice cream).
On top of the standard time-based bounce house rental prices, rental companies usually charge a cleaning fee of around $50 to $300 to renters who leave stains on the leased inflatable castles. Due to the charges cleaning fees, some customers would rather extend an extra hour or so that is solely reserved for inspection and sanitation before turning over the rented bounce house.
Attendant Fees
In order to avoid the need for cleaning fees and safety insurance, some rental companies offer extra features like staff attendants. Renting attendants takes the stress off from adult visitors who are inclined to watch over their kids instead of mingling with other parents and/or guardians. Attendants usually cost $30 per hour.
Overall Expenses For Add-Ons
Add-ons are options that clients can avail on top of the usual bounce house rental prices. Some rental companies feature other complementary accessories that cater to the convenience of potential customers organizing the entire outdoor (e.g. public or residential yard) event. The website called Thumbtack highlights the following add-ons and prices straight from their source:
Folding Chairs
Customers may rent extra folding chairs in case they run out of seats for additional guests. The usual price is roughly around $1.5 per chair.
Folding Table
The standard folding table used for setting up buffets and self-service snacks measures at least 6 feet in length. The price for renting this additional (temporary) furniture is roughly around $8.
Snack Machines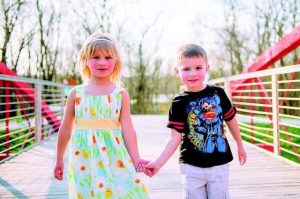 Children (and even adults) like snacks so much that they prefer the same exact volume that is usually served in boardwalks and amusement parks. Apart from capturing a more festive and child-friendly atmosphere for guests, snack machines are also very convenient since the hosts would no longer have to clean up with the utensils.
A snow cone machine can be rented for a conventional price of around $45. A popcorn machine, on the other hand, may cost around $55 for rent. A cotton candy machine entails the same rental fee of around $55. Customers with very few guests may be able to save expenses by opting for a cost-efficient package deal.
Generators
Certain spots for setting up the bounce house may be unreachable from any outlet within the event venue's premises. Considering that a bounce house blower requires a link to a 20 amp dedicated circuit, generators are a necessary alternative to power up inflatable castles. According to Party Time Rentals, bounce house requires a minimum power of 2000 watts. One can rent either a 2300-watt generator for $75 or a 3000-watt generator for $100.