There are two ways to understand the overall cost to build apartments. You can determine the budget for building an apartment either by measuring the price per "apartment unit" or simply a rough estimate of the entire building complex.
Essentially, a single building complex may contain one or more apartment unit. According to the U.S. Energy Information Administration, the standard size of an apartment unit is 861 square feet with a footprint of 24 feet by 35 feet (24×35).
Average Apartment Building Cost
Each unit roughly costs anywhere between $64,575 and $86,100. But when it comes to the cost of an entire building complex, there's more to simply crunching the figures based on the average unit cost. For calculating labor cost and basic building components, let us defer to the 2013 RSMeans data.
Let us say for instance that you are building a three-story complex with around 12 apartment units.
Hence, the standard assumptions include the other following details:
10 feet high per floor
22,500 square feet building size
brick veneer and wood frame
No basement
So how much does it cost to build an apartment? The total building cost estimate for "union labor" type of project is roughly $3,461,400. But for an "open shop" variety, the total cost is relatively less expensive with approximately $3,177,900.
Apart from labor and basic structural components, you also need to factor in roughly $4.65 million worth of materials and over $232,000 worth budget for the machinery, the total apartment construction costs would entail roughly $9-9.4 million.
You may also need to cover the cost of insurance for unexpected circumstances like fire, theft e.t.c
Return On Investment
When a prospective investor like you would ask "how much does it cost to build an apartment?", at times one can't help but ask another question given the total $9.4 million cost. As much as return on investment is concerned, the best way to understand it is to compare its advantages over investing in single housing units. Here are the following benefits of investing in an apartment building complex:
With single houses, there is only either 100% or 0% occupancy. One vacancy of, let's say 5 houses, can already deal a ruthless blow to your cash flow. Moreover, an apartment rental has a wider range of buyers or tenants since single young adult occupants and senior citizens can better afford a unit than an entire house and lot. One of the stronger guarantees for a larger pool of buyers is that in apartment buildings, home buyers can avail more government-funded programs.
Simply put it, it is harder to keep an eye on several buildings than one. A lot of things can come into play when consolidating all real estate property into one building. Case in point: an entire apartment building has fewer assessments and set of regulations.
In fact, it costs more to build 5 houses than build more than 5 apartment units in a single building. In line with this, each single house is more challenging to maintain because there are less uniform regulations. Case in point: homes with pets and children require more oversight and potential maintenance expenses.
When it all comes down to it, you as an investor can even live in one of these units in the building. Hence, you have more incentive for sprucing up your entire building premises. The Federal National Mortgage Association (FNMA) imposes a limit on lending when investing in single family housing units. You have a better chance of being less burdened when financing apartment buildings.
Tips To Smart Financing
Considering that the cost to build apartments relatively exorbitant, you can still come up with clever ways to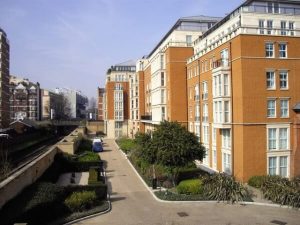 reduce the overall expenses. Curiously, the two aspects of the entire building project that can be conveniently configured are the materials and the building layout. By tapping into these two components, you can significantly reduce not only the building costs but also its maintenance for the long-run operation.
As per a few architectural experts online, it is possible to maximize the building's effectiveness by eliminating corridors. A steep vertical building with fewer corridors can have an overall efficiency of as much as 90%. Long corridors needed to be lit, swept clean and air-conditioned. Reducing corridors would mean reducing inefficient use of electricity as well as lesser demand for custodian services. In terms of ventilation and navigation, minimized corridors can save you 25% to 30% of the overall circulation area. It roughly translates to $3 million savings for a $60 million overall budget.
Going green with the materials
Back in the days, the idea of using eco-friendly building materials only meant fractionally reducing energy bills. After all, some materials can practically minimize the need for using up too much electricity to power an HVAC system due to better insulation and solar energy obstruction.
But nowadays, the idea of going green means getting an Energy Star rating for the buildings comprised of eco-friendly materials. In other words, both government and private authorities are keen on granting tax rebates for homeowners whose properties are accredited with Energy Star or LEED rating.
The same can be said about real estate investors too. In fact, in 2015 a lending company called Fannie Mae drops 4% to 3.9% for any investor whose apartment building qualifies with Energy Star or LEED certification. This means over $95,000 savings for a $10 million loan owed for 30 years.
Top 10 Cities With Affordable Labor Cost
Your budget for contractors comprised a very significant percentage of your overall apartment construction costs. It goes without saying that acquiring cheap labor expenses can help you a great deal. Note: the names of these locations in the United States are identified per the nationwide comparison of average expenses.
These are the following cities that offer a discount:
Maxton, North Carolina = 26% less
Kissimmee, Florida = 20% less
Modesto, California = 12% less
Louisville, Kentucky = 7% less
Salt Lake, Utah = 6% less
San Antonio, Texas = 4% less
Colorado Springs, Colorado = 3% less
Jacksonville, Florida = 1% less
Buffalo, New York = 1% less
Phoenix, Arizona = flat price