"Here's my business card," is a line that would never go out anytime soon. Despite the advent of technology and living under the social media age, business cards still rock a conversation and end it with professionalism.
Though social media makes it easy to think you are always connected or can easily reach others through the internet, genuine networking is about making genuine connections. Conveying a message via text or email may be convenient but it is also extremely impersonal and unprofessional if you want to close a business deal. An actual conversation is how good relationships begin.
Individuals with their attention on their phones as they type each other's contact details won't create a big impact on memory or build business associations of the meeting. Imagine this, have you ever done something like writing your contact information on a table napkin and hand it over to a prospect? Or scramble to find anything to write on because your phone is dead? It isn't the most professional way of approaching the whole situation.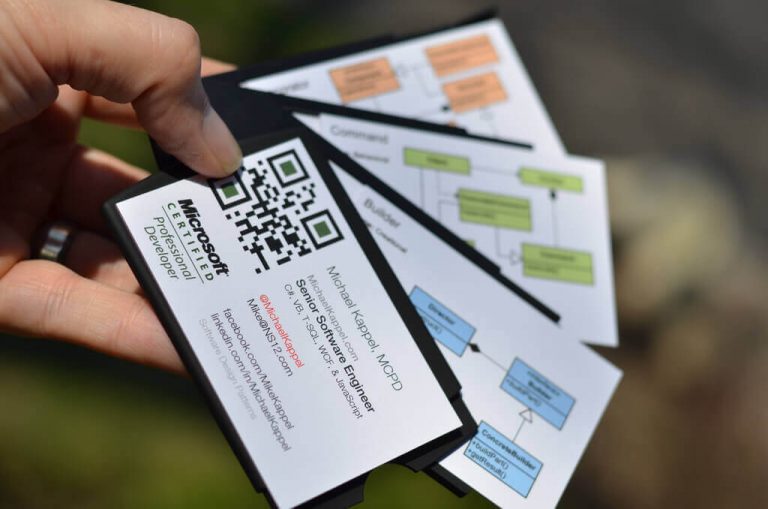 If you're a client and meet two businessmen and one was scrambling to find a paper and pen and the other person pulled out a business card, who would you want to do business with? It is a great indicator that the other person is professional.
Social networking sites, like LinkedIn, have done an efficient job of placing contact details for people to connect with. But, they are not tangible enough to remind individuals to connect after the meeting. Regardless of all the technology in our lives, there is still a need to connect and hand out business cards to improve networking strategy. Moreover, your potential clients can see your brand and business even through that card. It is the window to making your first impression.
So, it's wise to invest in creating business cards for yourself. And now, you're probably wondering how much do business cards cost?
Average Cost of Business Card
A business card price can vary from a lot of factors like what press was used, how many pieces are made, printing that covers simple black-and-white layout with basic details to a custom-designed, multi-colored card.
The standard dimensions for a printed business card are 3.5 x 2 inches. Customized sizes can cost you up to more than $100.
Other printing companies offer free business cards around 250 pieces to first-time customers. But these cards are done in haste usually on inexpensive paper with the basic template of your name, the company you are connected with and your contact details, with the printer's name across the back. Shipping costs are the only fees you have to pay for $7 or about $14 for rush delivery. Eliminating the printer's logo and text on the back of the free business cards costs $2-$5 extra.
If you want to create your own business cards, blank cards are available with the paper costing about $0.05-$0.10 per card. Some companies sell a rim of 100-400 blank business cards for $6-$35, then depending on the type of printer used and the color and quality of the blank paper.
Placing your text on a standard layout or customizing a design through an online printing service starts at about $10-$60 for 250-500 cards or about $0.04-$0.20 per card with shipping costs of $5-$20. Extras like paper materials, foil accent, printing on the front and back or adding logos and colors may reach to $50-$100 or more.
The average cost of business cards starts from $20 to $120 with pieces running from 250 to 2,000 pieces.
If you hire a graphic designer to create a branding of your company, together with design and business cards, it can cost you $350-$1,000. Front or front and back printing, both black and colored designs will not cost you $50 for 250 to 500 copies.
Offset or Digital Printing?
Once you have an idea of the factors of the pricing, you have to decide whether you wanted it to be done through offset printing or digital. Offset printing is of higher quality and becomes less expensive once you've breached the 200-print mark.
For those who are on a budget or those who don't need more than 200 business cards, digital printing has become a great alternative to offset printing. The quality is equally good and you can order it on demand, unlike offset printing where you have to order it just one time and plenty to make the business card price cheaper. Digital printing rates remain consistent per card. Digital printing is less expensive than offset printing on short prints but can be expensive on a large number of pieces.
Technology away, how many pieces do you want to print? With this information on hand, you can estimate the average cost of business cards.
All around, business cards are budget-friendly. One of the biggest hoorays of a business card is its affordability. Should it matter how much do business cards cost especially when it is a big investment to your business? Business cards are a lot cheaper to produce other types of marketing collaterals, such as items, advertisements, and product samples. So, why not keep a couple of business cards on hand? As stated above, a business card is an excellent way for a business to build relationships with potential clients or partners with a design that talks about your brand.    
Never take for granted or misjudge the power of a good business card to brand your identity and improve business development. It acts as your first impression and a window your potential prospects and customers can look at your business.
A splash of color or a vibrant hue may mean flair, bright and fun in the company you are working on. A strong one or two basic color connotes no-nonsense business dealings. Place your job title and tell people what you do. Include a phone number, email, website and social media profiles even you have your details online. Include your logo for individuals to remember you more effectively.
Social media may have become the standard tool for professionals to connect with people, but traditional marketing still remains the top choice. Virtual life is highly different from real life.