The Cambria brand is a family–owned business that dates back as far as 1936. The company prides itself on being a producer of natural quartz surfaces specifically designed for countertops and other home furniture. If you want to switch to this kind of material for your kitchen and bathroom countertops, it is essential to know how much does Cambria quartz cost?
Cost of Cambria Quartz Countertop
Depending on the design and color that you have chosen, a Cambria countertop costs around $55 up to as much as $200 per sq. ft. installed. If you have a small 30 sq. ft. countertop, then you would be paying around $1,650 to $6,000.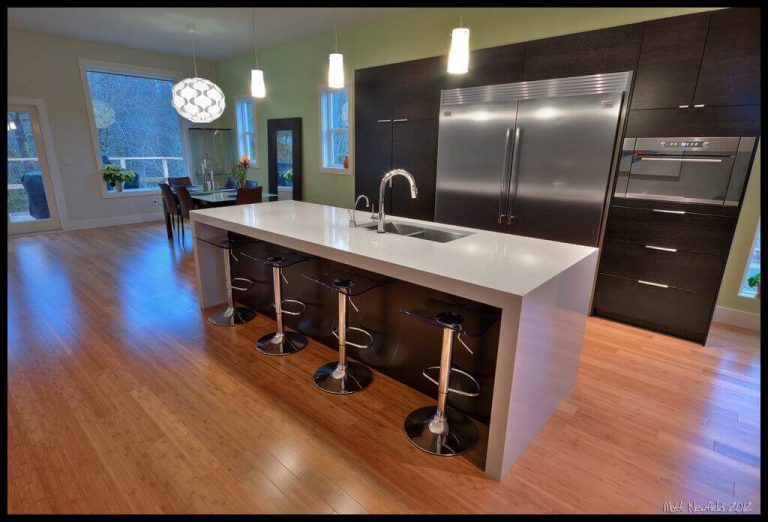 If you are considering purchasing in volume, below are the prices of some of the most popular colors in the Cambria selection with the size of 132″ x 65.5″ or 11' x 5.46' (approx. 60 sq. ft.):
Brittanicca – $2,790.00 to $3,140.00
Brittanicca Gold – $2,790.00 to $3,140.00
Skara – $2,790.00 to $3,140.00
Portrush – $2,790.00 to $3,140.00
Brittanicca Warm – $2,790.00 to $3,140.00
Torquay – $2,190.00 to $2,540.00
Montgomery – $2,190.00 to $2,540.00
Ella – $2,790.00 to $3,140.00
Colton – $2,190.00 to $2,540.00
Ironsbridge – $2,790.00 to $3,140.00
Bellingham – $2,170.00 to $2,420.00
Factors Affecting the Cost of Cambria Cost
You will find the following factors affect your overall expenditures when constructing your Cambria quartz countertop:
Project size – since pricing is based on square feet, higher

cost of Cambria quartz

is expected the bigger your countertop gets. But of course, the bigger the project gets, the more you reduce the unit cost of each component.
Color – while you may not see any significant difference in the pricing whatever color you choose for small projects, there are certainly some differences when you buy the materials by volume, depending on your color choices.
Volume – as presented above, purchasing Cambria quartz by volume saves you a lot of money. This is particularly beneficial if you are working on several projects at the same time. You can also save a lot on the delivery charge.
Seller – pricing is also highly variable depending on which seller you purchased your Cambria quartz from.
Location – where you are residing also plays a major role in the

Cambria quartz cost

as all the components of the project will be dependent on the prevailing prices of materials and labor in a particular area.
Additional Costs
Delivery or shipping costs vary depending on the quantity of the materials purchased and your location. Most suppliers can load up to six slabs per crate and will charge around $400 to $2,000 depending on the distance.
Depending on where you reside, some localities may require homeowners to obtain permits for home improvements. The charges vary per area, but some do charge 1% of the total construction cost. So be sure to know the regulations in your place and set aside a budget for these kinds of costs.
Save On The Cost Of Cambria Quartz Countertop
Many homeowners are wondering if they can install Cambria quartz countertops on their own in order to save on the labor costs. According to experts, you can actually DIY the installation of quartz countertops, but it would depend on the type that you have bought.
If it is just a laminated countertop, then all you need to do is install it using your basic carpentry skills. But if the installation process includes fitting the countertop and cutting holes for sinks, then you may need some help from professionals.
A granite or quartz countertop such as Cambria is heavy, so you would need someone to assist you in carrying it around. These types of countertops are also sensitive and you would need special skills and knowledge to install them as they may create a torque which will cause cracks and stress fractures.
Shopping for Cambria Quartz
Make sure that you check at least 3 to 4 contractors so that you can compare the estimates. Let them know that you are also accepting quotations from other competitors so that they can give you their best offer.
Also, you should ask your contractor to itemize the costs and how much you would have to pay if you decide to add holes for the sink or other fixtures. This way, you will know which items to add or remove based on your budget.
If you have a big kitchen but the cost of using Cambria Quartz is making you dizzy, try mixing it with other more affordable countertop quartz brands in your home. Have your contractor quote on different types of countertops. This way, you can get the Cambria quartz countertop that you've always wanted in your favorite spot alone and have the rest for a cheaper price.
Advantages of Using Cambria Quartz
Cambria Quartz countertop is a beautiful addition to any home. It brings out the natural beauty of your house, especially with its over 100 color choices and designs.
Cambria quartz is engineered quartz, which is different from a granite surface. It is not porous and will not require any periodic sealing.
The color difference is that the quartz is more consistent but darker in tint. Since quartz does not require a sealer, it does not emit harmful chemicals into the air because it does not use any chemicals to begin with. This makes it environment-friendly.
It is exquisite but durable as well. It's a mix of toughness and attractive elegance with a sheen, glossy finish. It comes in different colors and is easy to clean with just mild soap and water.
Since it is mostly used as a kitchen countertop, the material it is made of is nonporous and NSF 51-certified. This means that it is perfectly safe as a food preparation area.
What's more is that it is backed by a transferable full lifetime warranty.
Since countertops are an important part of your kitchen and they are used all the time, it is just right that you choose a durable countertop. But you do not have to compromise on the design as it will give you inspiration every time you use it. This is why Cambria quartz is such a wise choice.