What is a car trailer? For those who don't know what it is, it is a vehicle without power that is typically connected to a vehicle with power. It used for transportation of materials and other goods which can't fit in your car alone. There are many types of a trailer with different uses such as Bicycle trailer, construction trailer, livestock trailer and much more. Some trailers, such as small trailers, are made for personal use and sometimes for business. On the other hand, there are trailers that are part of a large truck that is used for transporting cargo.
There are a lot of companies that offer car trailer rental for people who are planning to rent them. The question is, how much does it cost to rent car trailer?
Average Car Trailer Rental Price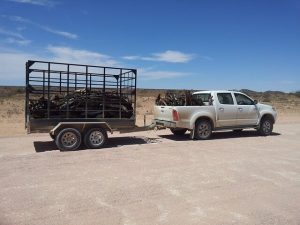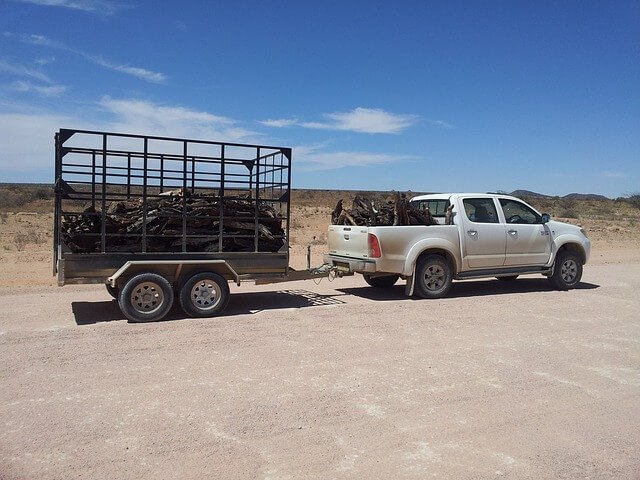 Car trailers are often called car carriers or haulers. It can be either enclosed trailer or an open trailer. Usually, open trailers have one up to two axles. On the other hand, enclosed trailers have two up to three axles. Trailers with one axle are the ones that are usually less expensive.
They also have a smaller radius of turning and can be maneuvered by hand easily. However, trailers with one axle are hard to control if your tire goes flat. While trailers with 2 axles (tandem) or 3 axles (tri-axle) are used to pull heavy weights. These trailers also have smooth towing, better grip even on rough streets and can be easily controlled even if you have a flat tire.
The cost to rent car trailer usually runs around $65 up to $200 or more per day. Car trailer rental price typically depends on the type (enclosed, open, 2-axle or 3-axle) and the size of the trailer and the length of the time you will rent it. U-haul is a famous car trailer rental company. They offer varieties of a different trailer for a different price. However, they have a very strict rule when you rent a trailer from them. For example, towing requirements for a 4-foot by 7-foot utility trailer rentals are:
The towing vehicle must be equipped with a hard top, specifically if your vehicle is an SUV or Jeep.
The lighting of the tow vehicle and trailer should be operational all the time.
The weight of your tow vehicle must be more than the weight of the loaded trailer.
The tow vehicle must be equipped with a proper hitch system and lighting connections.
55 MPH is the recommended speed.
Another rental company named Hertz offers trailer hitch rental with a price of around $150 per day. You will have to add another $5 if you need a dolly. They also offer trailer rental insurance for $20 per day.
Herc Rentals is another rental company. They offer equipment trailer with a capacity of 20,000 up to 22,000 pounds for $150 per day. They also offer dump trailers with a capacity of 20,000 pounds for $643 per day.
United rentals offer used car trailers for a low price. For example, a used 2012 Towmaster T-HD10 located in Austin, Texas is offered for only $5,973. They also offer a 2011 Laroche LA-14DE dump trailer located in New Gaslow, NS for only $5,009. Costs for used auto trailers depend basically on the type, age, size, and condition. A 1-year-old auto trailer in great condition may be offered for 15%-20% less than its original price tag; at 5 years of age, it may be 40%-60% less.
Extra Costs
You should also consider additional expenses whenever you are planning to rent a car trailer. These expenses will surely add up to the total car trailer rental price.
There are two types of hitches that are used in car trailers – a gooseneck hitch or a receiver ball attached on the back of the tow vehicle. You will have to purchase it if your tow car doesn't have any trailer hitch and it will cost you around $400 up to $800 for a gooseneck hitch or $100 up to $850 for a receiver ball.
The requirements and insurance prices differ from one location to another. There are some areas where a trailer is automatically protected for damages. It is under the policy of the tow car when the trailer is fastened to the tow vehicle. However, it will cost an extra to add any other inclusive coverage such as damage from fire or theft.
Costs also differ significantly for trailer tires since they are not in the standard size. There are some places where replacing a trailer tire is very complicated.
It will cost you around $20 up to $100 per month if you park the trailer at an outdoor storage facility.
Ways to Save Money
You can build your own basic race car trailer if you have enough knowledge and mechanical skills for only $300 plus the price of the wheels. You can visit Circle Track Magazine's website to get the full instruction on how to build one.
Inclusions
Now that you have an idea on how much it cost to rent car trailer, the next thing you should know are its inclusions when you rent one.
A trailer hitch is always required whenever you rent a car trailer. This is used to connect the tow vehicle to the trailer.
There are at least 3 types of trailer hitch, these includes:
Ball and Socket. The trailer will be secured to the tow vehicle using a trailer coupler and it is attached to the trailer ball forming a ball and socket connection. This connection allows relative movement between the trailer and the towing vehicle even in rough terrain.
Fifth wheel and Gooseneck. This type of hitch is used for larger trailers. They provide more strength than a traditional hitch. The trailer will be attached to a coupler that is mounted above the axle of the tow vehicle.
Trailer Jack. This type of hitch is used to carry the trailer and lift it to a height allowing it to be hitched to the towing vehicle. This type of hitch is also used for leveling the car trailer through storage.
Uses of Car Trailer
As what we have mentioned above, there are a lot of different uses for a car trailer. Here is the list of the famous uses of a car trailer.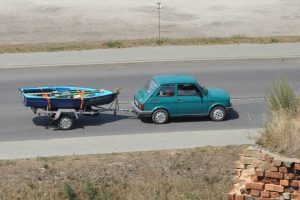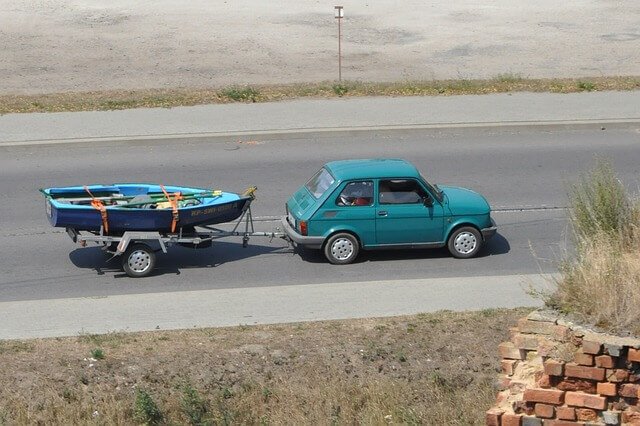 An inoperable or damaged vehicle will be necessarily towed from time to time. However, tow truck services cost a lot of money, especially if the towing distance is too far. A car trailer is a great alternative for tow trucks. It would be a good investment if you do a lot of towing frequently.
The distance between your home and to the water is a great hindrance if you own a boat. But with the help of a car trailer, you can bring your boat from your house to the ocean and vice versa so easily.
Equipment for Lawn Care. You might find yourself needing to haul your equipment for mowing from one location to another if you are living in a rural area. The packing and loading of the equipment to the bed of a pickup truck can take a lot of time. The car trailer will let you drive up your mowing equipment directly to the car trailer with the help of ramps or two tough men.
Transferring furniture from one house to another is quite a hassle, especially if the furniture is huge. However, it would be easy to transfer them with the use of car trailer. You can even haul more furniture than you can with the use of pickup trucks.
Building Supplies. Delivery fees surely add up to the total expense you will have when you have projects done around your house. Having a car trailer lets you save money on those expenses. You can easily pick up those supplies needed on your own.
Bikes, ATV's, and Motorcycles.This kind of vehicles is best hauled using a car trailer.
A car trailer is also used to deliver livestock from the farm to the market.
Flea Markets and Auction. Car trailers are also helpful to people who are frequently going in a flea market or auction. It can easily haul the items they bought back to their homes.
Car trailers are also great for hauling huge appliances such as Refrigerator, Washing Machine, and more.
Trash and Debris. A house that has recently undergone a major renovation or project will have a lot of trash and debris. Hiring a professional to clean the mess will surely cost you a lot of money. It is also not good if you haul this debris inside your SUV. Car trailers can make the cleanup job a lot easier.
There are a lot more uses of a car trailer. And all those reasons will help you decide whether getting a car trailer is a good investment.