Security of your company's properties comes second to nothing. You do not want to have cases of stolen tools or documents and have no one to take responsibilities. Once you have a laid down plan that guards the most valuable business properties, then you can focus on delivering to your clients and have no risks of having some outsiders steal from you. The most importance documents and files are the reasons many will not worry about their door access control systems price as long as it will be a one-time payment and would guarantee you top class security.
Average Card Access System Cost Estimations
One of the hardest system to figure out its particular price. There are several factors affecting the prices of Card access systems and will be discussed just in a while. Still, with every one of those factors, you can be sure that it will not cost you less than $1500 and could go higher up to $3000 depending on your type of security per door. This price may include installation fees but this will rely on the company you purchased them from.
Major card system installation companies not only do they install the system but sell them. It is important first to find out whether whoever you are buying from will as well install the system for you. Otherwise, you will pay a good amount of dollars to purchase and another good amount of the same on installation which may have had a lower cost if the entire project was done by a single company.
When enquiring from the company about their swipe card system cost, make sure to get it all clear on what the cost will cover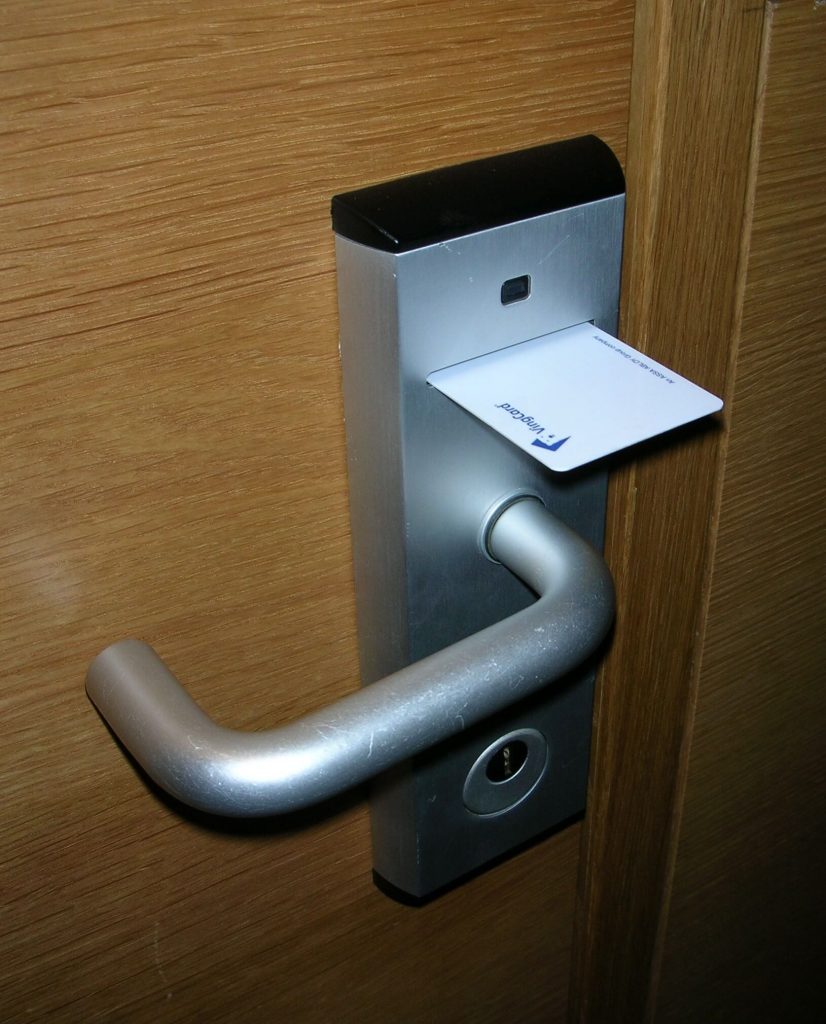 and what it will not. Try to get that one firm that will give you an amount covering all needed software's, hardware, the prices of cards as well as the installation fee, all included on one price tag.
Price Breakdown
Installation and purchasing of the system may not be the only costs to incur; this simple analysis may help you further to help in what is to expect in future:
Fees of between $10-100 per month depending on the number of doors installed with the system.

Each single key card will cost between $3-5.

For every single door, the hardware alone should cost between $1000-1500.
Very vital to note is that, the more entries you want security cards system to be installed, the lesser amount you will pay for each. Also note that once you start adding some more other components like door prop alarms or higher-security locks, the prices will automatically increase by almost half the money you purchased the whole system with.
Factors affecting Card Access System Cost
Number of Door to be secured: In the case where you only have a single door to be secured, the odds of getting any discounts is almost zero to a million. When you have a huge company office to be installed, like say more than three doors to be installed by card access system, you will most likely be given some generous discounts, discounts could cover up to almost one door installation fees depending on the company you hired. Not only is it all about swipe card system cost, but there could also be sensors as well which add more security measure on your systems
Installation Company: Your door access control system prices will be different from each company. The difference might be marginal for each door to be installed, and you will realize that it is worth it when you have more doors to be installed.
Type and Design: You have few types of card access system to choose from. Each type comes with a different price depending on its specifications and the production company.
Benefiting from a Proven System
For years now, card access system has gained popularity more than any other premises security options. With the undisputable performances and solid security guards, they have made a name for themselves and build a worth-your-money brand. They not only provide fast solutions to their clients whenever needed, but they also gave them more other security options to pick from.
Once only known for key card access system, clients have been flittered with other biometric system been the other option. This can recognize employers figure prints, iris as well as hand prints while the proximity system can recognize key fob or ID card when held close to the reader. Compared to key card access system, biometric systems that scan radio frequency identification or scan cards without swiping them are a bit expensive to buy and installation cost.
This has helped many of their clients on choosing the perfect security option that best suits them. Once dissatisfied with your first choice, you can go for another one; there will always be more than three more viable options to consider while picking your favorite. Biometric system is the classiest of them all, both hand or figure print or iris trick has a way of bringing the best out of the company.
Card Access System Reduces Operational Expense
Protecting the entry of intruders in your main offices, securing your files and company documents as well as the number one responsibility of every business owner to ensuring the safety of his/her employers. These are the primary reasons why card access systems exist. There is no question how much it can cost you if you lost your company's licenses or important documents, had people hacking on your computers, this keeps everyone and everything within at risk.
The system's flexibility is its first and most important aspect. This system can close and open the doors within seconds. The speed at which the system responds to any change is commendable, at the times of trouble, the system can detect and respond within a blink of an eye, alerting those within and applying a protective measure instantly.
An efficiency access control system can successfully eliminate the need of hiring security guards in the payroll or monthly services who patrol the premises. This system makes every single employee to keenly ensure their work is done correctly and at the set time. The system also shows who is in and who is out and both entrance and exit time. Your door access control system prices are a bit high because it can as well work as your daily register to show who was and who was not present in the office and the dates.