Do you love selling stuff? Do you have a flair for customer service? If yes, and you're thinking of putting up a business, you could opt to open a grocery store!
A grocery store would allow you to sell products on a larger scale. Furthermore, you would surely attract customers. Most consumers buy goods from such outlets due to the wide selection they offer.
Interested? Then read on to learn how much the cost to open a grocery store is to get you started!
Average Cost to Start a Grocery Store
What is the average cost to open a grocery store? The price begins from around $200,000 and may reach over a million dollars or more. However, it's hard to give an exact figure. That's because the start-up expense would depend on many factors including:
The size of your grocery store. Most start-ups would opt for a mini grocery store. But if you want a larger one, expect to spend more.
The range of products. Do you prefer selling only food items? Or your store is large enough to accommodate health products as well? Logically, the wider the selection, the more you'd have to spend.
Your grocery store's specialization. What to do you want your consumers to remember about your store? If you have a niche, it could give you an edge over more popular establishments.
Your location. You would have to buy or lease a storefront somewhere. The pay would be more expensive the nearer you are to the city.
Cost Breakdown
The cost to open a grocery store entails expenses including:
Leasehold improvements
Store equipment and supplies
Technology (e.g. Point of sale system)
Initial inventory
Pre-opening expenses
Advertising
Working capital
This is assuming that you've decided to lease your retail space (as it is more affordable). To know more about the cost to start a grocery store, let's take a closer look at the above expenses.
Leasing and Leasehold Improvements
Depending on your location, your rent could reach about $100,000. This includes the security deposit and the first and last month of rent.
Leasehold improvement, on the other hand, ranges from $100,000 to $350,000. The exact cost would depend on the renovation your retail space requires.
Store Equipment and Supplies
A grocery store relies on equipment and supplies to run smoothly. Some of those you would not want to forget include:
Refrigeration equipment
Display supplies like dispensers and racks
Grocery carts and shopping baskets
Take-out packaging and supplies
Safety and sanitation supplies
Storage supplies
Prices vary depending on where you would be purchasing the equipment and supplies. For a sample of costs, here are some from online store Webstaurantstore.com.
For refrigeration equipment:
Commercial worktop refrigeration: $1,900 to $3,000+
Commercial wine coolers: $600 to $1000+
Refrigerated bakery display case: $4,500 to $8,000
For display supplies:
Merchandiser racks: $450 to $990
Beer case: $140 to $190
Display lights: $150 to $1000+
For customer convenience:
Grocery baskets: $8 to $9 each
Carts: Starts at $86
Grocery bags: $60 to $70 per case
For more sample of prices, head to their website or check supplies stores available in your area.
Technology
We're living in an age where technology is essential for everything, including grocery stores. One of the things you should equip your retail outlet is a Point-of-Sale software. The POS system would make financial processing easier and would also help you keep track of sales.
According to Expert Market, the typical costs for a POS you could use for your grocery store range from $49 a month to $4,000. For instance, the BCI Grocery Premium Plus prices around $4,000. This is a high-end system which includes a monitor, POS software, scanner, pole display, credit card reader, and receipt printer.
As for those on a budget, the website recommends ShopKeep POS Basic. The system charges a monthly subscription fee of $49.
Initial Inventory
The cost of your start-up inventory would depend on the amount of space available for your goods. Consider buying more stocks for niche products (if you have one). It would also help to order excess stock. Adjust the amount of each item based on what would reflect on your sales.
The cost differs greatly from business to business. For instance, based on the business plan of Sarrica's Market in Utah, initial inventory for a grocery store prices at $20,000. The retail outlet aims to sell international goods and delicatessen.
On the other hand, the business plan of Viking Grocery Stores in Springfield shows a start-up inventory of $400,000. Aside from groceries, the store is also a drug retailer and wholesale distributor.
Pre-Opening Expenses
You would surely shoulder expenses prior to opening your store. Aside from the rent, you would have to secure permits, licenses, and insurance, among others. For an idea, here's a sample from the Sarrica's Market business plan:
Books/Accounting: $600
Licenses/Permits: $1,000
Delivery/Transportation: $1,500
Insurance: $900
Loan payment: $3,000
Utilities: $3,000
Deposits: $500
If you're employing cashiers and baggers, you should also secure funds for their salaries. Furthermore, you would have to allocate a budget for payroll taxes.
Advertising
Aside from putting up a store in a location with high foot traffic, you could attract customers by advertising. Think of a catchy business name for your outlet and print brochures and pamphlets to promote it. Better yet, advertise via print, radio, or TV if you have the budget.
Another way is to put up a website. Sarrica's Market allocated $5,000 for its online marketing. The price is only a sample and the amount would go higher or lower depending on your strategy.
Working Capital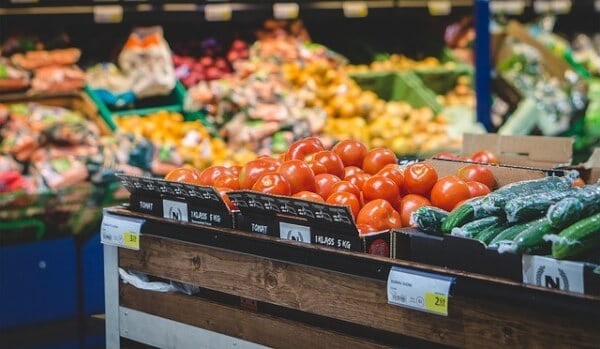 To keep your business afloat, you need to have a working capital. It's the fund you need to run your grocery store daily, purchase inventories, and pay operating expenses.
Normally, you won't need an intensive working capital for a grocery store. That's because the outlet would generate cash on a daily basis. However, some business plans, like the one from Viking Grocery Stores we mentioned earlier, has allocated as much as $100,000 for its capital.
Sarrica's Market, on the other hand, has more liabilities than its assets, resulting in a negative working capital. While this may sound bad, the store would still do well. The business would earn daily cash that would be enough to pay its creditors on time. The daily sales would eventually clear the liabilities.
Additional Costs
Some expenses you might add to the cost to start a grocery store include
Budget for a grand opening
Budget for paid training of employees
Office supplies
Payment for business proposal (if you can't write one yourself)