A lot of people who want to own a business are contemplating whether to go for a high-risk, high-yield investment or just play it safe through a much smaller venture. If you are considering the former, you might want to explore the world of car dealerships.
But first things first, how much does car dealership startup cost?
Average Cost to Start a Car Dealership
Before anything else, decide first if you want to put up a new or used car dealership, as these two have a significant difference in terms of investment.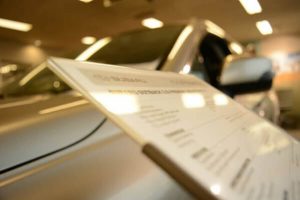 The average startup cost of a car dealership ranges from $100,000 to $300,000 but could go up to close to $12M especially for a new car dealership for popular brands. The biggest contributor to this is the initial car franchise dealership fee, which could range from $30,000 to $500,000, and whether or not you need to acquire land and construct a showroom.
To know exactly what other elements constitute this cost to commence your automobile dealership business, please see below.
Startup Cost Breakdown
Here are the major components of the startup cost for your prospective car dealership business. Please take note that these are highly variable depending on the state where the business will be put up.
Business locations will be an important part of this venture. You will not have to worry about this if you already own a space.
However, you still have to include the value in the computation of your starting cost as part of your overall investment.
The cost would greatly depend on the state where you intend to put up your business, as it can get pretty expensive in some upscale cities. Your best bet would be to lease a space or a standard garage facility for around $150,000.
For a used car dealership, you are not required to have a proper commercial office. You can conduct your dealership business from home.
Other than your major capital investment stated above, the inventory is another one that gets a large chunk of the cost. For this, prepare to allot around $30,000 to $150,000. This, of course, depends on the brand and model of cars you wish to have on display.
There are many ways to register your car dealership. It depends on what business structure you want to have.
A general partnership or limited partnership registration usually costs around $70 to $1,000. On the other hand, a limited liability company, corporation, or simply a sole proprietorship registration can cost you around $50 up to $630. 
This part also greatly depends on the types of cars you will sell, and the size of your initial startup inventory. A lot of professionals recommend that you start up small first and gradually increase your inventory.
Most states require this type of license before you can operate your car dealership business. There are basically four types of dealer licenses, namely: new vehicle dealer license, used vehicle dealer license, wholesale vehicle dealer license, and motorcycle dealer license.
This typically costs between $100 and $700, depending on the state where you are putting up your business.
Getting a license also entails some extra costs along the way. Some of these include an auto dealer bond ($25,000 to $50,000 depending on the type of license and your location) and liability insurance ($25,000 to $10,000 depending on your location).
Other Related Costs
Beside the startup cost, you also need to consider some other specific requirements before you will be allowed to operate a car dealership. They are the following:
Surety bonds guarantee that the company has the capacity to perform the purpose for which it was founded or a specific business activity. This ensures the public or the consumers that the company will abide by the terms of the bond.
In the event that there is malpractice or it fails to deliver what was expected of it, the party that was harmed can claim damages from the bond to recover the losses incurred. Car dealers are normally required to secure a $25,000 bond, which may cost around $250 to $750.
Since you are selling cars, clients will have to test drive them at some point. Because of this, you will be required to secure dealer plates. Some states require at least two dealer plates. These cost around $90 each, on average.
Operating Cost
While startup costs may seem to be where all your investments go, do not discount what's ahead as you formally run your business. Expect that the first few months will seem like a steady cash outflow, unless you start to close out deals very early on.
With that said, here are the major operating expenses you need to consider when planning your car dealership business:
These two costs will depend on how many personnel you hire and the type of recurring utility bills you incur. For sure, you will need to hire your sales associates, accountant/bookkeeper, administrative personnel (unless you intend to do them yourself in the meantime), and mechanic.
Recurring monthly bills would include electricity, water, internet, website hosting, etc. For all of these, you will need to set aside a budget of around $60,000 for the first three months of operation.
Brand awareness is crucial, especially when you are just starting with your car dealership business. People need to know that your business exists. While you can gain traction for free using social media, you normally don't have that much following at first, so you might need some help through ad placements.
Another form of advertising includes billboards, newspapers, and signage, among others. You could allot around $1,000 a month specifically for this expense.
Miscellaneous/Contingency
Set aside a budget of around $1,000 to $10,000 for unexpected expenses. These may include taxes, insurance, or unexpected penalties and damages.