As of 2015, there were an estimated 2,650 deaths and 11,075 injuries resulting from roughly 365,500 fires that destroy homes throughout the United States. Given this stark figure by the National Fire Protection Association, American homeowners are keen on investing numerous practical 'fire-proof' measures to protect their property (as well as themselves). Among these contingencies include installing egress windows.
Average Egress Windows Cost
Egress windows are designed primarily as a 'residential fire exit.' Many of these types of windows are found in the basement. The most prevalent average egress window cost in the United States is approximately $2,707, based on 157 homeowner profiles. Hence, the mean price range usually falls anywhere between $1,518 and $4,041.
The lowest reported budget is only a meager $400 overall net expenditure. The most expensive egress window project is roughly $6,000. It is important to take note that several factors contribute to the overall expenses one may incur when installing an egress window. Some of the details will be discussed further in the next parts of this article.
The International Residential Code
In order to make a detailed assessment of your overall basement egress window price, you need take note of the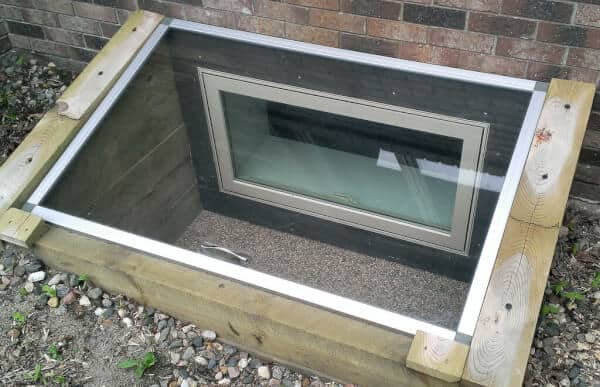 International Residential Code – a regulatory body comprised of specific dimensions that bind all egress window designs into one fundamental standard. As per IRC regulations, here are the following criteria for all egress windows:
All egress windows must have at least 36 inches of length and a depth of 9 square feet.

The minimum height of an egress window must be 24 inches along with 20 inches of width to comprise the entire opening.

The egress window's flood well must have a ladder if it is steep depth goes beyond 44 inches.

All egress windows must have an opening clearance of well over 5.7 square feet for easy maneuverability, especially for casement type of windows.
Depending on the materials you would use, it is important to be able to comply with these basic requirements. However, it is important to take note that municipal or county regulations supersede IRC. Despite the latter's universal existence, different specific regulations regarding this home add-on vary greatly from one state to another. 
Types of Egress Windows
When it comes to the specific variety, the difference in terms of the average egress window cost is more of an issue of return of investment than actual numbers. To better understand this general standpoint, let us identify the three different types of egress windows:
Double Hung Windows
Derived from its very namesake, the double hung egress window has two panes. One window panel stays stationary while the other is vertically pushed up to open or pushed down to shut close. From a tactical standpoint, double hung windows are disadvantageous in terms of staging a rescue or fleeing from the engulfing flames. One needs to contend with the weight that keeps the window closed. It is the least suitable design for basements.
Casement Windows
The casement window is a variety that can be swung open or close, just like a traditional door. In terms of ease, the casement window proves to be the most tactically sound. It basically budges open almost immediately with an open-handed strike. Unfortunately, the swinging clearance takes up nearly twice the space, therefore increasing the cost relative to the flood well excavation.
Sliding Windows
A sliding window is popular for many homeowners because it does not take up too much well space and it is relatively easier to open than a double hung window. The only valid concern for choosing a sliding variety of egress window is that the clear opening width has to be twice wider. 
Pros and Cons of Egress Window
As mentioned in the first part of the article, an egress window effectively provides a safety measure for homes against potential fire hazards. But apart from security, an egress window is credited for its architectural appeal. Another compelling benefit of an egress window is that it provides comfort for the most infernal part of the house with added ventilation and natural sunlight. Lastly, an egress window augments the overall real estate value of the property – accounting for as much as 20 times the total cost of window installation retrieved concluding the sale.
Unfortunately, however, installing an egress window is ought to be a carefully calculated investment. The average basement egress window price alone leaves homeowners thinking twice. On top of that, one needs to contend with other mitigating factors like local building codes, the inconvenience of heavy duty construction labor as well as the oftentimes overlooked issue of subterranean humidity that dampens the interiors of the basement via the newly constructed egress window.
Other Cost Considerations
Local Building Codes
The importance of existing building codes is crucial for the overall egress window cost. Simply put it, the last thing you want is to strain your overall budget with reparations from a poorly assessed construction project that damaged key infrastructure (e.g. water or gas pipe).
Taxes On Building Materials
It is possible to lower basement egress window price if you are keen on eco-friendly building materials. Current tax premiums on Energy Star building components have become a hallmark of sound economic spending in terms of home add-on installations. Simply put it, you can also lower the insurance rates if you opt for building materials certified with Energy Star.
Inspection and Permit Fees
Every construction project entails government inspection. Hence, you're looking at the extra cost for a permit. This fee may vary as per a specific location as well as the preceding building codes and other requirements.
General Contractor's Fee
General contractors usually charge extra 15% to 23% if they single-handedly supervise the construction project. One of the effective ways to negotiate a bargain is to simultaneously include the installation of egress windows 'during the construction of the basement. This way, you won't have to contend with minor (yet accumulating) charges in line with adhering to existing local building codes.