Although they are the first things that we see whenever we come home or visit other residential properties, gates are oftentimes overlooked. They are regarded as the first line of defense against intruders, and that's not a bad thing at all. But to make it sound less harsh, gates have the important job to initially block people before the homeowners let them in the premises, especially when they don't know the person.
However, you can go beyond merely installing a typical kind of gate. If you want to welcome your visitors and give them a good impression on who you are, then having a well-built gate would definitely be a good start.
A recommended type of gate is an electric gate, which is both useful and sophisticated. It adds more value to your home as well. But you have to consider it as an investment since an electric gate is a bit more expensive than a standard structure. With that said, it would be wise to know the electric gate cost first and find out if it will be worth the price.
Typical Costs of an Electric Gate
In most cases, commercial electric gates are more expensive than residential electric gates since the former requires a much better security system, preventing intruders from entering the premises. The following prices are designed for residential purposes, so if you are a homeowner, this gives you an idea of how much you need to save for a big project such as the installation of an electric gate.
As previously mentioned, electric gates are not cheap. That's why installing one in the middle or at the end of the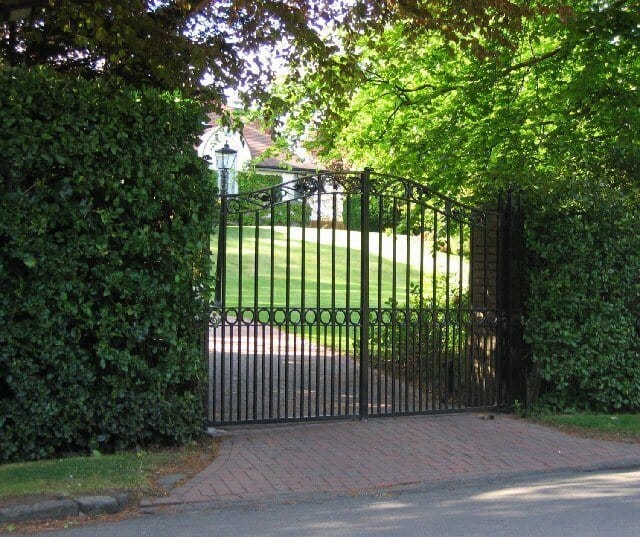 driveway should be thought of carefully. In that regard, the typical electric driveway gate cost can run from $4,000 to $17,000. But there are many factors that affect the electric gate cost, including the kind of gate you prefer and its quality, the type of electric gate opener, the automation system, power supply, the length of the driveway, and the gate's design, just to name a few.
The cheapest price of an electric gate may range from $4,000 to $6,000, which already includes the installation fee and the intercom equipment. However, this price range comes with only one gate. If your budget is somewhere from $6,000 to $10,000, then you can have two electric gates and a much better automation system that opens the gate with a push of a button. The installation costs are also included in this price range.
From $12,000 to $17,000, expect to get two aesthetically beautiful electric gates with an automation system that provides a higher level of security and privacy. It has an audio and video intercom equipment, and the main control system can be installed inside the house, making it more convenient for you to open and close the gates. Basically, you everything is better, more durable, and more advanced than the first two price ranges.
But there are cases when the electric driveway gate cost goes even further than the typical maximum price. You can spend around $25,000 to $40,000 or even higher if you decide to get a double swing electric gates, integrated with the most powerful security system. Aside from that, you can add the most sophisticated features like masonry columns, architectural lighting, vehicle detection, intercom equipment, hydraulic gate openers, and installations of higher-end CCTV cameras.
In other countries, the cost of electric gates also varies based on similar factors. In Australia, the cost can range from $700 to $1,500 AUD ($520 to $1,115 USD). Meanwhile, in the United Kingdom, the prices run from £4,000 and £20,000 ($5,020 to $25,000), depending on the homeowner's location.
Other Considerations for Electric Gate Installation Costs
Apart from the factors mentioned earlier, there are other things to consider when you want to install an electric gate. These are the following:
For homeowners who already have well-maintained gates, they have the option to install the necessary automation system. This can either be an electric gate system replacement or a new system installation on a manually-operated gate. If for instance, you have an existing gate, then you can call a professional technician to integrate it with the needed automation system. However, you have to let the technician assess the gate first to find out whether an automation system can be installed.
When you want an electric gate for your property, you can choose between a sliding and a swinging gate. If you wish to have the former, then tracks must be properly positioned on a flat ground to help the gate slide. Sliding electric gates are common in areas with a small land surface or near the main road. The swinging gate, on the other hand, can be installed when the driveway is not that wide for a sliding gate.
Number of Gates and their Sizes
The higher the number of gates you like to have, the bigger the price you pay. The larger or taller the gates you want to be installed, the more expensive the total cost gets. There are some driveways that require two electric gates for a proper coverage. Meanwhile, other properties, like haciendas or plantations, may need larger gates to secure the area properly or use a part of the area of the driveway.
This is a significant factor since electric gates only work when there is sufficient power supply. If there is electricity, then the gates may only be opened and closed manually. In any case, when there is already power or electricity near your gate, you may only need to spend for the installation cost to transfer or connect the power to the gate. Don't worry. This extra cost doesn't burn a hole in your wallet. But remember, this will likely increase your electricity bills, so you have to be prepared for these charges once the electric has already been installed.
Power Coming from the Sun
If you want to avoid spending too much on electricity bills, then a solar-powered gate is an option you can consider. This type of gate helps you save energy as it consumes the natural energy coming from the sun. Solar-powered gates are ideal for properties that are opened and closed for several times a day, every day.