In the United States, homeowners spend an average of $31,400 for the total cost of fiberglass pool installation. This is the usually projected budget for a swimming pool with a standard dimension of 288 square foot. Normally, the cost breakdown for service installation is $78 per square foot. When accounting the additional features, the average charge per square foot may exceed up to $109.
The lowest budget estimate for many American homeowners is roughly around $22,460. Take note: this approximation this applies mostly to the aforementioned average dimensions. This budget also pertains to the lack of extra features. The highest cost for installing fiberglass swimming pool exceeds to about $40,640. Given the standard dimensions, this estimate already includes extra features.
Compared to traditional swimming pools, an in-ground fiberglass pool is a prefabricated home feature. This means the main building components are transported from the seller's factory all the way to the installation site. These building materials are then fixed into the dug-out hole over the concrete and sand base.
Total Cost Itemization
As mentioned earlier, the total cost for a 288 square foot pool installation service is $22,460. This accounts for the standard pool without extra features. If you opt to install a type with extra materials, you are looking at a price of $29,860.
In addition to any of these, you also need to pay an average of $3,770 for the vinyl cover. The concrete sidewalk spanning a total of 86 feet costs $150. Considering that you will be including a 104 feet privacy fence to hedge your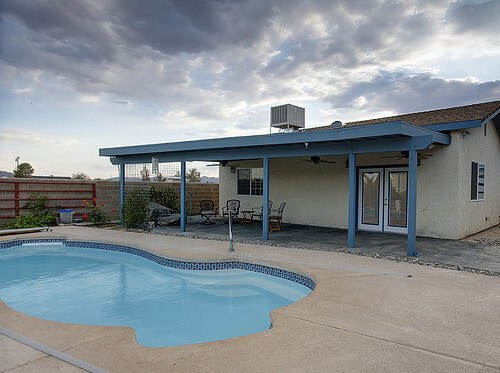 swimming pool area, you are looking at an additional total cost of $3,480.
The total budget for the builder's labor is $5.37 per square feet. Hence, you are looking at the line cost of $1,550. As for the valves, piping, hydraulic pump control, ladder, filter, and a lamp: these are all included in the swimming pool installation service.
Part 1: Why Go For Fiberglass?
Fiberglass pool prices are relatively higher compared to vinyl or concrete. But what may seem like an expensive option is all worth it when you look at the return on investment. Here are a number of reasons why you should go for fiberglass swimming pool:
Fiberglass pools are low maintenance. The surface material alone allows homeowners to spend 75% less time and money maintaining their pools. The interiors, as well as the chemical water content, of the fiberglass pools, require less attention.
Fiberglass pools are highly durable. In fact, their durability enables homeowners to save as much as $4,000 to $5,000 budget for replacement.
Fiberglass pools sport a sophisticated design array. American homeowners easily consider this type of swimming pool if one should account for the aesthetics alone.
Fiberglass pools have strict quality control. Like most prefabricated products, the suppliers are keen on making sure that the

cost of fiberglass pool

is on par with its quality.
Part 2: Why Go For Fiberglass?
When it comes to fiberglass in-ground pool cost, the return on investment is best felt when estimating the overall cost upkeep. Considering the fact that you are maintaining a swimming pool for 10 years, it is easier to see how fiberglass pools are very cost efficient. Now let's compare it to other three types of swimming pools.
If you choose a concrete pool, you will be spending roughly $27,400 in ten years. The expenses include acid washing, seasonal cleaning services, tile interior repairs, chemical usage and electricity consumption. As for vinyl swimming pools, the total cost per decade is about $11,500. These expenses entail replacing liners, chemical usage and electricity consumption.
You may have spent over 30k for the fiberglass pool, but you will only be spending a total of $3,750 for all ten years. The return of investment is significantly higher by three- to eight-fold. Chemical usage and electricity consumption are the only aspects you will need to account for.
Top 10 Cheapest Service Locations
If you happen to live in these following locations (particularly in the state of Florida), you are lucky enough to have a reduced overall cost for installation service. Take note: your location may only play a minor role in reducing your entire budget.
North Port, Florida = less than 20%
Kissimmee, Florida = less than 20%
Tucson, Arizona = less than 19%
Port St. Lucie, Florida = less than 18%
Lakeland, Florida = less than 13%
St. Petersburg, Florida = less than 11%
Venice, Florida = less than 11%
Omaha, Nebraska = less than 10%
Cape Coral, Florida = less than 9%
Bradenton, Florida = less than 8%
Cost-cutting Tips For Installation
There are three ways for you to get the most out of the deal by reducing the overall fiberglass in-ground pool cost. Here are the cost-cutting tips worth considering:
Remember that fiberglass pool prices are directly relative to its size. The wider your pool, the more expensive it is. Hence, it is to your advantage to reduce the coverage if you are paying $78 per square foot. It goes without saying that you need to forego extras offered by the provider to avoid paying $109 for every square foot.
Apart from the dimensions, another way to reduce the overall service cost is to choose a do-it-yourself product. These days, fiberglass pools are already sold as user-friendly building components. Having to do most of the work significantly reduces the overall cost you might have had to spend in hiring the necessary staff. Menial tasks like picking up the building components, measuring the fence yardage and cleaning the pool are some of the tasks which you can do yourself.
Choose winter installation
Whoever says that there is no particular best time to have your fiberglass pool installed was not looking meticulously at prices. Winter season is often the slowest time for a lot of service providers. Scheduling your installation during these times could give you a chance to haggle for a discount due to seasonal market scarcity.