Do you know anybody who is in need of a renovation? Are you looking for materials to fill your newly-bought property? Is your neighborhood or city highway in need of leveling? If your answer to one or all of these questions is yes, then you will definitely be in need of one construction staple– fill dirt.
Any type of building project requires a significant amount of money, though. So the question "How much does fill dirt cost?" rises.
The average cost of fill dirt is around $8 – $15 per cubic yard or $40 – $75 per five yards. These fill dirt prices depend on the quality of the dirt, the size of the construction area, and the location where it will be needed. Legitimate construction supplies providers would charge higher for good quality dirt or soil.
If you are either in luck or have the ability to get good deals on your own, you can get the dirt for free from construction or excavation sites.
The only problem you may encounter is with the quality. Some providers would include debris to add on the stones and sand. You have to be meticulous and check on the quality yourself to be sure.
Likewise, the cost varies in different parts of the country, considering the trucking and delivery fees. The delivery fees range from $50 – $150 per trip on average.
Cost of Materials per Type
Fill dirt prices vary according to the types of materials contained in it.
The common type of fill dirt ranges from $3 – $12 per ton. On the other hand, the sand or gravel type is priced from $5 – $15 per ton and the type with specialized crushed rocks is priced from $12 – $30 per ton.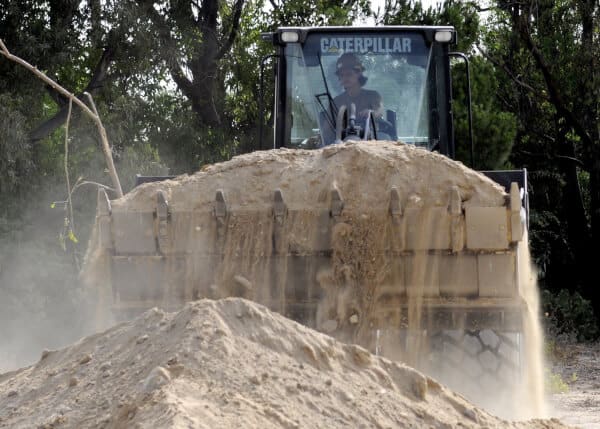 Other specifications based on the structure where the fill will be used charge differently. The cobbles type is at $15 – $40 per ton, quarry spalls also at $15 – $40 per ton, small riprap type at $35 – $100, and large riprap at $50 – $250 per ton. These types have distinct material sizes; thus the wide range of prices.   
How Fill Dirt Is Utilized
As stated in Wikipedia, fill dirt is any earthy material used to fill in a hole in the ground, create mounds, or change the grade or elevation of a property. Fill dirt is taken from a location where the soil is removed as part of leveling an area for construction.
In cases when there is a need to fill in holes and cavities, especially when there is a danger for flood, fill dirt comes in handy. The labor and transport are some factors that make the work more tedious.
Where to Purchase
Fortunately for avid landscapers and construction clients, there are a number of websites that sell fill dirt that can be ordered online. The system is similar to that of other online shopping stores. All you need is to sign up for your own account, click on your order, specify your other special requests and make arrangements for the payment and shipping.
One of the websites, cleanfill.net, offers a calculator that automatically computes for the specific volume of fill dirt you will need for your construction. When you enter the volume of dirt you need (in the form of shapes like cube, cone or cylinder), and the dimensions of the space, the amount will automatically be calculated. You can also convert it to another unit of measurement that is more convenient for you.
By using this feature, you will be able to get an exact amount to help you avoid buying either too few or too many.
Also, once you check out, the total cost is computed for your reference. Again, you have to be sure and check for hidden charges so as to avoid running short on the day of the delivery.
There is also a unit converter in case you need one. This feature makes the transaction even faster and more convenient.    
A lot of websites that sell fill dirt and other construction materials also buy such. 
Things to Remember
When calling and asking for a quotation, you have to have an idea of the fill dirt prices they charge in your area. A few tips from experienced buyers and providers would be of great help.
It would be better to have knowledge on whether the fill dirt is brought on a per-ton basis. In addition, you are advised to keep track of your expenses by immediately asking the provider of the trucking and delivery fees.
You only want to pay the average cost of fill dirt and not for any "hidden" charges on the day of the delivery or have the fill dirt returned. Be sure that you get the total net cost before signing on the transaction.
Another important factor to consider before buying the fill is the purpose for purchase.
Do you need the fill to level a play area? If yes, you will need to ensure that the end product is kid-friendly. Do you need it for the construction of a multi-storey building? If yes, do consider the number of floor levels. Do you plan on using it for a facility that will be open for public use every day? Consider its capacity for wear and tear.
Of course, you want the construction materials to be very sturdy to ensure safety at all times. You just need to identify the best type to avoid overdoing it or spending money that is not worth what is needed. 
"How much does fill dirt cost?" Whatever purpose it serves, no matter how small or big the project is, it all boils down to the cost and how you can get a good deal for a quality material. Of course, it will be better if you can get discounts. Always be on the lookout for a sale and be keen with your contractor when it comes to the quality.