Unlike most viral diseases where you get immune by contracting them the first time, with influenza or flu virus, no such luck. While it is possible to be immune to a particular type either after getting it or after your flu shot, your immunity will last only for about six months to a year, after which, a new strain of the same type of flu virus might mutate and linger in the environment, ready to attack the most vulnerable victims.
This is the very reason why almost every year, new or updated types of flu vaccines are being manufactured and offered in the market and we need to be vaccinated every year.
Having flu, apart from being an illness that can ruin your overall well-being, can also be costly considering having to miss work or school, having to pay doctor consultations and possible hospitalization.
How much does a flu shot cost? We refer to the experts.
Average Cost of Flu Shots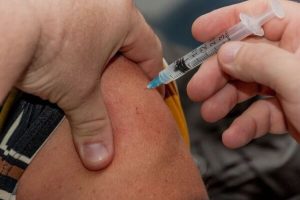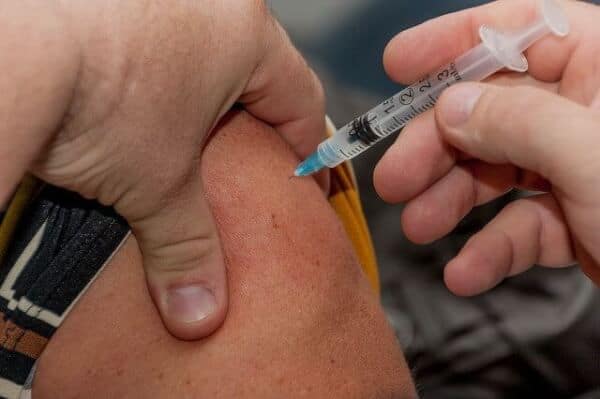 According to MissButterBean, the average cost for the standard type of flu shot or the so-called trivalent, ranges from $14.99 to $32.99 in different pharmacies, while the quadrivalent costs $30 to $43.99.
According to the Centers for Disease Control and Prevention or CDC, the flu shot prices per dosage are the following:
Pediatric:
Fluzone® Quadrivalent – Age 6 months and older – $16.622
Fluzone® Quadrivalent Pediatric dose – Age 6-35 months – $18.72
Fluzone® Quadrivalent – Age 36 months and older – $17.97
Fluarix® Quadrivalent – Age 36 months and older – $16.82
FluLaval Quadrivalent – Age 6 months and older – $16.82
Flucelvax® Quadrivalent – Age 4 years and older – $21.22
Adult:
Fluzone® Quadrivalent – Age 6 months and older – $16.622
Fluzone® Quadrivalent – Age 36 months and older – $17.97
Fluarix® Quadrivalent – Age 36 months and older – $16.82
FluLaval Quadrivalent – Age 36 months and older – $15.77
Afluria® – Age 9 years and older – $17.01
Fluvirin® – Age 4 years and older – $17.01
Flucelvax Quadrivalent – Age 4 years and older – $21.22
Afluria®  Quadrivalent – Age 18 years and older – $17.61
Prices above are private sector costs and are inclusive of $0.75 per dose Federal Excise Taxes.
Where to Get Flu Shots?
A lot of pharmacies and retail companies offer flu vaccines like Costco, Sam's Club, Target, and Walmart.
Also, check with your local county health department as they sometimes give free flu shots to residents.
Factors Affecting Flu Shot Cost
Factors affecting flu shot prices are the following:
Type of flu vaccines – you can choose between trivalent and quadrivalent variant or depend on the recommendation of your physician.
Your age – the type and variant of flu vaccines given depends on what age group you belong, although several variants are now recommended for all ages.
Health facilities – pharmacies, clinics, and hospitals have varying flu shots cost.
Insurance – some health insurance cover the flu vaccines and some are a co-pay. Check with your provider which is applicable to you.
Location – the cost of flu shot can sometimes be dependent on where you reside. Counties with rigid programs to fight flu epidemics tend to give the vaccines for free and some mandates its local pharmacies to give its residents the lowest possible price.
Effectivity
Due to a lot of factors, the exact effectiveness of influenza vaccines cannot be exactly measured and more often than not, subjective.
Some of these factors include the age of the patient, the manufacturer of the vaccine, the level of outbreak, new strains or mutations, and some cases that were not reported or not being monitored.
Because of these limitations, effectiveness rate was estimated at a wide range of 40% to 90%.
Who Should Get Flu Shots?
All people 6 months of age and older are generally recommended to get flu shots yearly to prevent contracting influenza virus. But there are groups of people who are particularly highlighted to get the vaccine because they are at high risk of developing complications from it.
Some of them are the following:
Children younger than two years old
Adults 65 years of age and older
Pregnant women and up to two weeks after giving birth
Race – American Indians and Native Alaskans
People with medical conditions such as asthma; neurological conditions; lung and heart diseases; blood, endocrine, kidney, liver, and metabolic disorders; HIV or AIDS, cancer, people younger than 19 years old and under long-term aspirin therapy; and those who are obese.
Kinds of Flu Shots
Influenza vaccines are typically made to protect people from types A and B flu strains. Type is A is the more aggressive one which can be transmitted between humans and animals and are responsible for the large flu epidemics in the world. Type B, on the other hand, can be transmitted between humans only, less aggressive, and generally, do not cause epidemic.
CDC recommends the use of injectable flu vaccines during 2016-2017. However, Advisory Committee on Immunization Practices (ACIP) no longer recommends the nasal spray version for the same years. This is as a result of the study for 3 consecutive years that live attenuated influenza vaccine or the nasal spray showed poor or lower than expected effectiveness for ages two through 17.
Several types of injectable flu vaccines available are as follows:
Trivalent flu shots – these types of vaccines are made to protect against three types of influenza strains: two for type A strain, particularly H1N1 and H3N2; and one Type B strain. These trivalent vaccines come in 4 different variants namely: standard dose, high dose, egg-free recombinant trivalent shots, and one made with adjuvant.
Quadrivalent flu shots – these vaccines have the same protection as the trivalent version, plus protection from the other B strain. Type B has two strains and what is offered in trivalent is protection from either of the two, whereas, quadrivalent protects against both. Quadrivalent shots have three variants: quadrivalent flu shots that are approved for all ages, intradermal, and the one containing virus grown in cell culture.
Where to Get Free Flu Shots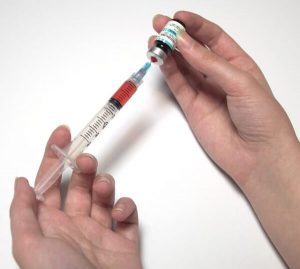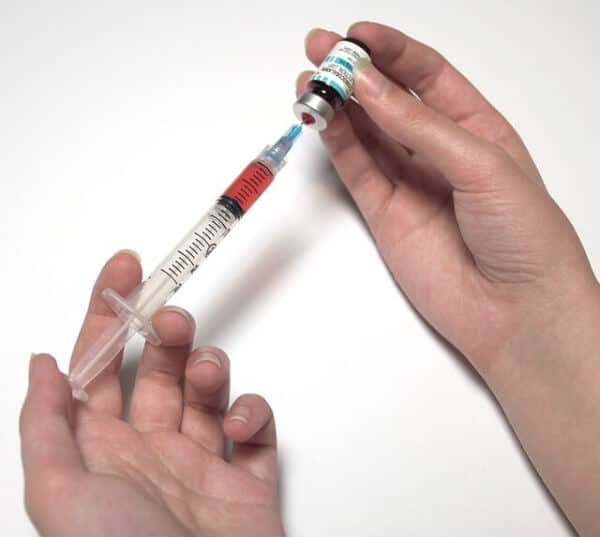 There are a number of places to get flu shots without spending a dime. These are the following:
Your company if you are employed – some companies offer free flu shots for all its employees. Some even extend the benefits to family members of its employees. Inquire with your human resources department about this benefit.
Health insurance through your physician– most health coverage includes several vaccine types. Check with your healthcare provider for the list of vaccines covered by your policy.
County health department – a lot of county health department offer free flu shots to its constituents, particularly to children and elderly, although they are gradually increasing the benefit to cover everyone regardless of age. Check with the health department in your area.