What would you find in Greece? Olympia, Santorini beach, and feta? They are among the most popular, yes, but there's still so much to discover in the country. To see for yourself, why not fly there now?
If it's the vacation cost you're afraid of, don't worry! Apparently, there are still ways to save on your trip even if it's to a Euro-zone country. Let's look at how much does it cost to go to Greece to find out how.
Cost Considerations
To compute the trip to Greece cost, consider the following:
Are you traveling solo, with a partner, or with a group?
What time of the year would you fly to the country?
Until when will you stay?
Where will you stay?
What does your itinerary include?
Obviously, the larger your group and the longer your stay, the costlier your trip would be. Traveling during the peak season would further increase your expenses.
What you plan to do would also affect the Greece vacation cost. Some travelers are content with sightseeing for free. But if you're not like them, expect to spend more.
Cost Breakdown
Four major factors would affect the trip to Greece cost. This includes the airfare, accommodation, meals, and tourist attractions and activities in the country.
Airfare
The bulk of the Greece vacation cost comes from airfare. You could spend thousands of dollars for a flight to the country. But the staggering price is no more if you buy discounted tickets.
One such place where you could find low-cost round-trip tickets is at Cheapflights.com. Their rates could reach as low as $490! Here is a list of current deals:
New York to Athens: $587 to $600
Chicago to Athens: $522 to $604
Houston to Athens: $573 to $1,121
Los Angeles to Athens: $455 to $803
Boston to Athens: $572 to $679
Dallas to Athens: $976 to $1,226
Note that promos could change anytime. That said, check the website regularly. Who knows, you might just find tickets at much lower prices!
The only downside of flight deals is that you could not customize the departure and return schedule. In that case, try checking other websites that offer promos.
Peak and Low Season
Flight prices shoot up during the summer season, specifically from July to August. December to January (Christmas break) is also a popular time to visit the country.
Off-season falls in winter (January to March). Prices reach rock-bottom during these months. However, beware of the rain and snow.
If your schedule would allow it, visit during the shoulder season (April-June, September-October). This period is the time for perfect weather and affordable prices in Greece.
Saving on Airfare
You need to time your booking to avoid paying thousands for a round-trip ticket.
Some of the tips shared by Reidsguides.com include:
Buy your tickets six to twelve weeks before your trip. Avoid booking four months ahead or earlier as airlines do not yet discount seats at that time.
Discounted tickets tend to sell out faster during summer so don't wait too long before buying. On the other hand, winter season means last-minute sales. Thus, standby a bit until prices are at their lowest.
Cheap airfares generally appear on Tuesday afternoon to Wednesday. Check websites during these days!
Accommodation
Accommodation in Greece includes hotels, rooms for rent, apartments, tourist residences and villas, camping, and youth hostels.
Here is a list to give you an idea of the prices:
Camping: $6 to $20
Dorm bed: $11 to $40
Airbnb (shared rooms or houses): $11 to $55
Private room: $27 to $45
Budget hotel room for two: $27 to $50
Mid-budget hotel: $76 to $155
Apartment: $65 to $110
Note that these are only average prices. The costs change parallel to the seasons. In summer, do not be surprised to see rates go 50% higher!
To save on costs, book early. Also, look for websites that offer accommodations for cheaper prices.
Food and Drinks
Eating in Greece doesn't have to be expensive. Here's a sample of costs for budget meals in Athens:
Breakfast: $4.35 to $7
Lunch: $4.35 to $9
Dinner: $8.70 to $15
Beer (0.33 liter): $1.09 to $5
House wine (1 liter): $5.43 to $8
Cappuccino: $3.16
Water (0.33 liter bottle): $0.54
A meal in an inexpensive restaurant costs $11. Mid-range restaurants, on the other hand, have prices that reach up to $35.
A must-try in Greece is its seafood. You could find tasty dishes such as the local fish soup and bouillabaisse during autumn. Summer catch, on the other hand, is served by providers with oil and lemon sauce.
If you don't want to spend much but still want a filling meal, try gyros. This sandwich only costs around $3.
Local Transportation
Greece has an efficient bus network that could get you across the country. The buses, operated by KTEL, is the most popular mode of transportation among Greeks. A ride costs about $5.45 per 100 kilometers. A one-way ticket from Athens to Thessaloniki prices at $39 and a round trip $60.
You could also use bus tickets to pay train fares. For instance, there's an all-mode 90-minute ticket in Athens accepted by city buses, tram, the Metro, and the Suburban Railway. As its name implies, the pass is only valid for 90 minutes (1 ½ hours). The price is less than $2.
Other tickets in Athens include:
24-hour ticket (all modes): $5
5-day ticket (all modes): $10
Express bus ticket for the airport: $7
Metro ticket for the airport: $11
Return Metro ticket for the airport (2 journeys): $20
Ferry rides is also a great way to explore the country as you could reach the islands. A one-way route from Mykonos to Piraeus averages $180 to $295, depending on the season.
You could also get around Greece by boarding the train or renting a car. There are also scooters, moped, or ATV rentals that average $22 to $45 a day.
Attractions
A reason why Greece is visited by around 12 million tourists annually is because of its archaeological sites. Aside from being spectacular, these ruins fuel the imagination.
Here's a list of costs for your reference:
Acropolis of Lindos: $7 (child), $13 (adult)
Ancient Mycenae: $4.36, $9
Palace of Malia: Free, $4.36
The Site of Phaestos: Free, $9
Ancient Delphi: Free, $7
Historic sites are also plenty in Greece. Parts of the Ancient Olympia, where the first Olympic Games took place, endured until this time. Entering the site and museum would cost $6 to $10.
Other noteworthy historic sites include:
Ancient Messini (museum and site): $3.27 (child), $6 (adult)
Keramikos: Free, $2.18
Ancient Agora: $4.36, $9
Theatre of Epidavros: $3.27, $7
Temple of Epicurean Apollo: $3.27, $2.18
Hiking in Greece
Love hiking? Greece is your paradise! For instance, you could climb the so-called mountain of the gods, Mt. Olympus. A tour would cost about $44 to $60 per person depending on how high you want to go.
You could also challenge trails in Meteora, Andros, Zagorohoria, Mani, and Pelion Peninsula.
Skiing in Greece
Greece is not only a place for summer holidays but also for winter activities! Thanks to its mountainous landscapes, ski resorts dot the country. The price varies depending on the place and the resort.
For instance, the Vasilitsa Ski Resort has the following ticket prices:
Daily card: $11
Weekend daily card: $14.16
5-day card: $33
Weekly card: $55
Yearly card: $165
Vacation Packages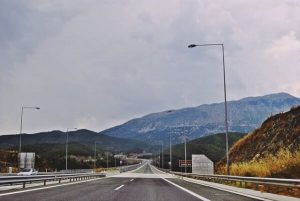 You might stumble upon websites that offer vacation packages to Greece. Convenient as it is, these guided tours could cost you anywhere from $200 to $1,000+ a day (which is expensive). Worse, the so-called "all-inclusive" price might only be a strategy to attract customers.
Thus, be careful about the packages you pay for. Better yet, compare your estimate with the agency's rates to determine what option is cheaper.
Of course, you could always opt for vacation packages if you can afford them. After all, a holiday in Greece is something you should experience without reservations (no pun intended).
Calculating Costs
So, how much does it cost to go to Greece? Most travelers, according to Budget Your Trip, spend around $112 a day. That would be around $784 if you're spending seven days in the country. Add a Houston-Athens round-trip ticket, and the price would be $1,360 to $1,910.
Remember, the above averages are estimates and only serve to give you an idea. You could always aim to spend less (or more) depending on what you want out of your vacation.
Additional Costs
Aside from the average prices, prepare yourself for additional expenses while in Greece.
One of these is the cost of souvenirs. This expense does not make up the average cost because it's at your discretion how much you'd spend. Most travelers spend around $37 for buying stuff they would bring home.
You could also spend more if you choose to do water activities such as diving and sailing. Entertainment, such as live music shows, could also cost you more.
Other additional costs include:
Riding taxis
Eating at an expensive restaurant
Tipping
Cable car ride