An annual pilgrimage to Mecca – Muslims' most holy city located in the Kingdom of Saudi Arabia – the Hajj is a religious obligation that every adult Muslim should carry out, at least, once in a lifetime. It is also a yearly gathering of Muslims from all over the world. If you haven't had this trip before, you will surely be interested to know how much does Hajj cost.
Cost To Do the Hajj
The average cost of doing Hajj ranges from around $6,000 to $13,000 from the US, but could go up to $15,000 for a more luxurious experience. This depends on the chosen package, as each will have varying types of accommodation, the number of days you'll be staying (ranging from four to 21), and include meals, among others.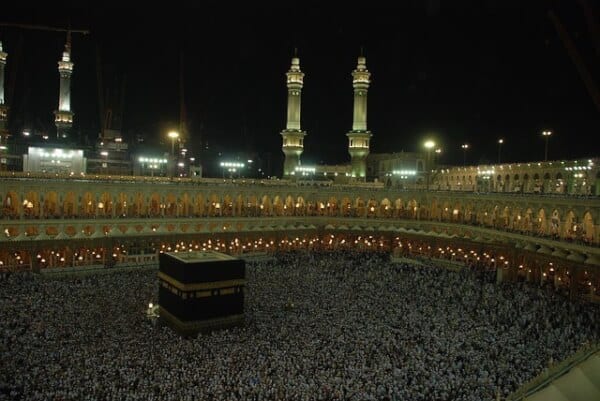 For example, Haram Tours Hajj & Umrah offers packages with rates ranging from $6,300 to $12,500 per person, while the duration of stay is from 14 to 21 days.
For countries with a large number of Muslims, their governments offer travel packages so that they can help even those who can't usually afford to travel can experience this once in a lifetime opportunity.
What Are Included?
When you are in the U.S., the cost of Hajj varies based on where you are traveling from and the package you have selected.
There are various agencies that offer Hajj packages based on the number of days of your stay, and the dates of flight and departure. But most of them include round-trip airfare, accommodation, food and drinks, transportation to and from the holy city, as well as help and services.
Let's take a look at the sample price from Cordoba Tours in Ozone Park, NY for their Hajj packages:
The total package cost ranges from $7,500 to $8,000 (depending on the number of people sharing the provided accommodation). This package includes the following:
Accommodation:
4 in a room: $7,500

3 in a room: $7,800 (in Madinah only)
2 in a room: $8,000 (in Madinah only)
Roundtrip Airfare:
From NYC or other major airports
Makkah: Sara Villa, Aziziyah
You will be staying in Aziziyah in the quad room in the days leading up to the Hajj. Please take note that this is not a hotel.
You will have access to the building during the Hajj days
Madinah Hotel: Millennium Al-Aqeeq Hotel
Makkah: Sara Villa, Aziziyah
Breakfast & Dinner in Madinah
Three meals in Makkah
Hajj visa services included
Additional Costs
Please note that the package will not include some of the fees you need to pay once you arrive at the location. Some of these are the following:
You need to pay the Hajj fee imposed by the Kingdom of Saudi Arabia government – $500
You will also be charged for Zabiha or Qurbani – $150
Value Added Tax and Municipality Tax – $500
If you are roaming away from Hajj to different locations between Makkah and Madinah, you will be spending around $15 for each bus and train ticket.
You will also need a global-ready mobile phone, which can cost around $100
Domestic flights to get to international gateways when flying back home
More About Hajj
The Hajj's religious rituals run for five days, starting on the eighth day to the 12th day of the lunar month of Dhu al-Hijjah in the Islamic calendar.
On its third day, Muslims in Mecca and other parts of the world celebrate their religion's most sacred festival, known as Eid Al-Adha. Once the Hajj has been completed, the pilgrims have to perform other rituals before they leave Mecca. Muslims do the annual pilgrimage to take their sins away and make them more faithful.
For Muslims, the Hajj re-enacts the actions of the Prophet Muhammad on his "farewell pilgrimage" in AD 632. It is also a central pillar of the Islamic faith, which is meant to cleanse the faithful of sins and bring them closer to God.
Factors Affecting Cost of Hajj
Apparently, the Hajj prices are difficult to generalize since a lot of factors come into play, just like with any kind of travel or holiday. Some of these are the following:
Understandably, the cost varies depending on where you are coming from, but this will only have a main impact on the flight cost. If you avail of a Hajj package from a private agency in India, the rates can cost around Rs 3,30,000 or around $4,300 per person.
On the other hand, the Hajj package in Pakistan can cost around 700,000 Pakistani rupees, or around $4,000.
Your choice of the type of package will decide the type of accommodation, the number of days, and the meals, among others. All of these will factor into the total amount you will have to spend. The more luxurious your choices are, the more expensive they become.
The cost will also vary depending on the travel agency, as some provide more comprehensive services than others. The more prominent travel and tour agencies will provide pilgrims who will be setting up their camps in Arafat and Mina with complete services.
These included three meals, water, hot drinks, soft drinks, security guards, medical assistance from a doctor, and even round-the-clock cleaning services.
The number of pilgrims you have in a group can also help you save on costs, especially if you are a family or group of friends. There are accommodations that allow several pilgrims in one room, so it becomes cheaper in terms of per head computations.
Important Reminders
Parents can be accompanied by their children, and this means additional charges for each kid.
Before, female pilgrims under 45 years old should come with a Mahram or a male relative. This is a requirement of Saudi Taleemat. However, recently, the Ministry of Hajj and Umrah of Saudi Arabia has begun allowing women to register for the pilgrimage along with other women even without a male guardian.
Before registering, you must be able to meet these requirements:
You should be 18 to 65 years old.
You should be immune: immune by 1st dose, and considered immune via recovery.
You shouldn't have any chronic diseases.
Registration is open for citizens and residents of KSA who haven't performed Hajj in the last five years.
The application for visas is free, and applicants should make sure the passports have their names and birth certificates attached.