The cost to install Hardiplank siding is being asked several times as many companies have considered using this building material. It is a low-maintenance product once installed and painted, and the thicker variety has an excellent impact resistance.
The fiber cement siding is also not susceptible to termites and rot and it is fire resistant because it is made of non-combustible material. It is not only used as an exterior siding but it can also be used as a substitute for timber fascias and bargeboards.
The most popular fiber cement siding in the market is the Hardiplank Siding. The company describes their siding as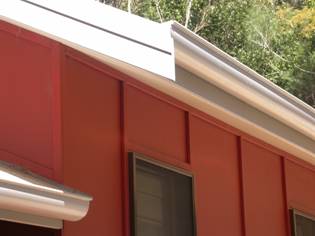 traditional and timeless saying the product is their most sellable product yet and not only that, it is the most popular brand of America as well.
Cost of Hardiplank Siding Installation
A Hardiplank has a 30-year non-prorated warranty, resistant to warping and shrinking, will not melt, weather resistant with a real Woodgrain look and feel. That is why many homeowners and establishments are looking into using the Hardiplank siding as the siding of choice.
A Hardiplank siding cost around $0.70 to $5.25 per sq. foot. The cost to install a Hardiplank siding will depend on your location and the size of your building or house.
In a 129 sq. feet structure, a Hardiplank cement siding will cost $401.98 to $557.53. The basic labor to install the fiber cement sliding if in favorable condition will be around $216.65 to $527.61. The process includes layout, fabricate and attach plank fiber cement siding (6″ width) over vapor barrier with a time frame of 7 hours. It also includes planning, equipment and material acquisition, area preparation and protection, setup and cleanup.
Aside from the Hardiplank Siding, you would also need basic supplies for the installation of the material which includes pneumatic finish nailer, 10″ miter saw, electric jigsaw, 3″ belt sander, 3 1/4″ electric planer. The cost of this equipment is around $54.38 to $78.38.
There are also times that you already have an installed Hardiplank siding but would like to replace it with a new one. The Hardiplank siding cost for removal is around $147.73 to $359.77 it includes the removal of the siding panels, fasteners and trim pieces – without damaging the trim or adjacent surfaces. The contractor will also remove loose or damaged building paper or wrap and dispose of material responsibly. The procedure will take 4.7 hrs. to finish.
There is also an additional fee if you request to dispose of your siding debris. The service includes loading and hauling away old materials, installation waste and associated debris. The service will cost you $49.61 to $56.44.
There are also Hardiplank sidings that are already painted. There is a total of 24 colors that you can choose from. Their color is divided into different groups; from warm, cool, fresh, light, dark and neutral. There is always a Hardiplank siding color fit for your design.
A painted Hardiplank Siding with a 4" board exposure will cost $8.11 per 12' board while a 5" board exposure will cost $9.64 per 12' board. The 6″ board exposure cost $11.20 per 12' board while a 7″ board exposure cost $13.27 per 12' board.
Other Expenses For The Installation Of Hardiplank Siding
Aside from the Hardiplank siding cost, there are still other materials that you need to purchase for your project. You would need to buy house wraps, trim boards, and caulking. The most expensive among the needed materials is the trim board. A Harvey 1×6 PVC Trim Board – 18′ long will cost around $37.63 each while a Harvey 1×4 PVC Trim Board – 18′ long will cost you $21.67 each.
For the rest of the materials, a Tyvek house wrap is priced at $0.97 per square foot while the caulking including the fasteners, connectors, surface preparation and finishing materials will cost $18.72 per linear feet.
How To Save On Cost For Installing Hardiplank Siding
If you want to save on the installation for your Hardiplank siding, you can always install it by yourself. Usually, the cost of the labor for installation is half the price of the cost of the materials. If you have basic skills in carpentry, then installing the Hardiplank siding will be a breeze. First is you would need to hold the starter by creating a drip edge. After that, you would need to pre-assemble the corners using a finish nailer for trim.
Once the pre-assembly is done, it is now time to install the Hardiplank Siding by stapling the building paper to the wall sheathing. That is how easy you can install a Hardiplank Siding. Just make sure that you have an assistant to help you carry the weight as one siding is big and heavy.
But if you are not sure if you have the right skills to do it, it would be best to hire a contractor as they would know the cost to install Hardiplank siding for you. But in order for you to save on cost, make sure that you request for quotes to multiple contractors; 3 to 5 will do. Always ask what the inclusion of the quotation is so that you would know what you will be paying for.
Once you have the quotes, you can then compare which contractor can give you the best value for the right price. You can also ask a contractor to buy the Hardiplank Sidings for you. Remember that contractor buy materials by volume and they are given special discounts by hardware shops which will make it cheaper for you.
Another way to save on your siding is to buy the painted one. This way you can save on the price of the paint as well as the labor of painting. A painted Hardiplank siding will cost you $190/square foot while an unpainted siding will cost you $160/square foot.