In the past, the best way to travel safely is by horse and carriage. When the industrial revolution began, and automobiles were tuned up, the coach became outdated as a means of transportation, but not without style.
Carriages today are seen as a treat and widely used for entertainment. Sit back and relax in a stylish coach while that takes you some into the most popular attractions around town on a horse and carriage ride with family, friends or that special someone.
Coaches are often hired by people on several important occasions such as on Valentine's Day for a romantic trip, at funerals as a horse-drawn hearse, and to arrive at proms. Couples often used carriages for their special day. Other than special occasions, horse and carriage rides are available at public places for tours.
So if you want to go touring around the city in a coach, you need to know your horse and carriage rental prices.
Average Cost Of The Carriage
Factors that define the cost of a horse and carriage rental include the duration of the ride needed, the kind of coach to be used, the number of horses required and the distance of travel to the event.
Some rides are available at $12 going to hundreds of dollars. Rates can vary and can begin at $100 for an hour ride and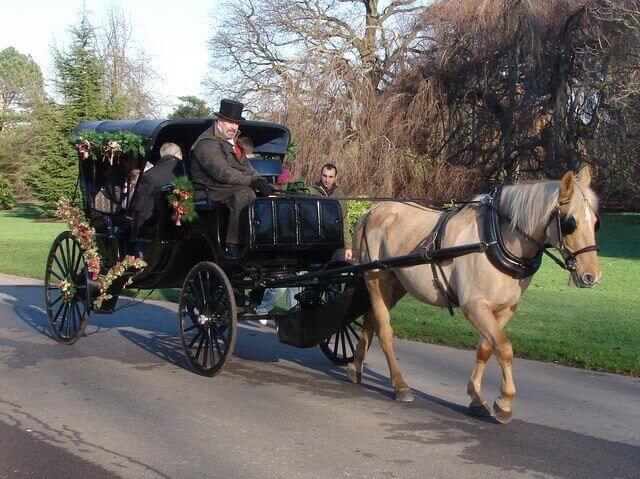 $1,500 to $3,000 for the use of a specialty carriage that lasts three hours or more if the driver has to go a long way for the event. A local transport rental for up to two hours typically costs about $250-$800 or more.
Prices On Cities
Example, in Central Park, they offer pre-arranged carriage rides which are private and priced according to length, and they start at 30 minutes. An already-reserved 30-minute ride is charged at $110 and is only available during off-season dates. A 45-minute ride is seen to be priced at $155and $255 during high-season dates. Additional styles and decors like extra duration, photography, flowers, chocolates, special pick-up and drop-off locations and more may increase this rate.
Standard Carriage Rides start at $140.60 for a 60-minute ride, $118.97 for 45 minutes, and $54.08 for trips reaching 20 minutes. For each additional 10 minutes or fraction thereof, add $21.63.
In Charlotte Center City Carriage Tours, they offer weekly horse-drawn carriage tours in Uptown Charlotte where a 20-minute city ride costs $12 per adult, $6 per child with ages 4 to 10 years old, free rides for toddlers and infants under three years old. The 40-minute and one-hour rides offered are based on availability and traffic and start at $24 per adults, $12 per child of 4 to 10 years old and free for three years and younger. A one-hour grand tour costs $45 per adult and $15 per child of 4 to 10 years old.
Their Romance and Private Carriage Package for one hour with customized pick up and drop off anywhere in uptown Charlotte is $125 including the admission for two adults, $10 per additional adults, $6 other child and free for three years and below.
Another rate is quoted from Old Market Nebraska as they offer a variety of pre-packaged tours that lasts from 10 minutes to one hour.  For a cruise to the Historic Old Market, it'll cost you $25. A Market and Park Tour prices for $35 for the standard carriage, but an additional of $5 if the Cinderella Coach if chosen. To tour the Heartland Park, you get to pay for it at $45 for standard coach and $60 for Cinderella Carriage.
Old Market has a Deluxe Tour, Riverfront Tour and Skyscraper Rides worth 30 minutes that costs $60 and $70 for Cinderella Carriage. The Grand Finale Tour, which includes all areas and a ride into the Warehouse Area and the newer Downtown area for one hour is charged at $100 and $120 for the use of the Cinderella Carriages.
These published prices are for couple basis, while, children 12 and under are free when accompanied by an adult. The company also caters to groups for 9 to 64 people.
Horse and Carriage For a Wedding
Fairy tales end with princes and princesses riding in a carriage, signaling their happily ever after life. Here in the real world, people would like to taste that happy ending, even with just hiring a coach for their wedding day. Let's face it. Weddings are significant to people's lives. So, how much do a horse and carriage cost for a wedding?
A standard rental for two hours typically costs around $250-$1,000 or more. A carriage rental that travels a long distance and lasts for more than two hours or uses a high special carriage like Cinderella's and typically costs $600-$1,500 or more.
Here are some quotes for a wedding carriage:
The Charlotte Center City Carriage Tours charge a standard rate of $125 for the use of the Cinderella Carriages with the additional rate of $50 if the wedding is just around the Central Business District or $100 if it's outside their limits. If you're just a walk-in bride or groom, you'll have to pay these rates plus an additional of $15 to $25 for your sudden decision.
At Vancouver, their Cinderella Pumpkin Coach that can seat up to six passengers for your bridesmaid or groomsmen with one horse costs $625 per hour and with two horses at $675 per hour. If you raise the number of people in the carriage, it could go up to $2,625 for three hours with an additional of $625 per hour.
Others are Low Country Carriage, in South Carolina, begins at $450 for one and a half hours, Andrusz Carriage Service in Buffalo New York is priced at $575 for that white wedding carriage with two horses, and Mackinac Island Carriage Tours, in Michigan, that charges $250-$450 per hour for their  wedding horse and carriage rental prices.
Don't forget to be thankful to the driver!
Your driver has had all day with you. It's best to tip him since horse, and carriage rental prices do not include his gratuity fee. For the gratuity fee, you should give him, just set aside 15 % to 20$ of your rental rate.