The Abrahamic religions of Judaism, Christian and Islam would name Mt. Sinai as (arguably) the most sacred mountain of their heritage. But for the Vedic faiths like Hinduism and Buddhism, the holiest peak would be Mt. Kailash. Situated within the Trans-Himalayan region of Tibet, this mountain stands at the total height of 22,000 feet. Although it is far overshadowed by Mt. Everest in terms of its overall elevation, it remains the most special natural wonder in the 'World's Rooftop.'
Apart from its religious and cultural significance, Mt. Kailash is uniquely known for its crisp alpine form. Identified by geologists as a meta-sedimentary rooftop pendant, this steep white-capped mountain projects a glacial outline from a distance and setting it apart from the rest of the rugged russet-shaded terrain.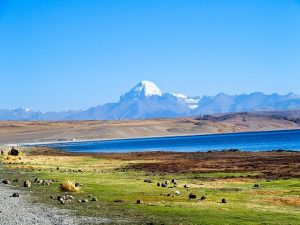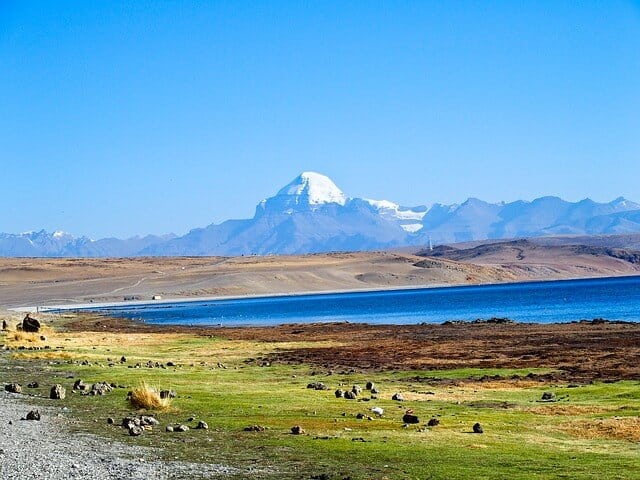 According to Make My Trip, this mountain is considered by the Hindus as the home of Lord Shiva – the god of war and the destroyer of evil. To the Tantric Buddhist, Mt. Kailash was the abode of the Buddha of Highest Bliss known as Chakrasamvara.
The off-shoot creed (from Hindu and Buddhist) called Jainism considers this mountain as the place where their first 'true sage' attained the enlightened state of consciousness. The ancient local belief system called Bon, predating Tibetan Buddhism by a few centuries, calls Mt. Kailash as the center of global spiritual power.
A few hundred thousand pilgrims from India, Nepal, and China (plus the local Tibetan devotees) representing these religions undertake the parikrama. It is an arduous ceremonial hike encircling (either clockwise or counter-clockwise) the foothills of the sacred mountain. Such a march is conducted non-stop for three days. Fortunately, outsiders are not required to commit to such intense spiritual duty. Their non-participation, however, does not stop them from being drawn to this isolated zone – enough to spend thousands of dollars to reach this special place on earth.
About Travel Documents
Before getting into the heart of the core inquiry (how much does it cost to go to Kailash?), there is one important fact that prospective visitors should take note. Unless the visitor is a resident of China, Nepal or India; he or she is 'technically' forbidden to enter Tibet.
Ordinarily (as it is with modern civilization), it requires proper documents that grant permission from the local authorities to be granted entry in this restricted and protected region. Aside from the passport, these are the necessary documents enumerated by China Highlights:
Chinese Visa
Regular service: 4 working days for $140
Express service: 2-3 working days for $160
Same-day service: $170
Tibet Travel Permit
Service cost via Travel Tibet Org: $100 to $200
Processing time: 5 to 10 working days
Note: Not applicable for residents of Hong Kong and Macau.
Alien's Travel Permit
Service cost via Tibet's Public Security Bureau: $10
Processing time: 1 to 2 hours
Note: Required for all travelers going out of Lhasa
Pre-Tour From USA To Tibet
Considering its remoteness and relative inaccessibility, the overall outlay to cover the first leg of the journey is not yet included in the actual Kailash vacation cost. And just how far is it for Americans to reach this hidden jewel in the Trans-Himalayas? Let's just say it takes several flights and road trips meant to test ordinary people's patience.
Via India
The cheapest flight from New York to New Delhi is roughly $613, according to Cheapflights. But this only covers half of the overall trip to Kailash cost. From New Delhi, a 21-hour train ride to Sikkim costs $25 to $40. Then from the final railway stop, a 6-minute taxi ride could cost $8 to $11.
From Sikkim, it takes an 8 to 6 hours bus ride to reach Lhasa, with the fare costing $67 to $83. It is important to consider a shorter 5-hour flight from New Delhi to Sikkim for a cost of $96 to $156.
Via China
For Americans who prefer to travel via China, the price of an international flight from New York is anywhere between $481 and $870. Driving from Chengdu to Lhasa for a total duration of 37 hours cost around $220 to $340 worth of fuel. A 24-hour bus ride costs $55 to $75. Chengdu's local 5-hour flight bound for Lhasa airport costs $106 to $266, which includes a $4 bus ride to Lhasa's main bus stop.
The Best Time To Visit
Making the most out of the overall trip to Kailash cost means knowing which time of the year proves to be the most favorable for travelers. According to Tibet Discovery, the best time to visit Mt. Kailash is between April and October.
The most stable weather and clearest visibility of the elevated vista occur especially during mid-May to mid-October. June and July prove to be the most crowded time of the year given the frequency of Indian pilgrims for the scheduled parikrama.
13 Days Mt. Kailash Trek
Apart from the overall cost to secure the necessary documents and the total expenses needed for the first leg of the journey, how much does it cost to go to Kailash from Lhasa? For the purpose of estimating a more concrete cost projection, this article features the most popular Mt. Kailash Trek listed by Tibet Discovery.
As far as the current quotation is concerned, the estimated flat fee for this specific travel plan is around $3,086. This plan is particularly designed for at least 2 adult visitors sharing one room at a local 3-star hotel. It is important to consider that the cost will reset after the expiration date (December 31, 2017).
Cost Inclusions
There are certain limitations to the entire cost of the travel plan. However, the whole deal covers the following aspects of the overall trek spending:
Professional English-speaking tour guide
Private vehicle and luggage transfers
Tibet Travel & Alien's Travel Permit
Medium standard accommodation
Guest house or tent in remote areas
Service charge (planning, logistics, and communication)
Government taxes
Limited Tourist Accident insurance
Yaks for luggage-bearing
Itinerary-based meals
Itinerary-based admission and activity fees
Emergency oxygen supply for altitude sickness
Days 7-9 & 10-12
Curiously, the Mt. Kailash trek only comprises half of the entire vacation plan. The initial days prior to the 7th entails touring Lhasa, Shigatse, Saga, and the nearby Lake Mansoravar (the Hindu-Buddhist counterpart of the Judeo-Christian Jordan River). These early tours enable travelers to experience authentic Tibetan culture in 'a more crowded environment.' Speaking of environment, the first six days of the travel plan is a perfect opportunity for 'physical acclimatization' (more of that in the last part of the article).
During the first 3 says of the entire Mt. Kailash Trek, travelers will be venturing the depths of the sacred wilderness. Hours of road travel only stops at distant monasteries separated by roughly 18 to 20 kilometers. The first day of the journey allows travelers to participate a little of the parikrama march conducted by some local Buddhist pilgrims. Tent-pitching mostly occurs during this period.
The last 3 days entails several hours of driving. During these days, travelers wind up in a more remote terrain largely inhabited by Yak herders. Outlying villages may provide respite and an opportunity to take photographs of the scenic landscape. The final leg of the journey takes visitors to the iconic Tashilhupo Monastery – home of the Giant Buddha statue and the first Dalai Lama in the year 1447. By the 13th day, travelers already return to Lhasa.
Warning: Guard Your Health
Preparation is another crucial aspect that helps prevent prospective tourists from blowing the entire Kailash vacation cost by staying admitted in the hospital for days (away from higher elevation). Outsiders usually tend to underestimate the serious adverse effects of the natural climate of the Trans-Himalayas region. Altitude sickness often leaves affected individuals suffering from chronic discomforts ranging from mild nausea to extremely high blood pressure. When it comes to fitness and personal security, here are the following tips mentioned by Himalayan Windows:
Lifestyle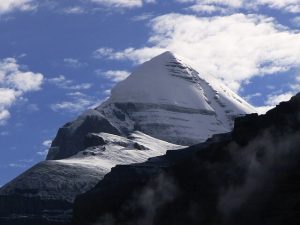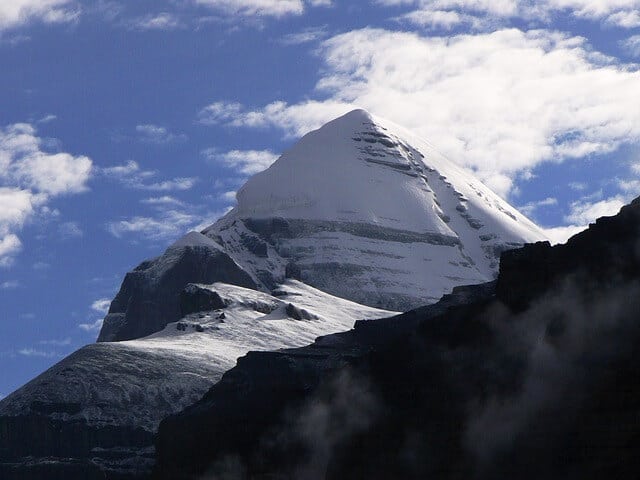 Prospective travelers must prepare themselves for the intense physical requirement of Tibet's climate by subjecting themselves to two months of regular cardiovascular workout. During the first few days of acclimatization, travelers are also not allowed to shower as much as they normally do at home. Deliberately lowering one's body temperature interrupts the system's natural capability to adapt and warm itself up. Most importantly, travelers are not allowed to overexert themselves during the trek to Mt. Kailash. The air in the mountains is very thin, even more so at heights exceeding 4,000 feet above sea level.
Diet
When it comes to diet, travelers are advised to adapt to heavy carbohydrate intake. Energy drinks and candy bars also increase vigor for long hikes. Fluid intake helps keep light-headedness and nausea at bay. Hence, the prescribed minimum water intake per day is 2 liters. For the same reason, it is highly advisable to avoid alcoholic drinks while traveling in the Trans-Himalayas.
Travel Gear
Tibet may have a cold climate, but higher elevations are generally much closer to the sun. Moisture creams, sunblocks, and sunglasses make a vital addition to the entire clothing inventory. Speaking of clothing, travelers are advised to wear several layers of fabric as well as a down coat. Thermal jackets work best against freezing night temperatures. Most importantly, it is crucial to pack waterproof clothing and durable sleeping bags.