Keloids – if you don't know what it is, then you might not have it yet. Keloids are irregular fibrous tissues that develop above a wound after some time of healing. The development of keloids is yet unexplainable, but having this kind of scar is a big no-no. It is physically unattractive to look at especially if keloids are developed on visible skin areas like face, neck, arms, and legs.
Keloid scars are clinically safe and do not promote any symptoms and other contagious diseases. But it is hard on the eyes to see. Many have decided to get it removed in medically safe procedures. Keloid scars are removed thru cosmetic techniques that will understandably cost a few pennies, thus calculating the average cost of keloid removal is important to lay financial statement.
Keloid Scar Removal
A lot of patients have had it removed and were happy with the results.  It is vital to know how much does keloid scar removal cost to help you analyze if the removal will fit in your budget.
Why should you get it removed? The clinical features of keloid scars will make you desperate to get it purged. Keloids are rubbery red embossed scar raised on the skin. The color of keloid scar often matches the skin tone but spontaneously turn pale over a period of time. Keloids on joints can minimize movement.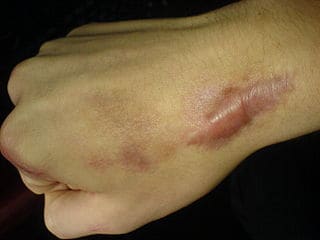 The keloid scar removal price varies considerably on your location, the kind of management, and the complexity of the scar. The price of keloid removal does vary in every state and country. Clinics at expensive cities charge higher because they tend to pay premium for their premises.
There are a number of methods used to manage keloid scars and surgery is one of them. Keloid removal surgery price will assort according to the size of the keloid, the area where the keloid is developed, and the practitioner that will do the surgery. Board certified cosmetic surgeons likely charge high as they claim more professional methods and highly meticulous techniques to effectively remove the keloid scar. Reputable and credible cosmetic surgeons usually have their own nationally accredited facilities.
Keloid Scar Removal Will Leave a Scar on Your Wallet
The average cost of keloid removal will vary on the method that will be used. There are four major methods used in cosmetic clinics to remove keloid scars. Injecting the keloid scar with corticosteroid can shrink the keloid scar. Steroids can reduce the size of the keloid but it may take 2 to 6 weeks to completely remove keloids. Keloid injection starts from $200 to $290 per session.
Cyrotherapy is also one of the best methods for effective removal of keloid scars. It freezes the deeper tissues of the keloid without affecting the surrounding skin. The typical cost will roughly range from $600 to $700 per scar – respectively vary on the size and the location of the scar
Surgical excision can be a choice too. Some avoids removal of keloid scar through excision as it gives the probability of worsening the keloid scar, which in other cases turns keloid scar in much larger size of the excision. While some avoids it, others still chose to have keloid scar removed through excision. Cosmetic surgeons add advance treatment after the excision to effectively remove the scar without compromising the risks. After the excision, physicians apply treatment such as steroid injection, occlusive dressing, and radiotherapy.
The keloid removal surgery price plays at $1200 to $1800 and higher depending on the complexity of the scar and the additional treatments applied.
Other dermatologists recommend removal thru laser. Laser can almost resurface any type of scar. They use CO2 fractional laser to reach the deeper tissues and effectively demolish the scar. Other dermatological clinics use modern and more advance laser equipments. Keloid scar removal cost thru laser can cost $100 to $2000 accordingly to the size, quantity of scars, and the kind of laser device used.
Quantum for Keloid Scar Removal
Additional cost must be considered to get the accurate answer to the ultimate question of all time: how much does keloid scar removal cost?
Consultation is a very excellent pace to take before deciding for a keloid removal. The average price of dermatological consultation is $150 to $250. Dermatologists and skin experts will assess the scar and give recommendations to what treatment best apply to the situation. They can also give tips for other alternatives as well as skin care counsels.
Some clinics offer keloid removal at the cost of $750 with anesthesia included, as revealed by West Palm Beach plastic surgeon, Dr. Kris Reddy, MD, in a question in RealSelf.com. There are also a number of alternative treatments that can be done at home and way more comparable from keloid removal surgery price.
Cosmetic creams and other topical skin care products are widely distributed in the market that can be bought in retail stores and in local pharmacies.
How much does keloid scar removal cost? We can assumingly get the cost with references that we gathered. The total cost will always depend on the size of the keloid, the location of the scar, the area of the clinic, the practitioner, and the method used. The average cost of keloid removal is $350 all the way up to $2,500.
The scar removal will require a number of treatments with specific period of time interval to completely shrink the keloid. After successful removal, the area of trauma will have a slightly rough surface and a minimally different skin tone. Dermatologists may require topical medicines to further enhance the affected area.
Prevention can be apprehended by having proper skin care. Acne and other wounds must be treated hygienically to prevent unwanted scarring. It will take big time spending to achieve physical goals. Keloids can be embarrassing and very displeasing to look at. But thanks to modern science and technology, this skin burden scar can be removed in medically safe and effective methods.