Kroger's foray into the bottled water industry has been making waves and has been considered as comparable to those industry leaders. The Kroger Company, which produces Kroger water is the United States' largest supermarket chain by revenue in 2015.
Average Kroger Water Price
One of the come-ons of Kroger Water is the seasonal promotional sales which their stores and their affiliates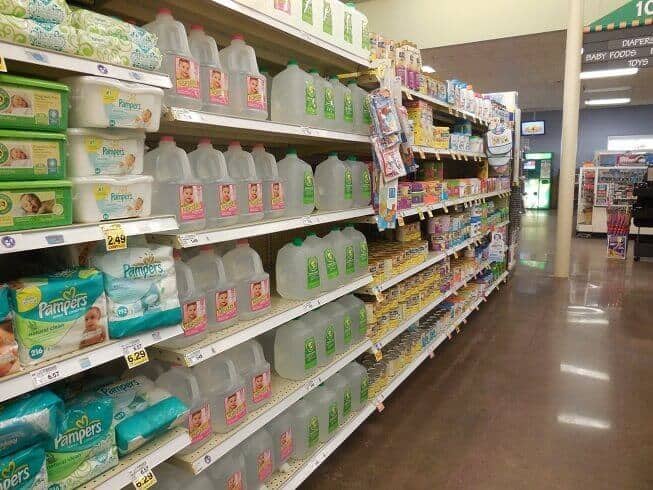 conduct from time to time.
Once, the Kroger water price was down to $0.50 when it was on sale and a 32 pack costs $3.34. There was also a time when a 24-pack was sold at $1.88.
Kroger water comes in different variants as follows:
Said to come from an underground water source that flows naturally to the earth's surface, it sells for $1.49 and $4.09 for the 1 and 2.5- gallon varieties, respectively.
The 24 pack of the 8 fl oz variant cost $6.09 while the 2.5- gallon Kroger bottled water price is $2.49.
Produced through various purification process either through distillation, deionization, reverse osmosis, or other suitable processes in accordance with the requirements of the United States Pharmacopoeia. The 8 to 16.9 oz cans to a gallon is priced from $1.09 to $5.49
This variant sells at $2.49 for a liter.
An artificially-carbonated water beverage. The Kroger water price for this variety is $3.29 for 12 ct of 12 fl oz cans fl oz.
Kroger Sparkling Water has flavors like berry, raspberry, black and blueberry, pineapple coconut, peach lime, white grape, black cherry strawberry and kiwi strawberry. The 12 oz to 33.8 oz varieties cost from $1.29 to $3.29.
An orange-infused water which retails at $6.09 for a 20 – fl oz size.
Ways to Save Even More at Kroger
To avail discounts on Kroger bottled water price, here are some cost-saving tips that are also applicable to other items in The Kroger:
Great discounts can be availed by a cardholder who uses this card when shopping at The Kroger.
Get something for free every Fridays through a downloadable digital coupon. Definitely, the idea of having a free load of Kroger Water will not be that far-fetched.
The 10 for $10 sale is one of Kroger's most popular promotions and using this to grab some water is definitely a steal with the bargain Kroger water price.
Buying Kroger's own brand of water would be more cost-effective in this case.
Great deals are available during a fast-disappearing white closeout tags.
If a minor damage in the water bottle is not an issue, then having some on the manager's specials on Kroger Water will be a great buy.
Conclusion

   
According to a report from London-based market research firm Mintel, sales of bottled water reached record levels in 2015. Apparently, the cause of which is the consumer shift to alternative healthier drink from carbonated beverages.
It is hoped though that Kroger bottled water price will be at an affordable range the most people consider price in choosing a bottled water to purchase.