Nobody is perfect, and no one is exempted from getting mistakes. That is human nature. No matter how careful we are, no matter how good or intelligent we are, there will always be instances when we err and just learn from our mistakes.
It goes the same with medical professionals. We depend our lives on them, especially in situations when a person is in a critical condition. But they are also humans who make mistakes in their field of work. The worst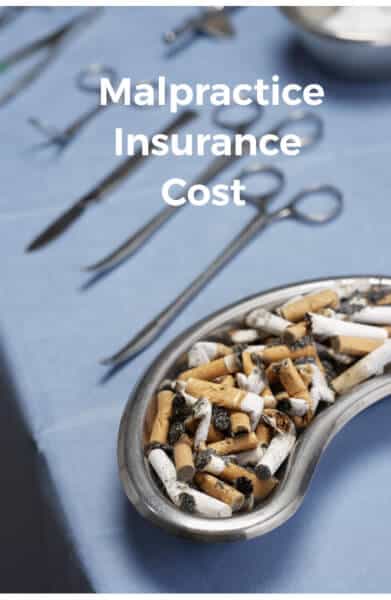 part is that once they commit errors, it's the patient's life at stake, and it can lead to lawsuits that definitely affect their reputation as a health professional. However, they can protect themselves by availing a medical malpractice insurance policy.
Some facts:
– On average, 44,000 to 98,000 people die every year because medical errors that could have been prevented.
– 12.5% or 1 out of 8 preventable medical errors results in a medical malpractice lawsuit.
– The cost of a physician's medical malpractice insurance is 3.2 percent of the professional's revenue.
– Unfortunately, damages are not usually awarded or given in malpractice claims.
The National Association of Insurance Commissioners (NAIC) formally identifies it as a medical professional liability insurance, but it is sometimes referred to as a medical malpractice insurance. This type of insurance policy basically protects all licensed medical professionals, such as physicians, dentists, and nurses, from liabilities associated with malpractices that result in bodily injuries, high-cost medical bills, property damage, and/or legal cases related to improper or negligent medical procedures.
According to NAIC, a professional malpractice insurance has two policy types: claims-made and occurrence-made. The former only provides an insurance coverage for as long as the insured medical professional continues to pay their contributions for the policies and other policy renewals. Meanwhile, the latter is the more popular and more desirable malpractice insurance coverage as it covers the loss that happens during the policy term, despite making claims, and even after a policy cancellation.
Cost of a Medical Malpractice Insurance
Apparently, there is no uniform medical malpractice insurance cost. It significantly varies based on the type of doctor's specialization or other licensed health care providers, his or her location, as well as the type of medical practice the health professional is applying. But to give you an how much these professional practitioners spend for their insurance, the malpractice insurance average cost can run from $4,000 to $34,000 per year. Here are annual premiums paid by some medical specialists:
*A nephrologist or the doctor whose specializations are on the kidneys spends around $4,900 per year for the medical malpractice insurance.
*A pulmonologist, who treats diseases in the respiratory system like asthma and tuberculosis, pays about $6,300 per year.
*An ophthalmologist, who performs eye examinations and surgeries, pays less than $7,000 per year.
*Emergency room doctors spend an annual premium of, at least, $11,000.
*The cost of a medical malpractice insurance of an anesthesiologist can run from $12,000 to $14,000 per year.
*Surgeons such as dentists, orthopedicians, physicians, and podiatrists have among the highest medical malpractice insurance cost at $20,000 to $22,000 per year.
*The highest medical malpractice premium goes to an OB/GYN (obstetrician and gynecologist), paying around $34,000 every year.
Other Liability Insurance Costs
Aside from doctors, other licensed health professionals, like nurses, dentists, midwives, medical technicians, physical therapists, to name a few,  also have a professional liability insurance to pay. Here are the most common insurance rates for nurses and dentists.
*A nurse pays an annual premium of $100 for a policy worth $1 million or $6 million.
*Meanwhile, dentists can spend around $300 to $3,000 per year, depending on the number of practicing years. If he or she recently graduated from the school of dentistry, the cost can run from $300 to $1,000 per year, while dentists who have practiced for five years can expect to pay higher premiums ranging from $2,000 to $3,000.
Coverage of a Medical Malpractice Insurance
The coverage of a medical malpractice insurance includes bodily injuries or damage to property, and a personal liability like a circumstance of mental anguish. However, a higher percentage of the coverage, which is usually paid by the insurer, goes to the expenses for the cost containment and lawsuits. In fact, the insurance providers spend big amounts of money for the investigation and defense claims, which may give results not favorable to the patient.
Cases of medical malpractices can cost a lot of money. For such reason, health professionals should look for an insurance company that can provide them with adequate protection against expensive lawsuits. Aside from a lawsuit coverage, the insurance policy can also cover the cost of a peer panel review. According to Trusted Choice, if the decision of a peer review results in a loss of income, then the medical professional's medical malpractice insurance will help in providing the compensation.
Health professionals working inside an office or a hospital should not assume that they are covered by the company's liability policies, especially when they are facing malpractice lawsuits. The sad truth is that some employers may have insurance coverage that will leave you responsible for the major costs associated with the legal cases you are facing. And the worst part of it is not knowing anything about your employer's insurance policies. To prevent this from happening, it is ideal to avail a medical malpractice insurance.
People Who Need a Medical Malpractice Insurance
These people are recommended to avail a medical professional liability insurance as provided by Trusted Choice:
– Practicing medical practitioners, like physicians, surgeons, and nurses, especially when they are stationed in a hospital
– Independent health care providers such as doctors and dentists who are operating their own private clinics
– Professionals working at medical facilities such as the following:
*hospitals and medical clinics
*skin clinics and medical spas
*health care groups and Health Maintenance Organizations (HMOs)
*chiropractors, dentists, and orthodontists
*plastic surgery centers
*weight loss clinics