The love for pizza and life's simple pleasures made a couple come up with the idea of MOD Pizza. It started off as a simple experiment.  Scott and Ally Svenson were motivated by their search for quick, affordable, wholesome restaurant choices options. The pizza place offers a unique dining experience to customers by letting them create their own pizza depending on their desires. They made sure MOD Pizza menu prices was affordable for every pizza lover who visits the restaurant.
However, for this, they do not have to pay extra just to fulfill their dream as pizza lovers.
With more than 30 toppings to pick from, the MOD Squad will make your pizza just the way you want it. You can get creative with your MOD order in countless ways. You can double stack the crusts, set the tone with sauce. There are numerous combinations of herbs, spices, and swirls to mix and match. If you require something sweet to top it all of, you will get a hand-spun milkshake, fountain drinks, beer, and wine.
MOD Pizza Menu Prices
Below are some MOD Pizza Prices.
Menu Item
Price

Build your Own Pizza

Mini Mon 6"
Mod Pizza 11"
Mega Mod Double 11" Crusts
Modd Pizza Salad

$4.87
$7.87
$10.87
$9.87


Build Your Own Salad

Mini Salad
Mod Salad
Mod Pizza Salad

$4.87
$7.87
$9.87


Specialty Pizzas and Salads

Maddy (Small)
Maddy (Medium)
Maddy (Large)
Mad Dog (Small)
Mad Dog (Medium)
Mad Dog (Large)
Tristan (Small)
Tristan (Medium)
Tristan (Large)
Dominic (Small)
Dominic (Medium)
Dominic (Large)
Lucy Sunshine (Small)
Lucy Sunshine (Medium)
Lucy Sunshine (Large)
Jasper (Small)
Jasper (Medium)
Jasper (Large)
Dillon James (Small)
Dillon James (Medium)
Dillon James (Large)
Calexico (Small)
Calexico (Medium)
Calexico (Large)
Caspian (Small)
Caspian (Medium)
Caspian (Large)
Caesar Salad
Deluxe Salad

$4.87
$6.37
$10.87
$4.87
$7.37
$10.87
$4.87
$7.87
$10.87
$4.87
$7.87
$10.87
$4.87
$7.87
$10.87
$4.87
$7.87
$10.87
$4.87
$7.87
$10.87
$4.87
$7.87
$10.87
$4.87
$7.87
$10.87
$7.87
$7.87


Other Stuff

Garlic Strips
Cinnamon Strips

$2.97
$2.97


Milkshakes

Chocolate Milkshake
Strawberry Milkshake
Vanilla Milkshake

$3.57
$3.57
$3.57
$2.57


Drinks

Fountain Drink
Boylans
San Pellegrino
Pellegrino
Fanta Bottle
Coke Bottle
Milk
Chocolate Milk
Water

$1.97
$2.77
$2.77
$2.47
$2.77
$2.77
$1.47
$1.47
$1.47

Value of Their Clients
When it come to our pizzas, authenticity is a huge deal.  It stems from where they source their gourmet ingredients to its preparation and definitely, the tastes. The dough is hand-pressed daily, the vegetables are roasted at the restaurant, and any bad stuff is not used.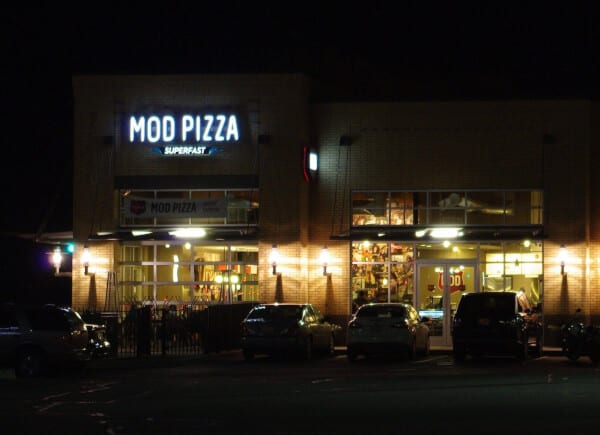 It is their priority to keep what they serve original.  The restaurant is mindful of animal ethics, environmental impact, and works with food partners who share the same sentiments and commitment to quality. If they didn't eat it themselves, they would not serve it to you.
MOD Pizza offers individual, artisan style pizzas, which are baked for approximately three minutes.  Pizza lovers can watch the preparation process, though the restaurant also offers recommended combinations. MOD also offers 10 classic pizzas, a pizza salad, and a seasonal pizza. MOD's pizzas and salads come in three different sizes – Mini, Medium and Large
The decor and layout of MOD restaurants are family-friendly.  The design can be described as straightforward and functional.  Each MOD restaurant is unique and locally inspired.
The abbreviation "MOD" stands for "Made on Demand.
Where to find MOD Pizza
The love of pizza has made the eatery grow at a tremendous rate. Coupled with the MOD Pizza prices the number of employees rose to 1,700 in August 2015.
You can enjoy our services at any of the outlets in Arizona, California, Colorado, Idaho, Illinois, Indiana, Kansas, Kentucky, Maryland, Michigan. Missouri, North Carolina, Ohio, New Jersey, Oregon, Pennsylvania, South Carolina, Texas, Virginia, Washington, and Wisconsin.
They are still planning to expand to more states and have even opened an international location in the United Kingdom.
Vegetarian Pizzas at MOD Pizza
In the U.S. there are over seven million vegetarians, and 1 million of that number are vegan, which means they consume no animal products whatsoever. It's safe to bet that most of them also love pizza. Fortunately, MOD is looking out for all of eaters and provides plenty of options for vegetarians and vegans alike including vegan crust, vegan red sauce, and vegan cheese.
If you need some inspiration, we included a few of MOD's classic vegetarian options that can go vegan with the simple swap of the cheese especially Daiya.  Some renowned vegan pizzas are Lucy Sunshine, Dillon James, and Maddy.  MOD's whole menu is free of tree and ground-nuts
The restaurant was established in fall of 2008 in Seattle. With their MOD Pizza menu prices, they motivated people to forget about their daily woes.  The restaurant first opened its doors during the financial crisis. They formed a group of special people known as the "MOD Squad. This made MOD Pizza a real home to its clients. MOD Pizza prices are below $11.00, and this made people appreciate MOD Pizza even more.
Pizza Coupons at MOD
MOD Pizza Coupon Promo codes can be used at any outlet. You can save around $5 using three coupon codes and deals and one printable coupon code regarding mod pizza. There are several latest coupons available from Mod Pizza. Get the coupons for your next shopping trip to Mod Pizza Store. The coupons will help you maximize your money saving.
MOD Pizzas Nutrition
The great thing about MOD pizzas and salads is that they're made to order, so you can easily control what you eat. You'll find a comprehensive list of nutritional facts for every item on our menu here. You can use it to control your nutrition and avoid any dietary issues.
MOD Pizza offers a gluten-free crust. However, since they stock other wheat-based products, the risk of cross-contamination during the making and baking process is inevitable. If you are not sure, you can ask the staff.  However, they do not recommend this crust for people with celiac disease or other gluten-related allergies.
Value for Money
Whenever you go out, you expect to eat and drink to your fill.  This is what you will get at this pizza place.  With incredible MOD Pizza Menu prices, you will keep going back for more.  There is more information regarding MOD Pizza at their official website