Before this article discusses the PET CT scan price, let us first know what a PET scan is. As a basic reference, PET actually stands for Position Emission Tomography. This type of scanning equipment is capable of detecting body conditions such as brain abnormalities, cancer, heart diseases and central nervous system problems. Once they are discovered, physicians would be able to determine what kind of treatment will be administered on the patient's current health state.
This usually starts by applying an ample of a radioactive chemical onto the patient's body while the patient is lying on the subject table. Once the patient is comfortably laid down, the table moves inside the scan machine where photos of organs and tissues are taken as well as studied. However, this diagnostic examination does not provide clear images like what a CT (Computerized Tomography) Scan or MRI (Magnetic Resonance Imaging) produces.
But unlike MRI or CT Scan, PET scan gives views of complex diseases like brain tumors, coronary artery disease, memory disorders and seizures.
Costs of PET Scans in Specific Body Parts
When we speak of the PET scan cost, it depends on what body part needs to be examined and the medical facility where the patient is given the PET scan. The following prices are based on the data presented by New Choice Health.
This diagnostic examination is available all over the U.S. The national minimum and maximum prices are $3,300 and $12,000, respectively, having a national average price of $3,500.
The Desert View Regional Medical Center, which is located in Pahrump, Nevada, provides the highest PET CT scan price, ranging from $2,550 to $6,600.
For this medical service, the national average PET scan cost is around $5,900. Meanwhile, the least national price is $3,000 and the highest national price is $10,700.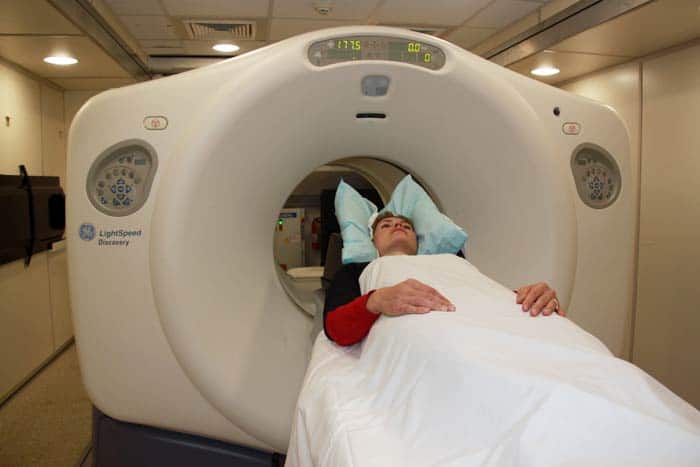 The Ketchikan General Hospital in the city of Ketchikan in Alaska offers a head neck to chest PET scan at prices between $2,775 to $7,100.
PET scan also checks the from the patient's skull down the middle thigh. In terms of the nationwide pricing, the least and the highest prices are $3,200 and $12,700, respectively, while the national average cost is $5,800.
The Mercy Walworth Hospital and Medical Center, which is a medical facility in the city of Lake Geneva in Wisconsin, has this type of PET scan with a price range from $2,400 to $6,100.
When a person has been initially diagnosed with cognitive disorders or abnormalities in the brain, a PET scan would be helpful. According to New Choice Health, the brain PET scan has a national minimum price of $2,250 while the maximum price is $10,700. The average PET CT scan price, on the other hand, is around $7,700.
Michigan's Battle Creek Health System provides this medical service at a price between $2,400 to $6,200.
To find out whether you have problems with the heart, you can undergo a heart PET scan. Apparently, this has the highest national maximum price among the five types of PET scans. The minimum cost is around $2,850 while the maximum price is around $24,200. The national average price is $7,900.
The Saint Vincent Jennings Hospital in the city of North Vernon in Indiana has the most expensive heart PET scan cost, ranging from $4,700 to $12,000.
Costs of PET Scans in India
Some health centers in India provide free PET scan services to people who need them. But the state-run medical institutions offer these diagnostic examinations with prices ranging from 2,000 to 10,000 Rupees (around $30 to $150). The average price is 6,000 Rupees (approximately $90). Private medical facilities, however, have higher prices, which are between 15,000 to 27,000 Rupees ($225 to $405).
Preparations Before Undergoing PET Scan
Before you undergo any type of PET scan, make sure that you do there preparations to avoid any complications and mishaps during the examination.
If you are on medication – OTC drugs, prescription medicines and supplemental medications -, then you have to inform your doctor about them. This is to avoid any allergic reactions.
There are instances when your doctor will tell you not to eat any kind of food at a maximum of eight hours before your PET procedure begins. The only thing you could consume is water.
If you are pregnant or you feel that you are conceiving a child, then inform your physician about it to avoid birth complications. The PET scan procedure may not be safe for your unborn child.
If you have a certain medical history, then do not forget to tell your doctor about them as well. In cases when a patient is diabetic, the doctor provides a special set of instructions before the examination begins. This is because fasting may affect the blood sugar level of a patient who has diabetes.
On the day of your PET scan, you may need to remove your earrings, necklace, rings and anything metal to prevent unexpected interference with the scanning machine.
You have to change your clothes and wear a hospital gown.
PET Scan Procedures
Now that you have prepared for the PET scan, here are the procedures done during the scan diagnostic examination.
Before the patient lies comfortably on the PET scanner's subject table, he or she is given tracers that are administered by drinking a solution, inhaling a gas or looking through a vein in the patient's arm. The body needs an hour to absorb the tracers.
After an hour, the patient is instructed to lie down on the table that slowly moves going inside the scanning machine and have your body examined, scanned or studied.
Once the patient is already inside the PET machine, he or she instructed to not to move so that the images will be clear without distortions. There are also instances when the patient is informed to hold his or her breath for a few seconds. If you are the patient and you hear strange noises while you are still inside, then don't panic. It is normal as the examination is going on.
When the needed images have been taken, the table slowly moves out from the machine, indicating that the PET scan has been completed.