Sometimes, our living room isn't enough space for entertainment and recreation for the family and friends. Whether it's really insufficient floor area or you are just not satisfied with being inside the house, a patio is always a welcome addition to any abode. With so many patio roof ideas, styles, and materials to choose from, exactly how much does patio cover cost?
Average Cost of Patio Cover
The average patio cover cost is around $1,300 to $13,500 depending on many factors but the top of mind would be the size, design, and of course, the materials used. Please take note that this price range refers to those that are more permanent in nature and therefore need professional installation.
Patio covers come in an assortment of materials, including inexpensive ones like acrylic and vinyl plastic, and more costly wood and aluminum patio covers. These materials can be customized to coordinate with the style of your home.
As for the cheaper alternatives, an umbrella is the most fundamental porch or deck spread. You would likely just spend around $50 if you opt for this one. It can include a sprinkle of shading and dynamism to an open–air space while giving some help from the hot summer sun.
For gazebos or metal and canvas coverings, you need to pay an average patio cover price ranging from $50 for aluminum up to $350 for wrought iron or steel.
Factors Affecting the Patio Cover Price
Patio covers can be varied, which understandably translates to their pricing. To fully understand how these factors come into play, consider the following:
Size – like any other construction or home improvement project, size is a major determinant of how much you will have to spend overall. However, the

covered patio price

per square foot tends to diminish as the project size increases. This is due to the fact that a few components of the project remain constant regardless of the size of the project.
Style or Design – elegance, comfort, and protection are some of what you can get depending on what style of patio cover you choose. The more of the desired values you acquire from them, the more likely you will determine the total cost of the project. Also, the more intricate the design is, the more it will cost.
Having said that, these are the top choices for the style of your patio cover:
Solid Patio Covers – these are a type of patio cover that is ideal for areas known for heavy rainfall or snowfall as this will cover your deck completely. Of all the patio cover styles, these are the most durable and weather-resistant. A 10' x 10' solid-roofed vinyl-clad patio cover costs between $1,800 and $4,300.
Latticed Covers – these types are partial covers that in a way, allow light from the sun to illuminate the deck. Latticed covers are some of the most appealing and elegant patio covers you could ever find which accentuate the look of your house. A 10' x 10' lattice patio covers vinyl-clad costs $2,200 to $4,350.
Pergolas – these are made up of either metallic or wooden beams that stretch the supporting column or supporting walls. Pergolas create an interesting shade that produces a more intimate mood in the surroundings. Typical cost would be around $2,500 to $6,000.
3. Types of Patio Covers
To guarantee that they give your property the right look and ensure maximized durability, make sure that they are installed only by an expert or skilled contractors. Below are the different sorts of patio covers that you can use on your porch.
An awning is an auxiliary covering appended to the outside mass of a building. The material utilized for this is made out of canvas woven of acrylic, polyester yarn or cotton, or plastic vinyl overlaid to a fabric that is extended firmly over a light structure of aluminum, steel, or wood.
A fabric awning is not a practical application where snow load and wind burdens might be a component. So be cautious while picking this type.
Canvas Patio Covers – $1,300 to $2,100
Canvas patio covers, also known as canvas shade sails, are an uncomplicated project and can actually even be installed DIY style. You can choose from different shapes, colors, materials, and sizes.
What's really good with these is that they are adjustable especially as the sun changes direction during the day. This is particularly true if they are made retractable which makes them more versatile.
Wood Patio Covers – $5,500 to $13,500
If you want to have that simplicity yet appear somewhat elegant, you could never go wrong with wooden patio covers. With their innate natural colors and patterns, they can easily blend with nature, especially if your house is built in predominantly wood.
However, there are a few setbacks to installing wood patio covers. First, you would need more maintenance than you would with any other type of patio covers, not only for them to look their best but also for them to last longer. Another thing is that while the actual covered patio cost is as affordable as other types, the installation is more expensive.
Aluminum Patio Covers – $2,200 to $9,800
Homeowners who prefer metals for the patio cover would most often prefer aluminum. This is due to its being lightweight and flexible as well as its durability when it comes to design.
Apart from these, aluminum patio covers are also considered as low maintenance material which makes them more suitable if you are working on a budget. Add to the fact that they are also ideal for areas with harsher weather conditions as they can withstand rain or dampness with minimal damage.
Vinyl Patio Covers – $1,800 to $4,500
Acrylic or vinyl patio covers are made from plastic which can hold out against harsh weather. These patio covers are easy to clean and not easily damaged which makes them a low-maintenance material.
Nevertheless, you might still need to apply paint somehow as direct exposure to sunlight might affect their original color in the long run.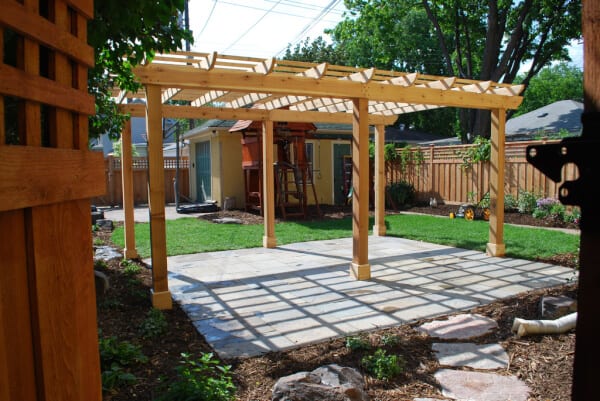 Additional Costs
Your expenditures for patio covers usually don't stop after installing them. You also still need to take care of a few things, although they are not really set in stone. It's still up to your discretion.
A couple of these things are as follows:
Various Accessories – you can add several accessories or upgrades to your patio covers to make them more pleasing to the eyes, enjoyable, and durable. These include LED light strip or lighting system, roof blinds, sidewalls, or patio enclosures, etc.
Maintenance Cost – if you want your patio covers to maintain their beauty and at the same time, last long, regular maintenance is a must. This is not just for the roof per se but the color or paint as well.