When you need to include a rich and more natural look to your swimming pool's interior, then you should consider utilizing the Pebble Tec material. How much does it cost to Pebble Tec a pool? Read on to find out more.
Pebble Tec Pool Resurfacing Cost
The Pebble Tec pool resurfacing cost is around at least $10 per square foot. If you have a pool measuring around 10,000 to 20,000 gallons, expect to spend around $3,500 to $8,500 for a rough coating.
On the other hand, expect the average Pebble Tec estimate for a polished finish to be around $5,000 to $10,000. The price will really depend on the color and style you choose.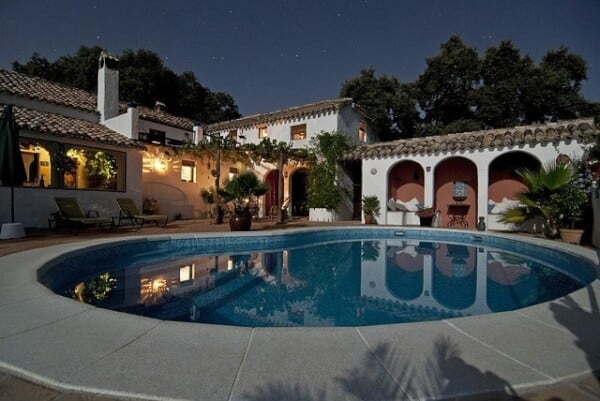 In comparison, the price for using a marble dust plaster for your pool resurfacing is around $2,500 to $5,500. However, the pool deck replacement is not included in this price.
The average Pebble Tec price for a complete upgrade is around $8,000 to $22,000 or more. The price includes the replacement of the waterline decking and tile, the fixing of electrical problems, and any plumbing issues.
Type of Pebble Tec Finishes
Pebble Tec has two different levels of finishes. It is very hard to give an exact cost since the price depends on the square footage of a swimming pool.
Below are the two types of Pebble Tec finishes and their estimated price ranges.
1. Small and large pebble finish
The price of Pebble Tec pool resurfacing using small and large pebble finish is around $7,000 to $18,000. The price of this finish depends on the color.
So, when you choose to have the black or blue pebbles, the price will change. This is due to the fact that the materials were being sent out to different regions and contrasted with other resurfacing materials like lighter stone.
2. Glass mixture pebble with stone pebbles
The average Pebble Tec estimate for a glass mixture with stone pebble materials is around $9,000 to $24,000. This glass mixture brings beauty and sparkle to the water, and that may be the reason why the cost of this material is higher than the other type.
Factors Affecting Cost To Pebble Tec A Pool
When considering the cost of resurfacing your pool using Pebble Tec, several factors come into play. Please take a look at the following so you can budget carefully for your project:
The exact measurement of the pool or the part that needs to be installed with Pebble Tech will determine how much materials need to be purchased and how long the contractor will take to install them. Understandably, the bigger your pool is, the higher the cost you need to spend to complete the job.
When you are considering having a pool resurfaced, you have to think about the type of product that should be used for the interior surface of your pool. There are numerous elements that you should consider in your decision, such as the durability of the item and the extent of pool maintenance that you're willing to do, among others.
Pebble Tec is a bit rougher compared to other pool resurfacing materials such as plaster. However, you have other Pebble Tec varieties to choose from that are smoother than others.
These finishes tend to vary in terms of the cost of Pebble Tec pool resurfacing, with the small and large pebble finishes being cheaper than those of glass mixed with stone pebbles.
Depending on where you are residing, the cost of the project will vary in terms of the price of materials and labor because the cost of living and the cost of doing business are being taken into consideration.
When wanting to resurface your pool, make sure to consider if you want to do it yourself or contract a professional. Additionally, valuing your resurfacing depends upon the type and size of your swimming pool.
Pebble Technology International has a pool of select authorized applicators that you can choose from. These builders normally charge higher rates because they were handpicked by the company to install its products and the workmanship comes with a warranty.
But if you intend to outsource it somewhere else outside the licensed contractor list of the company, you might get lower charges. However, expect to forgo the warranty and work at your own risk.
Benefits of Having a Pebble Tec Pool
Pebble Tec consolidates a huge number of minor stones and wires them into a plaster that is connected to your pool's interior. Some pebbles reflect light and play off the water, creating a stunning rainbow of hues and moving shimmers.
When you are considering investing in a pool, ensure that you will have a Pebble Tec pool because there are bunches of advantages that you can get from it, such as:
Pebble Tec lined pools are by far less expensive than other sorts of pools. The underlying expense is lower, and Pebble Tec–lined pools don't require much maintenance. They're intense and will keep your pool safe from mishaps.
Unlike the usual plaster/marcite, which is a mix of cement, sand, and calcium carbonate or plaster dust, Pebble Tec doesn't have calcium carbonate. This means that you will not have to deal with that thin protective layer that looks like cream when reacting during an acid bath.
The Pebble Tec is exceptionally tough and shields your pool from any tears that may originate from a pool danger. This is awesome for homes with kids since this material likewise has stain-tolerant and non-slip properties.
Pebble Tec materials are made with rocks from everywhere throughout the world and will give you the precise shading and texture aspect that you need for your pool. The total look is not the same as what a lot of people do with their pools, and this will give you a genuinely special appeal for your lawn.