Whether you live on a chateau or in a small cabin, privacy is always the homeowner's five-star concern. Even the beautiful palaces build great big walls. They serve a bunch of benefits. From the name itself, these fences give mega-star privacy. If you're planning to build one, you must calculate how much does it cost to build a fence first.
Installing privacy fence is not a snap away. It needs thorough planning and financial managing. You can either go do it all by yourself or hire professional workers to do the job.
Give Your Privacy an Art
The privacy fence cost will be based on the complexity of the over-all design and the height of the fence. The standard privacy fences is build 6-foot high above the ground. It is enough to give convincing solitude. There's a wide variety of designs for the fence. You can have a plain and classic fence or have it designed with fancy patterns. Privacy fence differs hugely than the ordinary fences. They are high enough and closely intact with no spaces on the slats.
The privacy fence price will be based on the type of fence to be installed. The most common type of fence around the state is the metallic-coated fence. It is thrifty in price and requires a minimal cost for maintenance. The price starts from $7 all the way up to $15 per square foot for a 6-foot high metallic-coated fence. The most popular privacy fence is the wood type.  It's economical and eco-friendly which gives prototypical look. Wood fence cost starts from $12 per linear foot, an average cost of $400 to $500 to besiege a standard property.
For soft looking finish, vinyl fence is the perfect choice. It gives smooth texture, firm structure, and embosses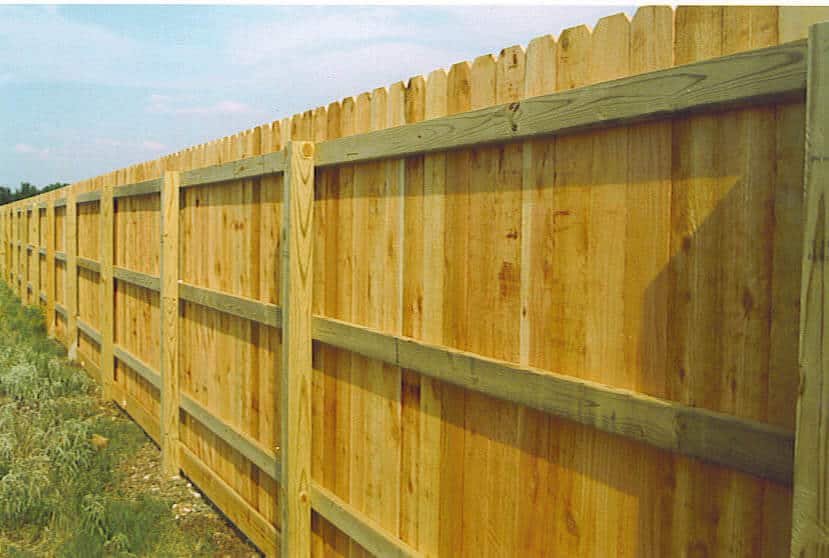 precise designs. How much does it cost to build a fence out of vinyl? The price starts from $17 per linear foot, labor is yet excluded.
Aluminum fences are reasonably pricey. They have a concrete structure, thus having a long lifespan. Aluminum fences are priced $26 or higher for the materials, labor and other additional charges must be anticipated. It has a modern sleek design and attractive look.
Fencing the Fence
A number of inevitable factors still lie ahead. When building fences, your local municipality might let you pay for the building permit which costs $700 up to $800.
If you're a handy dandy, then you can do the job yourself. DIY privacy fence price drastically starts from $15 to $120 per linear foot. The expense is reduced since the breakdown is for the materials only. Otherwise, contractors will do the job professionally with the charge that starts from $10 to $20 per linear foot. Contractor's rate varies on your local labor rate and the contract.
Most contractors provide the materials to be used which are subject to the agreement, the total cost of it will depend on the type of material to be requested to the contractor. The average privacy fence cost is $1500 and higher, including labor, permit fees, and materials.
Wood fence cost is typically $500 and higher in total summary. The total price still does depend on the design and the type of wood. Metal fence costs $7 to $17 per linear foot.
How much does it cost to build a fence? For materials, the cost will start from $4 to $20 per linear foot. For professional installation, the price is $10 to $20 per linear foot. Contractors may charge you per linear foot basis or per hour basis or one-time contract payment.
Why is it important to have a privacy fence? This kind of fence gives a total do-no-disturb sign to your home. As posted by ImproveNet, privacy fences are essential for giving the home an upgraded security, it reduces noise pollution, keeps pets inside the vicinity, gives children a safe place to play, shoos burglars, and separates the property within its boundary.
HomeAdvisor made a survey on the typical cost the households has spent for building a fence. For low cost privacy fence, the price starts at $500 and high-cost fences are dramatically goes up to $7000. The basic privacy fence price is $1600 up to $3700.
To get privacy fence designs, you can gather photos online that appeal you. You can have your fence match your exterior home design. There are lots of renovating companies that offer free estimation and quote. You can hire an architect to help you extract fence design and layout. Architects usually charge $700 and higher bet bottom dollar on the complexity of design and land structure.
Privacy fence materials can be bought on Home Depot and other major warehouse. You can also buy it on Amazon. Wood fence cost will vary depending on the store you bought it in.
How much does it cost to build a fence in total? The price does assumingly starts from $1000 to $3000 when DIY, and $2000 up to $7000 for professional installation. The price will always depend on the type of fence to be installed, the quality of materials, the labor of your worker, your region, and the intensity of design, land structure, and the complexity of the work.
Privacy fence tends to give a no-look to your property, and sometimes it covers the beauty of your garden and your home. It may also give impression to others that you do not want to get involved with them. But whatever the odds may be, you can always have the choice to have it or not.
Privacy fence cost may seem extravagant. But having these fences installed will upgrade your home's security level. It will give the privacy you always wanted.  Privacy fences will outcast unnecessary outside disturbances and will give you your very own private indoor moment.