Prosthetic legs not only save lives but also dignity. They represent a new beginning. Remember Boston Marathon bombing, ten days after the tragedy, 14 of those who got injured have been amputated of their limbs. At least two of the 14 had multiple amputations and would have to get prosthetic legs, but how much does a prosthetic leg cost?
According to the website of Hospital for Special Surgery, the prosthetic leg cost anywhere from $5,000 to $50,000 dollars. Glenn Garisson, director of prosthetic and orthodontist said that it will take within two to four weeks for an amputee to walk on their own after receiving prosthesis. Most amputees have only one prosthesis at first but later on will get a second one, to accommodate their new physique.
For How Long Would Prosthetic Leg Last?
Getting a new leg is a big yes, especially for those who need it with the aid of a prosthetic leg, however, will the price of prosthetic legs be enough to last them the rest of their lives? This is one of the questions that could come to mind of those who are considering to wear them.
The answer is, it doesn't. The sad thing about prosthetic limbs is that they could only last in between three to five years. This is if they are able to withstand the wear and tear within those years. With this, they will have to be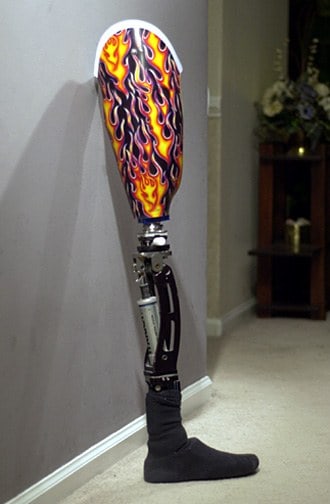 replaced in an amputee course of a lifetime, therefore the price of prosthetic legs will not just be a onetime charge, as prosthetic legs could be more expensive in the next time they try to get a new one.
The great thing though about getting a prosthetic leg is that strength in character in the person wearing it. It is both exciting and scary at the same time. It is a process towards healing and a return to the new normal after all the surgery and therapy that you've been through. With this, it is important that you make an informed decision regarding the use of prosthesis, and the kind of prosthesis that is meant for you.
Why You Need One?
A prosthetic leg is an artificial replacement for a missing limb. It is simply a tool where an amputee can be able to regain an independence from an amputation.
It will always depend on you if you would want to have it and what your personal goals in life are. If you choose to have a crutch of a wheelchair instead of having to pay the price of prosthetic legs, is up to you. As long what it helps you be mobile again, it is totally fine.
If you consider getting a prosthesis, it would be important that you know what you want to do with it, and the activities you will want to do with the help of the prosthesis. For the prosthetic leg cost you are getting will you be able to walk or run with it? Or would you care about the way it would look on you? 
Prosthetic is not a one size fits all kind of device. In order to be successful in wearing them is to follow your doctor's advice and work with your therapist to help you should you have any concerns and other needs. Your therapist will also help you and teach you how to use your new legs. In no time, you will be able to live normally again with the help of your prosthesis.
How Will It Look Like?
Besides the question of how much does a prosthetic leg cost is being answered, most people who wants to have it, can't help imagine how it would look like on them. Each device will be different and it will depend on the level of the amputation, needs, and Physical ability of the wearer. The prosthesis will help the patient by creating a device that will be custom made to fit the wearer. He or she will also provide suggestions based on the amputation level of the wearer.
For a standard prosthesis, the prosthetic leg cost will be much worth it as is made of conventional components that will help in creating a leg and prosthetic foot. This makes the price of prosthetic legs worth it. There will be a socket there that will fit on the residual limb of the wearer.
How To Pay For The Prosthesis
As we have mentioned earlier the prosthetic leg cost is very expensive just like buying a car. However, the typical procedure in order to pay for one is that, the insurance plan of the wearer will partly cover for the price of prosthetic legs. The wearer will need to closely work with their insurance company in order to understand the types and services that will be covered under the wearer's insurance policy. As you know, there will be phone calls to make and papers to sign in order to provide proper documentation. The wearer will have to be his or her own advocate in checking into the policy that will include prosthetic coverage and he or she must know the exclusion and limitations that the policy can offer.
The wearer will have to make sure that he or she also works closely with the prosthetist regarding the fitting and alignment of the wearer's leg. The service should be bundled with the prosthetic leg cost. This is in order to avoid asking the questions again about 'how much does a prosthetic leg cost?' The prosthetist should also be working alongside with the wearer until such time he or she reaches the comfort level and have been able to adjust with the new leg's alignment.
Should you need more information with regards to prosthetic leg cost, you can check the website page for Financial Assistance for Prosthetic Services. They will be able to provide you with the data sheets and things that you will need to know about durable medical equipment and medical assistive devices. If the information here is not enough, you can always contact the Amputee Coalition's National Limb Resource Center at this telephone number: 888 / 267 – 5669.