You may be traveling interstate and see these arch-shaped structures along the road and ask yourself what it is and what is it for? These pre-engineered buildings are known as Quonset Hut and the Quonset hut cost has been asked around for several times.
The Quonset hut cost is low and is a high-security structure good for warehouses. Its design is rounded in shape and provides a strong architectural design that can endure hurricanes, storm and even blizzards. Ever since its creation, its purpose has evolved drastically, formerly used as a building to house the US Navy to a structure used as movie
theaters and housing.
Cost Of Building A Quonset Hut
Quonset Huts; also called an Arch building, has been gaining popularity for its durability. That is why many companies, business owners, and homeowners want a piece of this magnificent engineering structure. The centuries-old design of the Quonset Hut is made up of steel alloy structure and can be assembled in as short as 2 to 3 days.
The latest concept of Quonset Hut will give you the freedom to choose the size of the structure as well as its color and design. A small to medium Quonset Hut which is normally used for storage can cost $1,500-$15,000 but this does not include the foundation as well as the installation. If you are going to extend the size or add some accessories and delivery, it may cost you more.
Although you can install the Quonset Hut yourself, if you want a stable foundation you are going to bring the cost up to $3,000-$25,000. Say you have a 10X10 feet Hut, the cost that you would have to pay for this type of structure is around $1920 which can be broken down into the following: a base building is at $1500, accessories are at $300 and the delivery of the structure is at $120.
Say you have twice the size as before, a 20'x20' hut. The estimated Quonset building price should be around $7,600. The breakdown would go like this: Delivery cost is at $480, the accessories are at $1200 while the base building itself will cost you $6000.
If you are planning on building a big Quonset Hut with a professional foundation, you would have to prepare the amount $10,000 to $50000 to finish the project. This includes the delivery, installation, base building and accessories.
A livable Quonset hut price would be a little bit higher than a normal one. For a residential type of Quonset Hut with an area of 40'X40', it would cost you around $35000. This is mostly DIY with the foundation built on concrete slab.
You can also customize you Quonset Hut into a 2-storey structure but this is costly. In a 3000 square foot lot, you may spend around $280000 to have a contractor erect the building. If you already have set-up the structure and would just need additional services such as electrical setup and plumbing, you would spend around $1000 to $30000 depending on your location and the size of your structure.
Save On Cost Of Quonset Hut
As a buyer, the cost always matters that is why we keep on looking for ways to save money every time we purchase a product. It is also the same with a Quonset Hut. Spending for this type of structure needs a lot of money thus it is only right that you find a way to lessen the cost.
One way to lessen the Quonset hut price is to find a discount shop. This usually happens when an order has been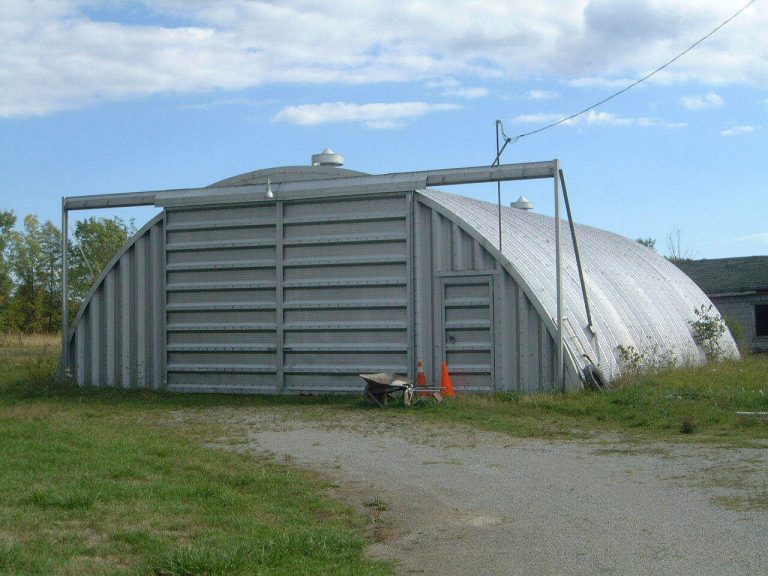 canceled, the supplier may sell the kit to you at a lower price. There are also circumstances that a certain type of Quonset Hut model is discontinued. The company may offer a discounted price in order to sell out all the remaining supplies.
In order to make the right purchase, always remember to check for quotes and the materials that reused on the kit. Also, notice the warranty that the company is offering as well as customer reviews and their support system.
Also, Quonset is designed to be built by anybody. You can build your own Quonset Hut without hiring a contractor and save on labor cost. It is lightweight, easy to assemble and easy to tear down which makes it a great DIY project for your home.
Save Cost While Building A Quonset Hut
If you are still not sure if building a Quonset Hut is the right option for your money then these are a few of the reason why building this structure is a cost-effective choice for you.  The Quonset Hut is made of steel and steel has been recycled for the longest time. This would have to mean that the Quonset building price is lesser compared to using bricks.
There is also no maintenance required once you have your Quonset Hut erected. Most steels on the huts are coated with Galvalume Plus which protects it from rust. It also does not need painting or treating and very easy to clean just by using soap and water.
The Quonset hut is also portable. If you plan to move to another location, you can disassemble your hut and bring it with you. You want to have to worry about buying a home which is more expensive that rebuilding your hut.
The Quonset Hut has been around for a very long time. Its design and structure have been tested and secured throughout the years. It is now the right time to make use of this engineered structure to your advantage. Whether you are planning to use it as a small-scale garage or even the house of your dream, the possibility of the Quonset hut is limitless.