Shock absorbers and struts are part of an automobile's suspension system. The main task of a shock absorber is to keep the car from bouncing. Meanwhile, the struts that connect to the car's knuckle are responsible for making space for the spring coil that holds the height of the car. Together, these parts protect your engine from bump damages.
What if these important car parts collapse making the entire suspension system shut down? How much will it cost to replace shocks and struts? How much will you have to pay for an expert's help?
If you need to have a single strut replaced (which is not the common case), the cost will start from around $140 and reach up to $440 a piece. So if you need to replace two of them, the cost will be something between $240 and $820.
Meanwhile, the cost to replace shocks for both sides will cost you an average of $300 at the least to around $420. In total, if you need both of them replaced with new ones, the shocks and struts replacement cost will be from $550 to $1,250.
How do Shocks and Struts Break
As previously mentioned, struts hold your vehicle in a manner that protects it from bumpy roads so that vibrations, noises, and oil leaks are lessened, if not eliminated. This tedious and continuous task of cycling every single time the vehicle is used causes a natural wear and tear to it.
According to Pepboys, an automotive repair shop, it takes around a total of 50,000 miles to break the struts.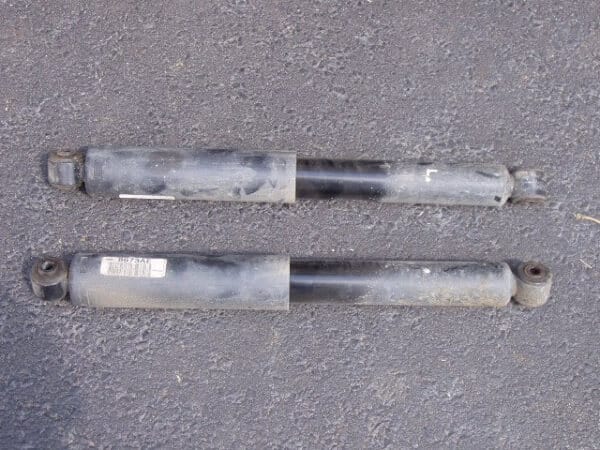 Therefore, religiously monitoring your mileage will help you avoid wearing off these parts to the point of breaking down in the middle of an expressway.   
If you are already relatively knowledgeable of cars, you may no longer have to worry about situations like this as you may have already figured out what is wrong with your vehicle. You know what needs to be done and how much money you need to allot for the repairs.
On the other hand, if you are a novice on car repairs, you have to start off by having a professional mechanic assess the condition of your vehicle. You also need to understand how the mechanism of the parts that need repair work. This will be necessary so that you do not spend your money on something you do not know.
Factors Considered by Repair Shops
Before asking your trusted mechanic how much it is to replace shocks and strut, you need to know that the pricing for vehicle repairs depend on several different factors. It will be best to study them first.
Naturally, the mechanic will decide on what to suggest after they assess the damage that has been done with your vehicle. A repair shop would usually peg a rate depending on the degree of work they are to do. This does not only affect the labor costs, but also the cost to replace shocks and strut pieces.
If the mechanic thinks there is no need for replacement or that only one needs to be replaced, then you could save money and time. Ask the mechanic to do a full inspection first to spare you from too much labor fees. Or better yet, call up a friend who knows a lot about car repairs and have him or her do the checking.
Another important factor is the type of car that you own. The specifications will be significant to the mechanic's offer. If your car is leaning towards the group of relatively new models, expect that the shocks and struts replacement cost will be expensive.
Models that were manufactured in the year 2007 to 2010 or a more recent year should be charging an estimate cost of around $480 for the Ford models, $630 for the Subaru models, $1,200 for the BMW models, and $1,300 for the Porsche models.
These prices are based on their respective dealer prices and are still exclusive of labor costs. There are specific model types that are yet to be considered too, so you may need to ask your car dealers first.
Other Expenses
Aside from the actual repair or replacement, there are other additional costs that may add to your final quotation. For instance, since the struts help suspend the vehicle, any repair may affect its height. This will also affect the wheel alignment, meaning you will need your wheels re-adjustment to be sure they fall into proper place.
You may want to ask for a discount on the wheel alignment or maybe even ask that they do it for free.
Suggested Repair Shops and Their Rates
The following are a few of the most recommended automotive shops that have different branches in the different city states. You may check them out online or better yet visit their shops personally to avail of their services.
Pepboys is a one-stop shop that currently offers discounts on a lot of their services as they are on sale. They have indicated on their website some warning signs that you need to be on the lookout for when dealing with shocks and strut breakage. Some of these signs include the vehicle's swaying when you try to turn, excessive bouncing when hitting a bump, a shaky ride and stiff stirring.
Pepboys charge $34.99 for the shock installation and $89.99 for the strut installation. But since they are now on sale, you will only have to pay $17.50 for the shocks and $44.99 for the struts. It's a 50% off offer! You can make an appointment with them via their hotline (1-800-PEP-BOYS or 1-800-737-2697).
Midas is another local automotive store that offers good diagnosis aside from the actual repair services. Particularly on shocks and struts, they offer a lifetime guarantee which means you get help from their other Midas stores all over the US. You will no longer have to worry about the same repair anywhere you go; just give them a call and then set a schedule.