In the field of engineering, we meet different types of engineers who have major specializations in various disciplines. According to Types of Engineering Degrees, there are 40 kinds of engineers today, but admit it, we only know mechanical engineers, civil engineers, electrical engineers, and chemical engineers as the most common and popular engineering professions today.
Although there are so many engineering disciplines that are unheard of, each of these professionals has important roles to play in creating feasible solutions to a lot of real-world problems. One of them is a structural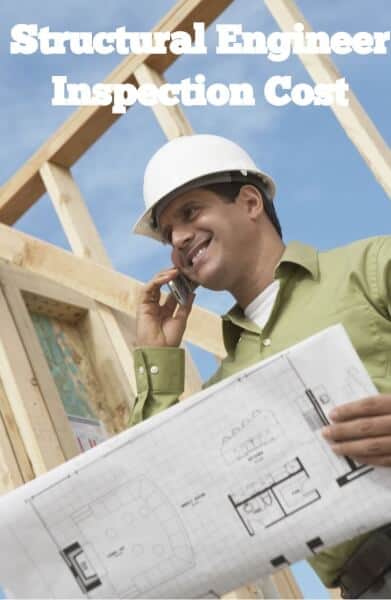 engineer whose job is to design various forms of structures and inspect how safe and stable the buildings are in the event when inevitable circumstances and natural calamities happen.
Cost of Structural Engineer Inspection
Before working as a structural engineer, you must first obtain a license to become a professional. Once you have successfully acquired the professional license, you can start to provide your services to your clients. In that regard, how much does it cost to hire a structural engineer for inspection?
The structural engineer inspection cost is typically based on hourly rates, which start at $70 to $200 per hour, depending on the project's complexity, the type of structure to be inspected, and the time spent to complete the job. But according to Eng-Tips, the national average fee of a structural engineer is eight percent of the total construction cost, which varies based on the size of the infrastructure. For instance, the overall expenditure of a building is $200,000, so the structural engineer receives around $16,000.
When it comes to residential properties, the cost of house structural engineer for consultations with no further research and for coming up with simple drafts like beams is around $230. If the client needs drawings and reports, a structural engineer charges $2,300 to $3,900 or higher.
Moreover, the cost also significantly depends on the property's size. There is no flat rate or standard fees for building inspections. But if you require a building report, here the following costs you can expect to pay:
– $230 to $385 for a small structural property;
– $385 to $540 for an average house;
– and $540 to $770 for a bigger house or a structure that needs a more complex inspection.
Meanwhile, a structural engineer dealing with a large renovation project, which needs a more detailed planning, charges anywhere between $3,500 and $11,500, depending on the project's level of difficulty or the type of house being designed. In some cases, the engineer conducts a contour survey and a soil test prior to the construction, and the cost is about $270 for a soil test alone and, at least, $770 for both contour survey and soil test.
Other Costs to Consider
Apparently, structural engineers have higher pays than other types of engineers. In fact, a fresh structural engineering graduated can already earn around $30.50 to $42.30 per hour or $30,000 to $40,000 a year. But of course, if you want to have a more thorough inspection and more precise drawings for your home, then it is best to hire a licensed structural engineer. Remember to put your family's safety first over anything else.
Factors Affecting Structural Engineering Inspection Costs
Before structural engineers are formally hired, they take a look at the overall structure and assess what kind of work should be implemented on the project. Once the initial assessment is complete, they give you an estimated total costs to get the job done. Most of the time, the services of structural engineers are hired on/for:
– newly constructed homes;
– room additions;
– freestanding additions;
– structural repairs;
– remodeling projects;
– sizing of deck supports and interior supports;
– roof specifications and inspections;
– testing structures to see if they can withstand natural forces like floods, hurricanes, and earthquakes;
– inspecting retaining walls;
– concrete foundation specifications;
– and inspecting load bearing walls.
Aside from the inspections and specifications, structural engineers are versatile who can work on structures made of metal frames, wood frames, and masonry.
When to Hire a Structural Engineering Inspection Service
Both home sellers and buyers request or hire a structure engineering inspection when a general home inspector sees cracks or risky movements inside a house. Apparently, home inspectors are not enough because they are not licensed, unlike structural engineers.
Furthermore, the law restricts home inspectors from providing probable causes of home crevices and giving repair recommendations to a certain structure. It only allows licensed structural engineers to conduct such tasks when it comes to structural repairs.
Reasons to Hire Structural Engineers
Structural engineers are not only hired for home inspections when persons sell or buy houses. There are other reasons why homeowners get the services of these engineers such as the following:
1. Before construction room additions
Evidently, room additions reconstruct the foundation, footprint, and the overall look of the house. With that said, getting the opinion of a structural engineer before constructing the additional rooms is ideal to determine if the new rooms won't compromise your home's original structure. The engineer can also take a look at the plans and make sure that the foundation of the room additions is properly reinforced while following the locality's building codes.
2. Changing the home's layout
Sometimes, homeowners have no idea that remodeling a load-bearing wall can cause an apparent damage to the house. Before altering your home's layout, you should consult with a structural engineer who can discern which walls can be altered and which parts of the house can be remodeled.
3. When hiring an independent project manager is necessary
In some cases, major home constructions need a project manager who makes sure that the plans are done accordingly. However, it can cost a lot of money to hire the services of a project manager. But if you hire a structural engineer, you can save a substantial amount from the inspection and the approval of the construction.
4. Significant damages caused by an inevitable circumstance
Structural engineers can help homeowners repair or reconstruct their houses after getting damages from natural calamities and accidents. They will ascertain that the house's foundation and the house itself are strong enough to withstand damage-causing forces.