When it comes to hot tubs, one of the top brands that springs to mind is Thermospas. Although Jacuzzi has been somewhat of a proprietary eponym of hot tubs for years, Thermospas was acquired by the company's subsidiary. This somehow made the popularity of the Jacuzzi brand rub off on the then-struggling Thermospas, Inc. But how much does a ThermoSpa cost? Please read on.
The Cost of ThermoSpas Hot Tubs
The cost of a ThermoSpa can, on average, be around $4,000 to $22,000 for a single hot tub. This can greatly depend on the specific model and/or the features that a client would want to add, as Thermospas product lines are highly customizable.
The company has claimed to work on your personal preference and that it could work around your budget. Nonetheless, ThermoSpas has various series of hot tubs that have been pre-manufactured with specific sets of features.
Design Varieties
Buyers can choose among the company's variety of designs that can fit anyone's needs and preferences—from pure relaxation to a great workout device, and, of course, the tub's therapeutic benefits. For starters, ThermoSpas has more than 12 designs to choose from. The clients can add custom features whenever they want.
Here are some of the most popular designs to give you some ideas:
Designer Series: This is the most popular line of design among the hot tubs in the company.
The Concord – this four-seater has a love seat and a V-shaped form.

It

has jets that give great foot and calf massages. This is the ideal mid-sized spa among this popular line of tubs.
Park Avenue – this five-seater

is the

most popular type,

and

it features a double-wide wave lounge.
Gemini – this spa is a two-seater that is highly customizable like adding built-in pillows, and you can even add more amenities that you would use on a full-size hot tub. It features three to four pumps and 28 to 51 jets.
Atlantis – if you're looking for a mid-size tub, this is the perfect choice for you. It offers five seats with ample space, with an extended lounge with armrests, more legroom, and seats with lumbar support. It consists of three to four pumps and 31 to 42 jets.
Chesapeake – this another five-seater in the designer series. It features an open area for your aquatic exercise. In fact, it is so spacious that you'll have unrestricted movements, which are even more enhanced by the built-in whirlpool jet. It consists of three to four pumps and 41 to 57 jets.
Executive Series: this is the most luxurious among the hot tub series by Thermospas.
Manhattan – this is

the biggest tub in this line.

It can fit six adults comfortably, but actually has eight seating areas. It features a total of three to five pumps and 45 to 125 jets.
Aquatic Series: This line highlights the sleek and beautiful design and has the latest innovations for a luxurious feel.
Maui – this

three

–

seater

spa provides sufficient space yet is compact enough to fit spaces during installation. The features include 24 to 62 jets, and it is also soundproof and very efficient in terms of energy consumption.
Islander – this hot tub features four seats with different designs and depths so they can accommodate the different heights of family members or friends. It also features 33 to 85 jets and 3 to 6 pumps.
Dolphin – this model is perfect for families with more members. This five

-seater

also has varying depths and is perfect whether you are having 'me time' or bonding with family or friends.
Fitness Series – this is a line of hot tubs that addresses the demand for hydrotherapy. It seeks to provide clients enough room to perform exercise moves that can be done in a gym but instead are done in the comfort of warm water.
Aquacisor –

the perfect fitness machine.

This claims to be the deepest hot tub in the world. It also boasts of being a luxury spa and, at the same time, an underwater resistance machine. It also includes up to 67 jets.
Olympian – this is Thermospas'

three hot tubs all rolled into one.

This is like hitting three birds with one stone, as you can also enjoy this state-of-the-art hot tub as an exercise machine and for aquatic therapy.
Spa Trainer Swim Spa – the ultimate aquatic workout machine. This one is spacious enough to allow anyone to swim against a constant current.

This consists of 2 to 3 pumps and 25 to 27 jets.
Additional Costs
Obviously, purchasing a Thermospas hot tub is very costly because, beside the cost of the tub itself, the cost of installation can be as expensive as the tub itself. One such costly extra expense is having the tub in place.
You would likely need to rent a crane for this job, especially if there are obstacles at the installation site. This would cost around $1,000 to $1,800 for a minimum required equipment rental of four hours.
If you prefer to add accessories to your hot tub, ThemoSpas' additional features are available, such as the following:
Water brick soft seat

– $35

Pillows – $33 to $96
Thermozone – $249 to $329
Cleaning tools – $16
Standard ozone generator 30 mg – $249
Water care products – $11 to $60
Filters – $18 to $59
Covers – $279 to $409
Steps – $209
Safety rails

– $199

Water brick soft seat

– $35

ThermoMount lifter – $279
ThermoScreen Lifter – $309
ThermoView Lifter – $409
Fragrances – $13 to $15
iPod docking stations as well as wifi capabilities

–

$200 t0 $340
Special LED light features

–

$100 to $300
Audio add-ons like subwoofers and retractable speakers

–

$500 to 1000
Factors Affecting Cost of Thermospa
ThermoSpas Hot Tubs are indeed a must-have luxury item for anyone willing to shell out cash in the name of relaxation. The cost of a ThermoSpa is greatly influenced by the fact that it is mostly custom-made.
ThermoSpas as a brand guarantees that its products deliver the highest quality hot tub components on the market, yet their clients still get energy-efficient and guaranteed safe hot tubs. Clients have a choice of installing eight jets or more; up to 172 jets.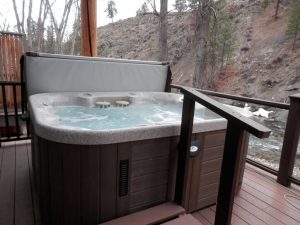 ThermoSpa prices often begin with a quotation via a free inspection of the site where you want the tub installed. This inspection determines the size and features that would most suit the client's requirements.
Its hot tubs have basic, high–quality components that are similar for all of their tubs, like the filtration and the heating system. However, the cost then greatly varies according to the special features that a client wants to add.
Do take note that ThermoSpas also offers free delivery and installation of its tubs, which can encourage clients to go all out on these special add-ons.