ThermoSpa Hot Tubs are indeed a must-have luxury item for anyone willing to shell out dollars in the name of relaxation. The cost of a thermo spa is greatly influenced by the fact that it is mostly custom-made. ThermoSpa as a brand guarantees that their product  delivers the highest quality of hot tub components that are out in the market, yet their clients still get energy efficient and guaranteed safe hot tubs.  Clients have a choice of installing 8 jets or more, up to 172 jets.
ThermoSpa prices often begin quotation via a free inspection of the site you want the tub installed, this inspection determines the size and features that would most fit the client's requirement. ThermoSpas have basic high quality components that are similar for all of their tubs, like the filtration and the heating system, however, the cost of a thermoSpa then greatly varies according to the special features that a client wants to add on. Do take note that ThermoSpas also have a free delivery and installation of their tubs which can encourage clients to go all out on these special add-ons.
Features of ThermoSpas
ThermoSpas are lauded for its durability, these are no ordinary hot tubs after all.
The combined durability of its heaters and filtration system gives it a top of the line status. The heaters are created out of titanium components, not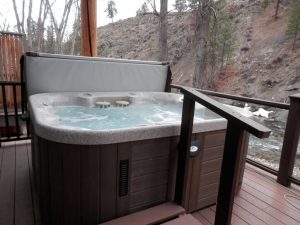 stainless steel, to add optimum long-lasting quality against the everyday wear and tear. These titanium parts are impervious to cracking and chlorine pitting.
Thermofiltration, as what its system of purification is called cleans the water at 100%, that's at an average of 144 times a day using a unique pump that has been designed with its own cooling system that enables it to last longer than other pumps.
The motor is also very quiet compared to other hot tubs.
The plumbing system is all self-contained, it adds to Thermospas convenience in terms of how easy the installation is as well as its maintenance. It does not need any connection to your home's existing plumbing. You simply fill it up with your garden hose and plug it in then you're ready to go.
Another great feature of ThermoSpas is its unique insulation system, unlike other hot tubs that use foam insulation, ThermoSpas use high-density insulator panels that lock in heat more efficiently. There are series of tubs that have two and even three layers of these panels.
The shell structure can be coated either with gel, plastic, or acrylic. Colors can also vary, this may also include marble or granite colors.
ThermoSpa prices, when compared to its longevity and durability, is proven to be very reasonable. Past clients' testimonies back up the overall competency of this product and assure customer satisfaction.
Cost of ThermoSpa
How much does a ThermoSpa cost? It can, on an average, be around $3900 to above $20,000 a tub. This as mentioned earlier, can greatly depend on the features that a client would want to add. ThermoSpa came up with certain series of ThermoSpas that have particular sets of features.
ThermoSpa Sparta Spa Triton Deluxe, for example, is a mid-range variety that can range around $10,000. This ThermoSpa hot tub comes with built-in LED lights including a LED pillow, remote-controlled illuminated waterfalls and stereo system. Another feature of this series of ThermoSpas is its water purification system that cleans with less harmful chemicals needed. It also comes with a hard cover to further protect the tub.
A step-up from this Deluxe series is the ThermoApa Sparta Spa Triton Luxury costs about $11,000 with its 51 jets and lounge seating features plus LED lighting and remote control features.
Design Varieties
How much does a ThermoSpa cost? Starting at the very basic $3900 price range, buyers can choose among the company's variety of designs that can fit anyone's needs, from pure relaxation to a great workout device and of course the tub's therapeutic benefits. ThermoSpas has more than 12 designs to choose from as a start, then clients, later on, can add custom features.
Here are some of the most popular designs:
Designer Series: The most popular line of design
1. The Concord-  4 seater, has a love seat and a V-shaped form. This has jets that give a great foot and calf massage. This is the ideal mid-sized spa among this popular line of tubs.
2. The Healing Spa- 5 seater. This has been awarded by the Arthritis Association of America for its features that make it the most easy to use.
3. Park Avenue- 5 seater. The most popular type, it features a double-wide wave lounge.
4. Manhattan- 6 seater, the biggest tub in this line.
Aquatic Series: This line highlights sleek beautiful design and has the latest innovations all for a luxurious feel.
1. Maui- 3 seater
2. Islander- 4 seater
3. Dolphin- 5 seater
Exercise Spas-  is a line of hot tubs that address demands for hydrotherapy. It seeks to provide clients enough room to perform exercise moves that can be done in a gym but instead is done in the comfort of warm water.
Aquacisor- the perfect fitness machine.
Olympian – three hot tubs all rolled into one.
Spa Trainer Swim Spa- the ultimate aquatic workout machine, this one is spacious enough to allow anyone to swim against a constant current.
Add-On Options and Warranty
ThemoSpas' additional features may include safety rails and stands which can cost from $200 to $300, an automatic cover lifter costing around $200 to $400, iPod docking stations as well as wifi capabilities costing around $200 t0 $340, special LED light features costing $100 to $300, and audio add-ons like subwoofers and retractable speakers costing about $500 to 1000.
What sets ThermoSpa apart from other hot tubs is their strong commitment to the quality of their products. They start a relationship with their clients from the very moment they assess the best spots to place the ThermoSpas, helping figure out the best features and designs that will suit their needs. The pumps and filtration components are among the best in the industry and they back these  up with even better warranties.
They have a 'No-fault 10 year warranty' on all electronic components, that includes all spa components and computer boards. ThermoSpa also has a full 20-year Structural warranty plus a 10-year Equipment replacement warranty. This assures their buyers that they are fully covered with some of the longest warranties in the industry today.
ThermoSpas is a direct selling company, this saves their clients a lot of money by cutting out the middleman. If you still want to learn more, they offer a free brochure and dvd which will also include a $1000 savings coupon that can help you on your way to having your own dream ThermoSpa hot tub.