A tow dolly is a mini-trailer that consists of two wheels and an axle, plus blocks and ramps that operate the front wheels of a vehicle off the ground while it is being towed by another car. Only the rear wheels of the towed carrier settle on the ground.
If you ever need one and don't want to buy your own, how much does tow dolly rental cost then?
The typical cost of renting a two-dolly
The cost of renting a car dolly is around $40 to $60 a day, mainly depending on the location and the rental company. If the trip is only one-way, the dolly will be picked up and dropped off in the same area.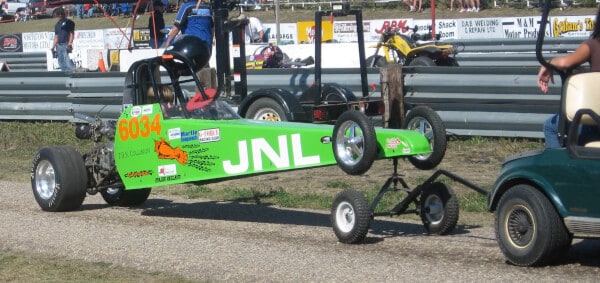 U-Haul tow dolly rental price from Sacramento, CA, to Chicago costs $345 for seven days. Other national companies also offer rentals for car tow dollies, such as Budget Rental and Penske Rental.
However, there are companies that offer a tow dolly and a tow truck as a package, and you cannot rent them individually. For example, at Budget Truck Rental, the rental cost of a tow dolly with a tow truck is $731. Another company that doesn't allow separate rental of the tow truck and tow dolly is Penske Truck Rental, where the bundle costs $880.
If you want to buy a tow dolly, it can cost $1,600 to $4,600 depending on the towing capacity, model, and size, among others. Examples are the following:
Roadmaster RM3477 Tow Dolly that has

built-in

electrical brakes and can pull a vehicle weighing up to 4,350 pounds

costs

$1,700 for a used one and up

to

$2,050 for a brand new one.

Demco Kar Kaddy SS that can pick up

4,400 to 4,800

pounds and cost

$4,300 to $6,600.
Additional Costs
Many pickup trucks and SUVs come with a trailer hitch and can pull up to 6,000 pounds. But, if you need to install a trailer hitch on the tow vehicle, this can cost $150 to $800 or more, but averages $450 to $600.
Although additional lights beside the actual lights originally installed in the tow dolly are not required, you might want to temporarily install some more as a precaution. Magnetic towing lights can be purchased for around $17 to $36 a pair for the cheapest ones.
What Is Included in the Rental?
When renting out a tow dolly, expect it to include safety chains as well as tie-down straps or cables. Please note that you will need two people to load the car onto a tow dolly.
Also, regardless of whether you are just renting the tow dolly or it is packaged with the tow truck, always remember that the towing vehicle should be substantially larger and heavier than the vehicle you will be towing.
As a general rule, there should be at least a 750-pound difference between the two vehicles. You should also remember that any vehicle to be towed shouldn't be heavier than 3,450 for the front-wheel drive and 3,900 for the rear-wheel drive.
Factors Affecting the Cost of Tow Dolly Rental
While it seems that there's not much difference when it comes to tow dollies as they all function the same, there are still some cost factors that come into play when renting this equipment. These are the following:
Even if you are renting the exact same model of tow dolly, costs can be different across rental companies. This can be due to the reputation of the company or the quality of the equipment and services they offer.
This mainly depends on whether you want to rent just the tow dolly alone or with the tow vehicle. However, there are companies that do not allow separate rentals of the tow dolly and the tow vehicle, so if you need just one, you'd better look for a rental company that allows you to do so.
Businesses take into consideration the cost of doing business and the cost of living when pricing their products and services. Understandably, the more progressive the state or city you reside in or rent the equipment from, the more expensive the cost will be.
The rental company will also take into consideration the distance that the equipment and/or the tow vehicle will travel as it contributes to the wear and tear or depreciation.
Tow Dolly Rental Money-Saving Tips
If you want to look for a good price, you'll want to shop around. Make some time to familiarize yourself with the costs and pricing of different rental companies.
Use online rate estimators. An easy way to start comparing prices is by using a company's online rate estimator.
Usually, it is free or low-cost and can be a useful tool to help you find a price that fits your budget. You will just enter the distance you will be transporting your vehicle, as well as its other details.
The website will give you a rate right away. For bigger companies, however, you may have to wait a few days to get an e-mail with the estimated price.
You may play around with dates. You must try playing around with the dates if you have a flexible schedule.
Mostly, moving companies are busy throughout the summer months, when many people move, and the price of renting all moving-related machines, including car trailers, will be increased. If possible, rent a trailer sometime between May and September.
Search for discounts. Look at company's website for discounts as well as specials. If you rent through a month, for example, you may get 15 to 25% off your total.
Take care of door-to-door shipping. Many vehicle transportation companies offer door-to-door transportation. It means your car will be picked up at your current place and transported to your new home.
Things To Remember
There are a few things you should take note of when renting a tow dolly. These are the following:
To be able to use the tow dolly, it should be compatible with your vehicle. That is, your vehicle should have lockable steering.
In addition, a tow dolly should not be used for mid- or rear-engine mounted cars or vehicles.
For four-wheel, all-wheel, or rear-wheel drive vehicles, the driveshaft should be either removed or disconnected. You might want to consult your auto dealer or a trusted mechanic on this.