Nowadays, owners (even developers) of residential and commercials establishments are looking for more energy-efficient and environment-friendly roofing systems, aiming to decrease the costs while reducing the negative effects that have greatly destroyed the environment. In fact, the demand for such type of roofs has been growing in recent years.
However, technological developments have been so reliable that they come up with TPO roofing systems to meet the needs of property owners. But what exactly is a TPO roofing? And how does it differ from the conventional roofing systems?
As a general reference, TPO is the initials of thermoplastic polyolefin, which is a newly developed material in creating single-ply roofing membranes. Unlike the most common roofs, a TPO roof is known for its heat reflective properties and high resistance against highly destructive ultraviolet rays, as well as, too much exposure from the ozone and harmful chemicals. It is also a durable, efficient, and outstanding material, which you can purchase at reasonable costs.
Costs of a TPO Roofing System
If you have set your eyes on getting a TPO roof for your house, then the first question you would probably ask yourself is, how much does TPO roofing cost? And such decent question definitely deserves a coherent and understandable answer.
On that note, the average cost of TPO roofing, as provided by ImproveNet, ranges from $160 to $500 per square, and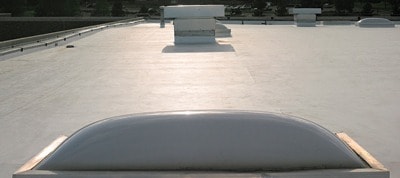 one square is equivalent to 10 by 10 feet. But in most cases, the TPO roofing can cost around $2 to $10 per square foot, depending on several factors such as your location, the type of property, the chosen materials, and the complexity of the roof installation, just to name a few. More considerations will be further discussed as you continue to read the article.
Installation Costs
For residential properties, the installation pricing usually starts at $5.50 to $6 per square foot if the TOP roofing system is going to be laid over a simple roof without the removal of any parts. Let's say that your roof has an area of 1,500 square, then expect to pay, at least, $8,250 to $9,000, which already includes the cost of materials and labor fees. But that's just the minimum total costs. It will increase based on the local prices of the materials and labor costs that the contractors have set.
Commercial properties, on the other hand, have a minimum TPO roofing cost of $3.50 to $4 per square foot, and it covers the costs of materials and the installation. But the rate is only applicable for large projects. For example, if the roof is around 3,500 square feet, then the property owner can expect to pay a total cost between $12,250 to $14,000. And as the area of the roof increases, the higher you need to pay.
Additional Charges
Before you get your hopes up, always keep in mind that the aforementioned costs are just estimated prices of basic TPO roofing system installations. They may vary accordingly. But in most cases, residential and commercial properties have roofing systems with a number of penetrations, which can make the installation more complex and more expensive. Furthermore, if your properties have flat roofs, then a proper insulation is required, making the total installation cost higher than the usual cost.
To help you know how much you can spend for additional costs, here is a list of the extra TOP roofing services that you need to consider as provided by TPO Roofing:
– Removal of Old Roofing Materials is about $0.75 to $3 per square foot, depending on the type of material that needs to be removed.
– Installation of PVC Clad Edge Metals ranges from $7 to $8 per linear foot. This service is recommended for properties one mile away from the ocean.
– Installation of PolyISO Rigid Foam Insulations costs around $45 to $50 per 100 square feet with a thickness of 1 inch.
– Flashing of small pipes costs $50 per pipe while flashing of large pipes runs from $75 to $100 per pipe.
– Replacement of Damaged Plywood costs around $75 to $90 per 4×8 sheet.
– Installation of Roof Drains has a price range from $180 to $250 per roof drain.
– Penetration flashing, like chimneys, curbs, or skylights, is at $250 to $500 each, but it depends on the job's complexity.
Other Considerations Affecting TOP Roofing Costs
Considering that the costs previously mentioned are just estimations, it would be best to be aware of the following factors that affect the cost of TPO roofing, as well as, the total installation costs.
TPO roofs usually come in either light or dark membranes. The biggest difference between the two color classifications is the energy efficiency. Light membranes reflect heat and are an ideal option for locations where the sunlight is abundant, like Florida and Texas. However, they won't be efficient if you live in low-temperature places. But to play it safe, always seek for the contractor's opinion because he knows what color is most suitable for your location.
Thickness of the TPO Roofs
Aside from the colors, the thickness of TPO roofs also affects the pricing. Typically, the thicknesses for TPO roofs are 0.045 in., 0.060 in., and 0.080 in., and they basically differ in terms of their performance. Thicker membranes provide better UV protection and puncture resistance than thin membranes. Moreover, thicker membranes are durable, increasing the roof's life while giving you back the money you have invested in the project.
Apparently, the prices of TOP roofs significantly vary from one state to another. This goes the same with installation labor rates, which can be expensive in high-income locations such as New York City, Los Angeles, and San Francisco. But if you are residing in small towns in Alabama, Arizona, Texas, or Virginia.
Type of Properties
Oftentimes, commercial establishments hire highly-skilled workers or union members who charge high labor fees. But when it comes to residential properties, contractors usually get the services of undocumented workers to make sure that the costs are not too high.
Benefits of TPO Roofing Systems
– TPO roofing systems are energy-efficient, helping you save energy and costs. They are also more affordable than the most common roofing systems.
– They are environment-friendly since they don't contain harmful and toxic chemicals. They are also recyclable, which helps in the preservation and conservation of the environment.
– They have outstanding performances. They provide protection against water and UV rays. Moreover, they don't age fast, and they have high resistance against algae, impacts, and tears.