If you're reading this then chances are you're looking into purchasing a tractor for your farm. Congratulations! You are about to add a whole new layer of farming efficiency to your business. Then again, you're probably wondering: how much does a tractor cost anyway? What factors play in estimating the cost of a tractor? Should you buy a brand new model or will an older one suffice? Certainly tractors – even one of the older models – can come as tad bit expensive and naturally, you'd want to make an informed choice when it comes to buying one before shelling out your cash.
Considering the Factors that Affect the Cost of Tractor
Before anything else, it is important that you understand the factors that play in determining tractor prices. Not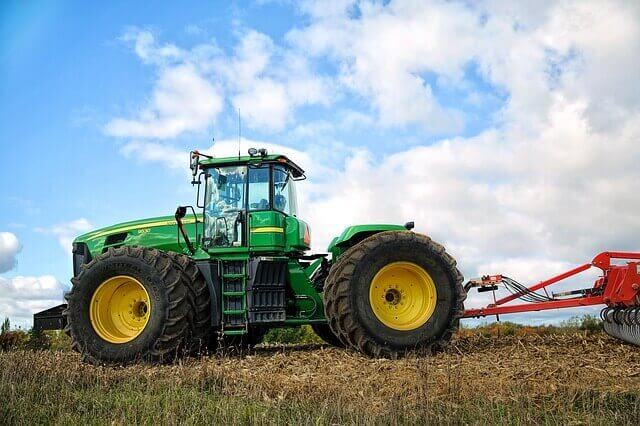 only do these factors influence the market value of tractors, they will also help you determine the type, brand, and model of tractor that you can get based on your projected farming needs and for the kind of budget you have.
First and foremost, you have to consider the size of your land. Say you own a large farm – this will definitely be a job for a tractor that has anywhere between 45 to75 horsepower. What will your farming needs be – would you be tilling lands as well as mowing lawns? Will you be digging ditches? Will you be working with animals such as cattle or livestock?
You will also have to choose the type of tractor transmission you prefer – will it be mechanical (also known as "belt") or hydrostatic? Each has its own pros and cons that you'll need to carefully study before making a decision.
Lastly, consider your comfort and safety. Bigger machines come with bigger responsibilities, as you will need to invest heavily in their constant servicing and upkeep. An ideal tractor will also include safety features that will help protect you not just from accidents but also from sunlight, rain, heavy wind, and snow.
When studying the cost of a tractor, it is also important to consider future expansions and needs. Ideally you want a tractor that can cover not only your present needs but also has provisions for the future. Remember that a right upfront choice means you can cut down significant costs on upgrades!
Estimating Average Tractor Cost
So how much does a tractor really cost?
Standard utility tractors in the current market may cost anywhere from $2,000 to $3,000. Note that these are compact, bare-boned tractors that are probably more suitable for large lawns and small-scale farming. If your farming needs are small – a little plowing and mowing here and there – tractors such as 820 John Deere or 414 International may be the best option for you. Maintenance and servicing of these machines relatively cost a lot less, too, compared to bigger machines available in the market.
If you're looking into a more industrialized tractor for small to mid-sized farming needs, then you will have to move a little bit further up the ladder. An industrial Ford 1925 goes for a little over $10,000 in the market nowadays and
it comes complete with an NH Loader and hydrostatic transmission. Similarly, you can try the Branson 2810 that also comes equipped with a loader. These models may seem a little dated to some, but they definitely offer the best bang for your buck in terms of power, utility, and reliability.
For large-scale farming, you will definitely need to boost your tractor requirements and thus, boost your budget as well. Tractors that go from 30 to75 horsepower has a price range of $25,000 to $50,000, and this is just for a standard model. Larger ones that can go up to 100 horsepower may cost anywhere from $50,000 to $75,000. Any more than that, say tractors with up to 150 horsepower, and you're looking into a budget of $75,000 to $150,000.
Figures like this may seem overwhelming at first glance, but it is important to note that tractors are long-term investments. If you keep up with your tractor maintenance and use it wisely, it may last you a good 20 to 30 years with very minor repairs needed!
Cost of Tractor Upgrades
Naturally, additional features will incur additional fees on the base tractor price as well. For instance, if you opted for a two-wheel tractor on the initial purchase, an upgrade to a four-wheel tractor will cost you an additional $5,000 expense. Another example would be upgrading your loader to better handle logging requirements. For this kind of upgrade you will need to shell anywhere from $3,500 to $5,000, depending on the model of your existing compact tractor.
Customization via attachments will also increase tractor prices. Options for these attachments run aplenty, depending on the features that you want your tractor to be capable of. A simple rake attachment can be acquired for as little as $300 to $500; a backhoe attachment, on the other hand, may require an additional budget of $6,000 to $7,000. Rotary cutters and tillers can cost anywhere from $2,000 to $5,500.
Considering Secondhand Tractors
For your beloved farm, it is easy to think that nothing but the best and brightest equipment should be purchased; however, practically speaking this may not always be the best option for you.
Buying a used tractor is another good alternative, especially for people who are on a tighter budget. A well-maintained tractor can still provide great service to you and your farm – just make sure that you purchase one that is in its tip-top shape. A great place to start is inspecting the tractor's engine, feeling and looking for leak, crack, or any sign of wear and tear. Like in many cases, you can avoid regrets by getting to know the factors that are vital in purchasing used tractors. 
The first step in choosing the best tractor is to take a good look at what you need, while taking future expansions in consideration. With this information you can then decide which brand, type, and model will fit your needs and your budget as well. Definitely the process takes more than just browsing through catalogues and making a few calls to the nearest tractor supplier within your area. The fruits of the process, however, is worth your time and effort.