What is a wedding without a wedding cake? Apparently, one of the best sights in a wedding ceremony or reception is the cake that has been beautifully designed to delight the guests. But of course, it should have a delicious taste so that the baker or cake maker can attract more clients. If you are planning for your wedding, then you should set aside a budget for your cake. As such, how much does wedding cake cost these days?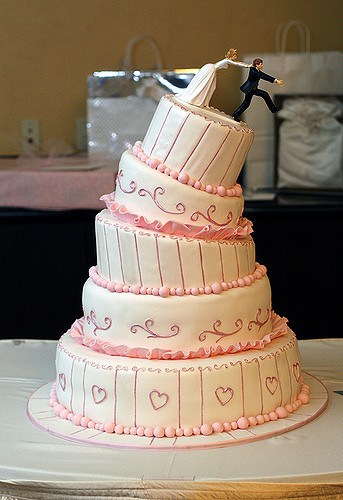 According to the article of WeddingStats, the average wedding cake prices for 150 people range from $445 to $631, but it can go higher depending on how fancy you want the cake to be. Typically, the cost of wedding cake varies based on the type of cake, the number of slices and layers, the provider/baker, the design's complexity, and your geographical location.
Typical Wedding Cake Price Ranges
The Knot says wedding cakes are charged per slice, which can range from $1.50 to $12 for every slice.
But the more complex the design is, the higher the cake's overall cost is. In most cases, the fondant icing wedding cake is more costly than a buttercream cake. If you wish to have a lot of details, then expect for the total cost of wedding cake to increase even further. We'll discuss what these details are as you continue reading the article.
*Low-End Cost
How much does wedding cake cost for this category? For a low-end cost, you will have a one-layer or smaller tiered wedding cake in either chocolate or vanilla flavor that comes with a sheet cake used for the cutting. This price is about $1.50 per slice.
*Mid-Range Cost
The average wedding cake prices for a middle-range wedding cake can run between $5 and $6 for one slice. This has two or three tiers in standard flavors like carrot, chocolate, lemon poppy seed, or vanilla. It is covered with a buttercream icing and a few fondant embellishments to make it more attractive.
*High-End Cost
If you want a fancy wedding cake, then choose a multi-tiered cake with numerous features such as fondant icing, elaborate fondant, gum paste, sugar decorations, and flavored fillings. The cost for this category is, at least, $10 to $12 or more for every slice.
Woman Getting Married has provided a simple graphic that shows the number of slices for every wedding cake tier. Here are the details:
A 6-inch tier can provide 14 slices. $21 to $216
An 8-inch tier can provide 26 slices. $39 to $312
A 10-inch tier can provide 40 slices. $60 to $480
A 12-inch tier can provide 56 slices. $84 to $672
A 14-inch tier can provide 78 slices. $117 to $936
A 16-inch tier can provide 100 slices. $150 to $1,200
If we based the information shown on the graphic, then how much does wedding cake cost for every price range? The total cost of wedding cake ranges from $471 to $3,768, with an average wedding cake prices of $1,570. However, the prices will always vary based on your preferences.
Additional Expenses
Here are the other wedding cake details that can affect the cost for every cake slice.
– For a budgeted wedding cake, decorators usually use fresh flowers since they are easiest to find and the
cheapest decorations used to adorn a cake.
– A fondant icing cake is one of the most expensive decorations on a wedding cake. If you wish to have this type of icing, then you may need to add $1 or higher for every slice. The elaborate fondant decorations like flowers and ribbons typically cost higher than the conventional fondant.
– Do you like a wedding cheesecake or a cake with nuts and dried fruits? Whichever you choose, you will have to add, at least, $1 per slice, which definitely affects the average wedding cake prices. The additional cost is the same with cream-filled wedding cakes.
– If for instance, your wedding cake has many tiers or layers, then it must be delivered and set up at the venue by the baker or any member of the catering team. Such method prevents the cake from breaking apart. With this being said, you have to cover the delivery charges that can range from $50 to $100 or higher, depending on the cake's size and the distance of the wedding reception or venue.
– There are some cases when the caterer provides the cake, as well as, the tool used for cake cutting. As such, the caterer will usually ask for a cake-cutting fee, which also costs around $1 or more for each slice, increasing the cost of wedding cake.
Tips to Save Money on Wedding Cakes
Unlike the expenses spent on wedding dresses, invitations, and receptions, a wedding cake is one of the items that do not cost so much as you plan your wedding. However, the cake can still become one of the most expensive things you need to cover, especially when you choose the most sophisticated and adorned wedding cake. If you want to save some of your money on a wedding cake, then here are tips you need to know.
– As much as possible, try not to get a wedding cake with weird shapes or forms. They can cost a lot due to the complexity of its design. Just go for the conventional shapes like round and square-shaped cakes since they are more affordable.
– You have the option to display a smaller wedding cake and have a sheet cake to give to the guests. As a short reference, a sheet cake is typically the same cake batter of the wedding cake, but it only comes with the frosting but no decorations. You can ask your baker to make the sheet cake for the guests.
– Since fondant frostings are a bit expensive, you can have the buttercream frostings, which is $0.75 to $1 lesser than the original price per slice. Aside from that, have a chocolate or vanilla flavor instead or a carrot or red velvet wedding cake.