No matter how perfect a wedding dress can be, it's very rare that a bride won't need any alterations. Regardless of whether you ordered the best haute couture wedding dress or from a not-so-popular dress shop, alterations are almost always necessary. But exactly how much does wedding dress tailoring cost? Find out this and more in this article.
The Average Cost of Wedding Dress Alterations
The average wedding dress alteration costs around $50 to $1,000, depending on the actual cost of the dress, the scope of the alterations, or the extent of the adjustments to be made.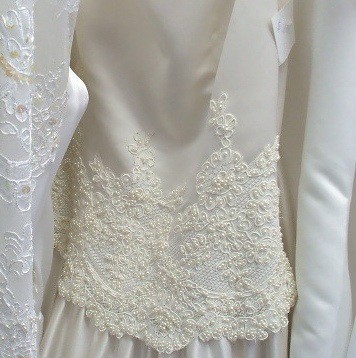 According to bridal dress experts, some salons would charge their clients on a per-service basis, while others would charge a flat fee. If you are charged on a per-service basis, your wedding gown expenses could be somehow uncontrollable at some point.
For example, the usual cost for a seam alteration is around $100, while having to shorten the gown will cost you up to $250. Changes in the design could be charged around $50 for a neckline design, and also you will need to factor in beading costs, and the changing of fabric or reshaping the silhouette of the dress.
Cost Breakdown
As mentioned, it is very rare for a wedding dress to not have any type of alterations from the time the gown was customized to the day before the wedding day. The list below will give you some ideas on what to expect in terms of alterations costs on top of the actual cost of the wedding dress itself:
Basic Hemming
Hem adjustment – $100 to $250
Side seams adjustment – $30 to $100 per side
Skirt's side or bodice – $20 to $30
Shoulder reduction – $45 to $50
Strap length adjustment – $20 to $40
Additional Costs
You might consider some customizations while having your dress altered since you're already back in the shop and hitting two birds with one stone might be a good idea. Here are some of the price ranges for additional work on your dress:
Bra cups insertion – $20 to $40
Additional straps – $50 to $250
Additional belt or sash – $25 to $35
Additional bustle – $20 to $250
Additional sleeves – $200 to $400
Sleeve length adjustment – $40 to $80 per side
Train length adjustment – over $250
Back design modification – over $200
Neckline adjustment – $40 to $60
Neckline replacement – over $250
Zipper to corset – over $150
Beadwork – $30 per hour
Steaming – $50
What Are Included in the Alteration Cost?
Alterations can be relatively costly when you compare them to the actual cost of the dress. However, they aren't as simple a process as you may think.
To give you an idea of what goes with the cost, here are some parts of the drill:
The seamstress will let you try your dress on to assess what needs to be altered or adjusted.
The alterations will be performed according to your new measurements or preference.
The seamstress will let you try your dress again to see if the alterations were done perfectly according to your liking. Otherwise, they will make another adjustment.
Please note, though that per service alterations mean that you only get one adjustment per request. If you change your mind after one adjustment, you will get another charge.
Factors Affecting the Cost of Wedding Dress Alterations
Since not all wedding dresses and situations are alike, expect the price of wedding dress alterations to vary. The actual price would depend on the following:
The actual price of the dress – it is understandable that the alterations cost will be directly proportional to the actual cost of the wedding dress. The more expensive it is, the higher the cost of alterations.
Type of materials – some materials can be very sensitive or fragile, and therefore, prone to snagging or fraying. These types of fabrics are more costly to alter than others simply because any error might cost an entire section of the dress.
Style and design of the dress – wedding dresses that have too many details or have intricate designs will definitely cost more to alter than simple ones.
Shop's reputation – if the shop/salon is known to produce quality wedding dresses and has an equally satisfactory alteration track record, then expect a higher price for wedding dress adjustments.
Location – the cost will also depend on the actual location of the business. Major cities will most like have the most expensive cost of all due to the cost of living and cost of doing business.
Lead time – anything requested in a rush would normally cost more because the seamstress would prioritize your dress over others and may cause some inconvenience.
In-house or not – you should be able to inquire with your wedding dress provider if they do in-house alterations as some bridal salons don't. The advantage of having an in-house alteration is that there is likely a discount compared to having the dress serviced outside.
Your Major Considerations
According to experts, the first things to consider when having to alter your wedding dress would be your timeline, your budget for the wedding dress alterations, and your weight goal.
For first-time brides, it is advisable that you already decide on the kind of style you'd like your dress to be altered into. Would you want it to be the same style as it originally was, or would you like to make some changes to some parts of the dress, such as the collar line, sleeves, or train?
However, you'd like your dress to look, try to make sure that you plan things, perhaps 10–12 months away. The reason why it cannot be rushed is that it will take around four to eight months to be produced, and you will have to expect three fittings for the dress.
Major dress changes will need a few extra weeks before they can be done. Then, alterations and accessorizing will add more to the timeline.
You also have to be realistic when it comes to your weight goal on your wedding day. You will not want to wear something that doesn't fit right on you.
Corsets are there to help, but some things can still go wrong. The best way to cover up those extra pounds is to try an A-line dress.