Couples who are about to tie the knot want to pull off a successful wedding worth remembering. Some of them choose to keep their special event low-key, especially when they are on a limited budget. But for couples wishing to make their wedding luxurious, they tend to spend on everything needed in a grandiose wedding ceremony. One of those things is a limousine or limo for short.
Everybody knows what a limo is. It is the luxury, long sedan, which usually comes in black or white color. It is spacious enough to accommodate, at least, six passengers, excluding the driver. It is not exactly a typical
wedding car, but there are lovebirds who want a limo as their service vehicle. They don't necessarily have to buy one. In most cases, they rent a limo and hire a chauffeur to drive them on their wedding day.
Cost to Rent a Wedding Limo
If you have thought of renting a limousine on your wedding day, how much does it cost to rent a limo as of the present time?
According to Thumbtack, the national average wedding limo cost is $140, with actual prices ranging from $125 to $460 or more if you wish to avail additional services. Typically, limo rental services charge on an hourly basis or per trip, and they include transporting the couple to and from the wedding venue and the reception, as well as transporting family members, members of the entourage, relatives, VIP guests, and friends.
Do take note that the rental time starts to tick as soon as the driver leaves his station and ends when the car has been returned. Aside from that, wedding limo rental providers charge a minimum number of service hours, and if you go beyond the minimum hours, you have to pay between $65 and $100 per hour for the extension.
To provide better and more comprehensive options, many companies offer wedding limo packages, which include the usage of the vehicle, the driver, and the number of hours you get for a certain package. The costs go up when you get extra services such as decorations inside the vehicle, a bottle of champagne or any preferred beverage, flowers, balloons, a "Just Married" signboard, and a red carpet rollout, just to name a few.
For example, A1 Roma Limousine, a limo rental service in Illinois, has the following wedding limo prices:
– $399 for three hours;
– $450 for four hours;
– $525 for five hours;
– and $100 per hour if it goes over five hours.
Other Factors Affecting Wedding Limo Rental Prices
In addition to the number of hours, there are other factors that affect the wedding limo rental cost. Remember these considerations:
There are cases when the rental costs range from $400 to as much as $1,800 or higher, which significantly depends on the type of vehicle you want to have and the choice luxury options like a video screen, a leather interior, or a mini bar.
Larger vehicles like Hummers and SUVs, and well-equipped party buses and shuttles apparently have higher rates than a conventional wedding limousine or a luxury sedan. It simply means that the bigger the vehicle you rent, the higher the cost you pay. A limousine for 6 to 8 passengers costs $400 to $600 for four to eight hours of use while $800 to $1,800 for larger vehicles.
For a seven-hour rental, a standard 8-passenger limo charges $550, a 20-passenger Escalade stretch limo costs $1,195, and Hummer that accommodates 18 passengers will charge around $1,800.
Restored luxury and classic cars such as Bentley, Rolls Royce, and Mercedes Benz, can be very expensive to rent. Rental service providers that have such vehicles don't allow clients to rent them as wedding service cars. Instead, couples are permitted to use them as a photo background. Reconditioned luxury vehicles are typically more expensive than other types of cars.
The wedding limo prices also vary based on your location and the distance traveled. Many companies have a specific geographic coverage. If your wedding is happening outside their service area, you will pay a surcharge or additional fees.
Additional Costs to Consider
As you plan your wedding, there are instances when you miss to include other expenses in your calculation. It is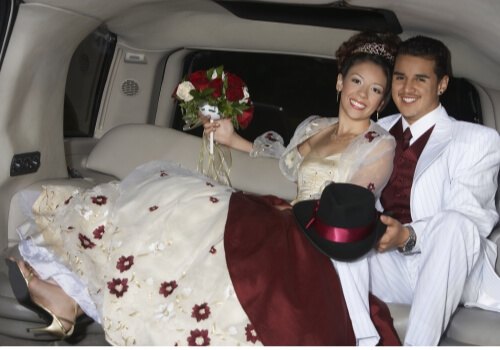 the same when you renting a limousine. You may be surprised why the costs ballooned beyond your expectations. So to prevent such circumstance from happening, here are the additional costs that you should be aware of.
– A word of caution, hourly rates are calculated in increments of 15 minutes. Overtime charges, on the other hand, are higher than standard rates, having an initial fee of $130 to $300 per hour. To play it safe, it is much better to hire a wedding limo rental with a flat fee per day. It lessen the risks of paying higher costs if you go over the minimum number of hours.
– Limousine companies have a fuel surcharge between five and 10 percent on limos used for longer trips. The additional costs happened when the gas increased to $3 to $4 per gallon.
– There are some rental companies that charge their clients for bridge and road tolls, waiting time fees, parking fees, unscheduled stops ($15 to $30 for every stop), cleaning payments, and applicable taxes. Make sure that you understand all the inclusions and exclusion in the quoted rental price. If possible, ask what each cost covers to avoid unexpected high expenditures.
– Don't forget to include the driver's tip, which is basically 10 to 20 percent of the overall costs. Most rental rates don't include the gratuities, so you better be prepared for it. The tip is typically given in cash once the service has ended. But be also aware that some service providers have already included the tip in the package deal or rental fees. Be sure to check if you the rental cost already covers the driver's tip. You don't want to spend on it twice, do you?