According to US Energy Information Administration or EIA, residential homes consume 10,649 kWh per year in 2019 or equivalent to around 877 kWh monthly electricity consumption. Considering this huge demand for electricity and the ridiculous cost it entails, looking for a cheap alternative power source is justifiable. One popular option: wind turbines. The use of wind energy from wind turbines can lower the cost of your electrical bill by around 50% to 90%. But how much is the cost of a wind turbine?
Average Wind Turbine Price
The cost of wind turbines greatly depends on the maximum power output or kilowatts they can provide. Understandably, the higher the maximum output they can generate, the higher the cost.
Also, the proper wind turbine that is needed depends on the usual wind speed in your location. But typically, the required wind turbine ranges from 5 up to 15 kW.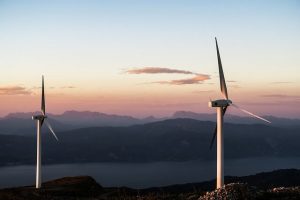 This means that when the speed's wind increases, the output the turbine increases, the power that is needed then decreases. What happens when the wind turbine can give an output which exceeds the requirements of the house? Well, the surplus electricity is being sold to other utilities. Every process is automatically done. Usually, the current models of a residential wind turbine have no batteries.
So what is the advantage of having a wind turbine?
Wind turbines that are less than 100 kW can cost you around $3,000 on the lower end and $8,000 on the higher end per kW of capacity. Installing a 10 kW wind turbine can cost you a total of $50,000 on the lower end and up to $80,000 on the higher end.
If you are planning to install a wind turbine for purposes, expect to spend millions of dollars. However, even if the commercial wind turbine costs a lot in total, it becomes cheaper per kW of energy it produces.
Commercial wind turbine price usually runs around $3 million up to $4 million in total (installation included). The given estimate is for a 2 MW (megawatts) wind turbine.
The total wind turbine cost and its installation greatly depend on a lot of factors such as the number of wind turbines installed, the cost of financing, the construction contract, the project location, among others.
How Do Wind Turbines Work?
A wind turbine is a mechanical device that gathers wind energy. This then turns the kinetic energy of the wind into electrical power. This is typically installed at the upper portion of the tall towers.
The converted electric power is also ensured to be compatible with the current standards of the utility. The output given by the turbine is directed to the house's wiring, typically at the house's breaker panel.
If you install a wind turbine, your home or your establishment is connected to the electrical utility and its respective wind turbine. The utility will only give you the needed power if the speed of the wind is under seven MPH.
This is because this is the lowest speed that wind turbines can convert energy. The relationship between the utility and its wind turbine is inversely proportional.
This means that when the speed of the wind increases, the output of the turbine increases, and the power that is needed then decreases. What happens when the wind turbine can give an output that exceeds the requirements of the house? Well, the surplus electricity is being sold to other utilities.
Every process is automatically done. Usually, the current models of residential wind turbines have no batteries.
Is a Wind Turbine Right for You?
Since a typical wind turbine is a large device, it is not a good option to be installed at an urban location or small-lot suburban homes. The recommended property size before you can install a wind turbine is one acre or more. You will also be required to be located in an area with an average wind speed of 10 mph.
You may also find yourself limited by zoning restrictions in some states or counties. For example, in Los Angeles, the height limit of the tower is 35 feet. If this is the case, the rotor size you could use would only be up to 12 feet for safety reasons, which can only produce about 400 watts from a wind speed of 10 mph.
To give you an idea, one megawatt is equal to 1,000,000 watts of power, which can supply energy for a month to approximately 1,000 homes. This is the ideal scenario. However, most wind turbines rarely live up to their expected production based on their capacity ratings due to fluctuating wind speed.
For example, a one-megawatt turbine capacity can produce $175,200 worth of revenue per year, supposing it lives up to its full capacity or 100%. This is computed based on the price of $0.02 per kWh or $20/hour x 24 hours x 365 days.
However, this is too far-fetched, considering the efficiency of wind turbines is typically just 45%, which is already considered very good. So, in reality, only around $78,840 can be produced per year.
To be able to produce the desired one-megawatt/hour at 45% capacity, you will need a wind turbine with a capacity rating of around 2.2 megawatts, give or take.
If you are a green person, then don't worry. Wind turbines don't produce pollution, unlike power plants that rely on combustion such as coal and natural gas. And when you opt to use wind power as your source of energy, you are lessening the pollution that might be generated by the utility company of your area.
Extra Costs
Now that you have an idea of how much is the cost of a wind turbine, you should also know the costs associated with the installation. Usually, the additional costs you will have to spend on further are the following:
Maintenance cost (including service and parts)
Like regular machines and equipment, you would want to prolong its expected useful life, or at least reach its maximum capacity. A surefire way to do this is to have proper maintenance.
At first, you would expect the maintenance costs for your wind turbine to be very low as you won't be expecting a major breakdown early on, or at least, it would still be covered by warranty.
Beyond the warranty period, anticipate the issues to appear one by one. With this, expect to spend around 1 to 2 cents for every kWh the wind turbine is producing, or around $42,000 to $48,000 annually.
The average land rental for placing a wind turbine could be $8,000 per turbine per year or $3,000 to $4,000 per megawatt capacity rating, depending on the location. Of course, larger wind turbines would require higher lease rental.
Typically, lease contracts for this set up are done on a yearly basis or based on the wind turbines' gross revenue. Others use a combination of both of these.
Wind turbines need power to operate, which typically comes from the grid and is usually not being considered when the output is measured. But it is something that needs to be accounted for, especially if you're running commercial wind turbines.
Large wind turbines typically use rechargeable batteries to get their electrical operations going. However, those will surely get depleted over time. Therefore, the need for grid support is a must.
Surely, there will always be a warranty once your wind turbine has been erected. You've got your power monster covered for a significant amount of time. However, there are some unforeseeable and unavoidable circumstances that might be worth looking into such as the company closing down (therefore invalidating your warranty), lightning strikes, storm destruction, fire, mechanical or electrical breakdown, among others.
The insurance typically costs $8,000 to $15,000 for each wind turbine annually. Please bear in mind though that this price range is applicable while the warranty for the equipment is still in effect. Expect price increase otherwise.
Anything that generates revenue is considered a business. And to run a legitimate business, you need to manage it like you are running an office. That is why the administration will be a part of its operation.
With this, an accountant will come in handy to record your financial transactions, prepare and file your tax returns, and any other administrative task that may arise. A budget of around $6,000 to $10,000 per turbine per year would likely be sufficient.
Additional Considerations
Wind turbines have a useful life of around 20 to 25 years. As for the return of investment, they can typically pay for themselves by the 10th to 15th year after installation.
However, this does not mean that you will not be able to benefit from it early on. In fact, wind turbines can yield net economic benefit as early as five months to one year from the installation date. This is obviously better than most businesses around.
Another factor to consider is that the government highly encourages people to invest in these kinds of renewable energy. For example, residents who install 100 kilowatts or smaller wind electric systems were allowed to claim Residential Renewable Energy Tax Credit for every kWh of generated electricity for the grid for 10 years.
However, the percentage of allowable tax credits diminishes every year and will only be applicable up to December 31, 2021.
Wind turbines installed by the following dates and their corresponding allowable tax credits for qualified expenditures are as follows:
By December 31, 2019 – 30%
By December 31, 2020 – 26%
By December 31, 2021 – 22%
Succeeding years – no longer applicable
Excess Power
A typical wind turbine is connected to your power meter upon installation. Your home will consume first the electricity given provided by the wind turbine, then from your utility company.
So, whenever the wind speed is low, all the power that your house consumes will be coming from the utility company. Your electric meter will work as it is, recording every kW hours you consume.
On the other hand, when the wind speed is high, the electricity that your house consumes will be coming more from your turbine and less from your utility company. There will be a point where you will not be needing electricity from the grid.
If your wind turbine produces more electricity than your house needs, then, the rest of the power will go into the electrical grid and will provide power to your neighbors' houses. Your power meter will also record in reverse. This means that you will be credited for the electricity you supplied.
There are times where people don't have electric bills at all. Instead, the utility company pays them!
Overall, wind turbines are a great way to save money while helping our environment.